Research from Australia confirms what we have always suspected; cinema goers are a happier bunch than people who stay at home. Some 47% of Australians (more than 9 million people) go to the cinema at least once every three months, which means that only gardening is a more popular leisure activity.
Interestingly, the majority of the 9 million people who went to the movies in any given three months were repeat attendees. While 42% went just once, 40% went two or three times; 14% went between four and seven times; and 4% went eight or more times (and probably have oblong-shaped eyes as a result!).

But there's more to people who go to the cinema twice or more in a three-month period than mere movie mania. These individuals are more likely to be optimistic about the economy and feel financially stable than the average Australian (or the one-off movie-goer), and less likely to deprive themselves of 'luxuries' when shopping.

As consumers, they tend to be the big spenders of society. With healthy discretionary expenditure, they're more likely than the average Aussie or one-off movie-goer to indulge in treats such as going to the beauty salon or buying fresh flowers. They also rate above the national average in terms of shopping at music stores, fashion boutiques and department stores. Online shopping is popular too: people who visit the cinema twice or more in any given three months are generally more likely to purchase fashion and entertainment/leisure products via the internet in the same period.
Great news for cinema advertisers, but also for entrepreneurial exhibitors looking to build a more meaningful commercial engagement with their customers. Link.
Event Cinema
UK: Vue has reported a 50% rise in event cinema attendance in the last year, with a doubling expected this year as more people stream to showings of theatre, opera, ballet, music concerts and sporting events.
Vue CEO Tim Richards said demand for event cinema screenings had "increased significantly" in recent years and that it had "invested heavily" in its 83 cinemas around the UK to provide access to event cinema screenings.

The most successful event cinema screening to date was the one-off 50th Anniversary episode of Doctor Who, The Day of the Doctor in November 2013, which took $2.3m in a single night despite being simultaneously broadcast for free on BBC1. The episode took $10m worldwide from 650 cinemas (Nov 23-25) and claimed a Guinness world record as "the world's largest ever simulcast of a TV drama", reaching 94 countries.
Link.
Concessions
USA: Salon and Alternet throw a spotlight on the calorie count in the average cinema concession purchase and it makes for eye-opening reading.
But before you plunk down $7 for a medium-sized bag of popcorn at the movie theater, consider its cost to your health. A 2009 study conducted by the Center for Science in the Public Interest analyzed samples from the country's three largest movie theater chains — Regal Entertainment, AMC Theatre Groups, and Cinemark. It turns out that there are 1,200 calories in just one medium-sized bag of Regal's popcorn. Even a small popcorn from Regal contains the same number of calories as Personal Pan Pepperoni Pizza from Pizza Hut — and three times the saturated fat.

Jayne Hurley, a senior nutritionist at CSPI, is quoted in the report as saying, "Regal and AMC are our nominees for Best Supporting Actor in the Obesity Epidemic."
And that's before we get to the sodas, which we have written about before. This is an issue that needs a calm and measured debate. Link.
Technology
Chile: The last big dash to convert to digital is currently taking place in South America and it looks like Christie has scored a victory there.
Christie®, a world leader in digital cinema projection, is pleased to announce that it has been chosen by Hoyts Chile, the leading screening chain belonging to Grupo Chilefilms, to digitize its 127 35mm theaters distributed across 23 complexes throughout the country. The agreement includes the installation of digital cinema projectors from the Christie Solaria™ Series, the Christie Avias-TMS™ Theatre Management System and select Christie Vive Audio™ cinema sound systems.

To carry out the digital theater conversion process, Hoyts Chile released a private technology tender in which it invited the most distinguished suppliers in the industry to bid. "In the end we chose Christie because their business proposal was the most complete, attractive and aggressive," stated Juan Carlos Arriagada Mons, General Manager of Cinecolor Chile, Grupo Chilefilms division that provides technology services for all business units of the group.
Link.
UK: BBC's Click tech program takes a look at Dolby's Atmos technology, calling it "the cinema sound 'that immerses viewers.'"
The film Lone Survivor has been nominated for Oscars in both sound mixing and sound editing.

BBC Click's Marc Cieslak finds out how the movie has used the new technology Dolby Atmos to immerse the viewer in sound.
Link.
Cinema Opening/Closings
USA: Single-screen cinemas are not the only victims of the switch to digital. The same goes for second-run cinemas showing films/prints that are a few weeks old. Clearly switching to digital is not economical for an eight-plex that charges $2 to $3 per film, such as this one in up-state New York, but it is still a loss to local people on low income and seniors.
The eight screens at Silver Cinemas, a low-cost entertainment bargain for 16 years, have gone dark.

Company staff confirmed the shutdown, with Tuesday having been the last run.

What the future holds is unclear. Lauren Kleiman, head of publicity for the Landmark Theatres chain that has owned Silver Cinemas since 2001, confirmed the closing. So did a staff member at the local theater. Kleiman said, "We are exiting the space because we've lost our lease. We've been told they found a new tenant," but she did not know who.
Link.
Canada: North America's last XXX cinema is set to close and re-open as a cabaret. We salute their staying power, but think that maybe it's for the best.
VCRs and the Internet have officially killed North America's 35mm porno theatres.

Vancouver's the Fox Cinema, North America's last such venue according to a local porn historian, will re-open as a cabaret and lounge this weekend.

The Arrival Agency, the folks behind the shows and events at the Waldorf Hotel, spent a year renovating the Fox into an arts and culture space with a mezzanine bar at Main Street and 7th Avenue. (Yes, they threw out the seats and sanitized the place.)
Link.
UK: A south London cinema that was closed following 2011 local council budget cuts is set to be re-opened, thanks to a local campaign.
The David Lean Cinema has reopened after three years of campaigning, with tickets now being sold for its first showing since April 2011.

The cinema, housed in the Croydon Clocktower arts complex, will open on March 27 with a "Croydon premiere" of 'Basically, Johnny Moped' followed by a Q&A with featuring director Fred Burns and some famed cast members.

Prior to its closure, The David Lean was Croydon's only art-house cinema showing a programme of films that wouldn't appear in other local multiplexes.
Link.
UK: An innovative way to support your local cinema.
Well, all you need to do is enter the Mayor's Raffle for Grove House to be in with a chance of having a personalised seat at the long-awaited Odyssey Cinema.

The lucky winner will have their name embroidered on one of 450 seats at the art deco picture house in London Road, which after standing derelict for almost 20 years is due to reopen in late summer.

Other prizes include tickets for the Odyssey's opening week, a luxury spa day and dinner for two at local restaurants.

St Albans Mayor, Cllr Annie Brewster, said: "I cannot wait to step back into the glorious golden age of film in St Albans. While we are all so excited about the imminent arrival of the Odyssey a final push is required to get it open this summer.
Link.
Canada: Another second-run cinema isn't giving up without a fight.
A group working to locate a cinema co-op in the defunct theatre in the Rainbow Centre Mall is close to securing a tenancy agreement with mall management.

After Rainbow Cinemas closed its doors last summer, a steering group formed to see if the community could make use of the space.

…

The plan is to use the venue's six theatres for a variety of purposes. Digital projectors will be installed in two of the theatres, and both second-run Hollywood films and art films will be screened.

Mairs said she's heard from a lot of people who miss the second-run Hollywood films as an affordable outing.
Link.
UK: Perhaps not the most obvious Valentine's Day date movie, but still.
MORE than a year after it closed, the Windmill Cinema was reopened on Friday night to a packed screening of a film widely tipped for Oscar success.

Scores of people had to be turned away as the Windmill reached capacity for 12 Years a Slave, which recently won best film at the Baftas.

As the curtains opened, more than 200 people cheered for what was the first film screened at the Windmill since Valentine's Day last year.
Link.
UK: One of London's leading art-house exhibitors is going east.
A cinema is among the first retail brands winning contracts just announced for Canary Wharf' new Crossrail station complex due to open in May next year.

Businesses opening for trade even three years before the first trains arrive include an Everyman cinema—the first in east London—as well as Sports Bar & Grill and Poncho 8 Mexican burrito restaurant.

Everyman Media Group chief Andrew Myers said: "We hope the brand concept will become a real hub of entertainment at Canary Wharf's new Crossrail development. It will definitely add something extra to the business community."
Link.
Cinema Appreciation
UK/Wales: This is Cornwall, the website of the local newspapers in UK's south-weasternmost corner, are running a competition people's favourite local cinema. We like the look of all four but here is one:
The Plaza Cinema opened in 1938 with the premises changing hands several times until it was purchased by WTW Cinemas in 1996. Following extensive refurbishment and reconstruction, The Plaza was reopened in July 1998.

The cinema boasts four screens, all of which have Digital NEC projection. Screen Two has the capability to show 3D movies through the Real D 3D projection system.

Screen Two also retained a 35mm projector during the recent digital conversion and this has been used on regular occasions by renowned film critic Mark Kermode, who has hosted many 35mm presentations and Q&As to sold-out audiences.
Link.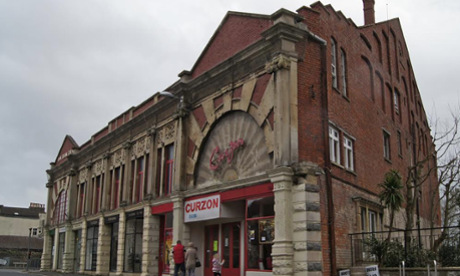 UK: The Guardian continue its excellent Cine-files, highlighting the best cinemas from around the UK. This week it's the turn of the Curzon community cinema in Somerset, run by a staff of 80 volunteers, whose very first screening was a 1912 fundraiser for the victims of the Titanic sinking.
The Curzon Community Cinema is quite a landmark in the seaside town of Clevedon. The 102-year old, art deco-tinged cinema has a bygone-era charm which sits perfectly with my old hometown's Victorian pier and promenade along the Bristol Channel seafront. But that's not to say the cinema is some kind of sleepy relic. The Curzon's staff of volunteers runs a tight programme of blockbusters, old classics and artsier fare, meaning it has a strong following in Clevedon as well as North Somerset and even nearby Bristol.
Link.
Finally
There's nothing like combining classical cinema with some funky iPhone filters. "Instagram makes it easy to hipster-ize just about anything. And Europe's oldest picture palaces are already retro-fabulous, so when you add a filter they become the pinnacle of cool. Add these movie houses to your must-watch list," says Huffington Post. We couldn't agree more. Link.

Latest posts by Patrick von Sychowski
(see all)