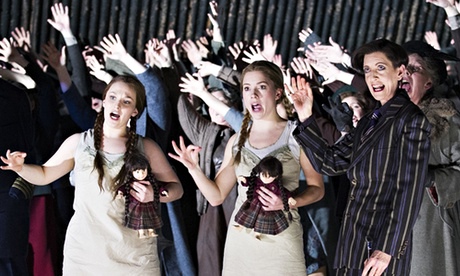 Two article's on the challenger to ROH's event cinema opera supremacy in the UK. First is The Guardian's take on ENO's Peter Grimes showing and decision to hire rock music director Andy Morahan to film it. Overall positive, bar a few technical glitches.
"English National Opera's new venture into live-screened opera has attracted industry hype for several reasons. It was less than two years ago that ENO's artistic director John Berry claimed not to be interested in such endeavours: they don't create new audiences, he said, and "putting work out into the cinema can distract from making amazing quality work". The company explained their about-face in December by announcing a fresh take on screened opera, promising rock 'n' roll camera angles, HD hyper-realism and a degree of intimacy and immersion that existing screenings from, say, Covent Garden, Glyndebourne or the Met don't tend to offer."
Link. 
The BBC features an interview with the director, where he explains his thinking.
"Previous broadcasts have "tended to be shot in quite a flat way, just looking at the stage" he explains. "You don't really get a sense of where you are and they miss out on some great angles. You can have reverse shots and even someone shooting while part of the chorus. You can make the stage itself the centre of the immersive experience." Employing multiple cameras, Morahan likes "to keep them moving. Whether it's little creeping zooms, dolly shots or jib crane shots. I always found with music videos that the more the camera moves, the more lyrical it looks.""
Roll Over Britten! Link.
Terrorism
Pakistan: The perpetrator of the first of the two recent Peshawar cinema attack that killed three people has confessed – and it is a teenager.
"Fifteen-year old Hassan alias Israr, mastermind of the bombing at the Shama Cinema in which 14 people were killed and 21 others injured, on Monday confessed to his crime in a local court.

Recording his statement in the court of Judicial Magistrate Muhammad Ilyas Khan, the young attacker stated he along with three accomplices first reached the gate of the cinema. He stated that he and his other accomplice Bilal first offered body search at the entrance gate of the cinema and bought tickets.

Soon after the body search, he said they came out from the cinema premises and tied the hand-grenades to their legs. The second time, he said, they succeeded in carrying the grenades into the cinema hall, where they attacked the film viewers from behind after watching the film for some time."
So that this does not give you a one-sided view of Pakistanis as a country of terrorists, contrast this despicable act with those of fellow 15-year old Pakistani school boy hero Atizaz Hasan . Link.
Event Cinema
UK: NT Live's War Horse transmission will be 4K, thanks to the involvement of Sony.
"On Feb. 27 2014, National Theatre Live will broadcast "War Horse" live from the New London Theatre to cinemas across the world. The broadcast will be shown in Sony 4K at the Curzon Cinema in Chelsea, the production will be projected using a Sony projector. The recording will be available as a 4K DCP allowing many 4K enabled cinemas to also show encore screenings at a later date.

Creative Broadcast Solutions, technical producer for NT Live, with NEP Visions, NT Live's long-term OB partner will work with Sony, using Sony's F55 Super CineAlta cameras equipped with Fujinon Cabrio lenses to capture the performance. NEP Visions will provide the technical infrastructure and expertise to take the 4K content from camera to satellite, as well as recording and broadcasting a simultaneous HD version.
Link.
USA: It's not just Oscar nominated films that will be playing in cinemas this Sunday in Cape Cod.
"Two local theaters will bring Hollywood glamour to the Cape on Oscar night, March 2. The Chatham Orpheum Theater will host its first annual "An Evening with Oscar" celebration. The 86th Academy Awards will be shown live from Hollywood in HD and Surround Sound in the historic cinema's main theater.

In Dennis, Cape Cod Museum of Art, Cape Cinema and Eventide Arts will team up to present the "Red Carpet Gala." The evening will start with pre-Oscar festivities at the museum followed by a live telecast of the Academy Awards at Cape Cinema. The buildings are adjacent to each other, both located on the grounds of the Cape Cod Center for the Arts, on Route 6A in Dennis. And there will be an actual red carpet, the organizers say."
Tickets are $25 and $75 respectively. Link.
Business
USA: Twitter is partnering NCM. "[C]inema network NCM Media Networks says it is teaming up with Twitter's Amplify video promotion tool to develop a branded entertainment series that it says "will bring the most exciting movie conversations, tweets, and Vines to the big screen." Expected to launch in mid-2014, the show will be seen in movie theaters via NCM's FirstLook pre-show program, and distributed via NCM Digital and through Twitter Amplify." Link.
India: South Indian's are probably the world's most film obsessed people. But it also means one of the most interventionist and regulation & restriction driven industries. "As a gesture of fair play for films of all sizes and budgets, Tamil Film Producers Council's head Keyar says that soon they may put a cap of Rs.40 lakh [USD $65,000] on film promotions. He had raised the issue at the audio launch of Tamil "Snehavin Kadhalargal". "We have been thinking about implementing a cap on promotional activities of films. Very soon we plan to restrict the promotional costs of any films to Rs.40 lakh, irrespective of its budget. So, there will be a fair play for all kind of films in the industry," Keyar told IANS." Link.
Cinema Opening/Closing
Canada: "Movie buffs longing for the days of a downtown Ottawa multiplex cinema will soon be able to catch a matinee at Lansdowne Park. Cineplex is moving a 10-screen theatre complex with up to 1,700 seats into the urban village by the end of this year… Three separate VIP auditoriums will be licensed to serve beer, wine and martinis and a menu could include calamari and burgers. Leather seating, wall-to-wall screens and surround sound will also be part of Cineplex Cinemas Lansdowne and VIP." Link.
UK: "Cineworld in Feltham is due to reopen this evening after being forced to close for 24 hours. The cinema chain posted an update on its Facebook page to say that it expected normal service to resume from 5pm today (Monday) after resolving 'drainage issues' that led to its closure on Sunday." Link.
Fiji: "The Damodar group of companies has confirmed that it has identified a potential site in Nasinu for the construction of a cinema complex. CEO, Div Damodar confirmed that drawings and feasibility studies have already started. Damodar said it will be a totally different set up." Link.
Accessibility
Australia: Shame that it takes a grant to make this happen but good that it still did. "Dr Geoffrey Blainey awarded the Daylesford Community Theatre a grant of $4600 at the Deafness Foundation 2014 grants ceremony in Melbourne recently. The money is to assist with the installation of a hearing loop at the Rex cinema in Daylesford. This loop will assist those with hearing aids to have a much better cinema experience." Link.
Finally
If you are a film fan in Jerusalem, it seems that you won't get to watch your favourite film stars at the Cinema City on Shabbos (i.e. Shabbat, the Jewish day of rest) "Jerusalem Deputy Mayor Yossi Deutsch spoke with Razi Barkai of Galei Tzahal (Army Radio) on Sunday morning 23 Adar I 5774. The chareidi deputy mayor spoke of the overwhelming opposition to the planned opening of the new Cinema City on Shabbos. Deutsch explained that "most of the city council" opposes operating the major movie theater shopping center complex on Shabbos. He stated that many of the non religious councilmen feel that Jerusalem must protect the religious status quo and religious atmosphere that exists on Shabbos, and therefore they oppose opening the new complex on Shabbos too." Link.

Latest posts by Patrick von Sychowski
(see all)