You wouldn't expect UK's most successful cinema innovator to have a tag-line of 'Tell no-one', keep audiences in the dark about which film they will get to see and then charge them double what a ticket costs in Leicester square to show them an old film readily available on DVD.
Appropriately enough I met Future Cinema's founder Fabian Rigell at a BSAC sponsored keynote by Twitter's UK head, because Future Cinema is both a reaction against the on-line disintermediation of film consumption, as well enabled by the technologies of social media and digital projection (they claim to have an on-line community of 2.8m on Twitter, Facebook, etc.). We discussed how to build audiences for old and niche film, me for a small Swedish cult label and him for over 100,000 people at events across London alone last year. He is an unassuming PT Barnum of exhibition without a cinema of his own; the world is truly his screen.
Although he was already the subject of a major profile in UK's Wired magazine last year and the events have steadily been growing in popularity in London and beyond, it seems that 2014 will be the breakthrough year for Future Cinema and its sister operation Secret Cinema.
Put simply, FC/SC do not arrange film screenings, they stage events around films in which the audience become participants. It has become a must-attend fixture for film lovers in London, but has been a long time coming from a small but telling start. It began, as noted by Wired, when:
Riggall wanted to find out how to turn [a film festival] into something more social and reach audiences beyond the film-festival circuit, but he wanted to go further than just screenings. "How can we create a film experience that's more like a nightclub? There's music and there's performance and there's art and you dress up." He launched Future Cinema in 2005 as "live cinema"; 1,000 people attended a screening of Dreams Money Can Buy, an experimental film from 1947. Riggall put on gypsy and flamenco bands; audio-visual group The Light Surgeons created an installation.
This has since led to showings of The Shawshank Redemption in a Hackney school converted to a prison, with audience members having to dress up as inmates; a One Flew Over The Cuckoo's Nest event held at the Princess Louise Hospital where audience members were admitted and "treated"; and as Screen noted, "More than 25,000 audience members attended the last Secret Cinema run of Brazil, which ran from May 2 to June 9. The production saw screenings of the 1985 film staged across a 13-floor office block in West Croydon, with music provided by Imogen Heap, Atoms for Peace and The Knife, among others."

Calling it "immersive events that transform cinema-goers into participants have become popular nights out in London," BBC Culture's take on it is that:
It's a world away from watching a film slobbed out on the sofa or on the move with an iPad. Today we are used to immediate, on-demand entertainment, and we often enjoy it alone. While technology has made us more connected, it has also driven us further apart as we bury our heads in our devices. Future Cinema, says Riggall, was "born out of this need to need to take on this over automated world, where there is so much information, there is very little that is mysterious."
While Secret Cinema does not reveal which film the audience will get to see experience, Future Cinema goes beyond that and has even shown new films day-and-date with great success:
So far Future Cinema has played in cities across the UK and in some international locations, such as Berlin, Paris and Kabul. They are hoping to launch in Los Angeles and New York this summer. Riggall is also in talks with studios about releasing films simultaneously via Future Cinema and the box office. In 2012 Prometheus, with the endorsement of Ridley Scott and 20th Century Fox, ran in both concurrently, taking more at Future Cinema's screenings than it did at London's BFI Imax. Riggall believes that this will herald a new future for cinema. "You can go and see The Hobbit in Imax or 3D ? or go and see it in the shire that we have created in an abandoned forest," he says, adding: "We'll have a massive feast around the fire and we all get killed by orcs."
While killing your audience might not make for good repeat business (he was of course joking), Future Cinema is deadly serious about taking the company in a more corporate and commercial direction, while still staying true to its roots. Most recently the company has expanded its focus and reach by hosting a family and children friendly staging/screening end of last year. From Event Magazine:
Based on the 1984 movie Ghostbusters, it launched on Halloween and ran until mid-December, attracting around 14,000 attendees. The event encompassed matinee shows suitable for younger children and their families.

Riggall told Event: "With the children-friendly Ghostbusters shows, it was very much the beginnings of catering our productions for younger audiences. Kids go crazy over immersive theatre, and the Secret/Future Cinema concepts are inspired by films from our own childhoods.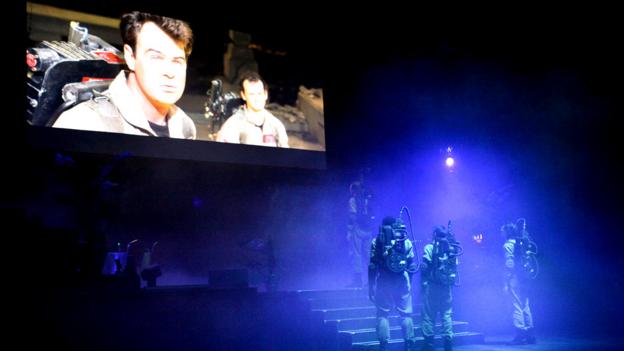 The company also plans to go on the road in 2014, having already staged simultaneous events in several cities. According to Wired:
Riggall's ultimate vision is even more grand. He wants to patent Future Cinema as a format. "On the posters, it won't be 'See it in 3D'. It will be: 'Live it in Future Cinema.'" After that, he wants to own the means of production itself. "The future is producing our own films that become events."
While this is not something that is an option for the average exhibitor, it shows that as well as bringing live events to cinemas, films can become live events themselves beyond cinemas. Above all, it shows that showmanship can continue inspire people to watch films away from home and pay good money to do so. You can follow Secret Cinema on Twitter or buy a ticket here. And remember, tell no-on.

Latest posts by Patrick von Sychowski
(see all)