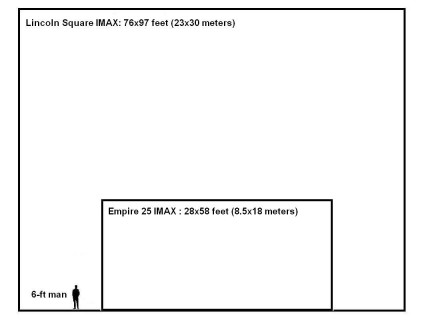 – The backlash against IMAX Digital appears to have begun in earnest with a Slashfilm blog post titled 'Why You Probably Shouldn't Waste $5 More For Digital IMAX'. Imax gets taken up for the shrinking screen size (see comparison above), as well as the resolution of the new projectors. "Not only are the IMAX Digital screens much smaller in size, but also a much lower resolution. IMAX digital currently uses two 2K-resolution Christie projectors
to project two 2K images over each other, producing an image that is potentially of a slightly higher resolution than common 2K digital cinema. But with AMC installing Sony 4K digital cinema projection systems in all 309 theaters and 4,628 screens by 2012, why would anyone want to pay $5 more for a lower resolution theatrical experience?" A knowledgeable industry insider told me at this year's ShoWest that he was surprised that the audience hadn't cottoned on to what he termed a 'con trick'. Looks like they might do;
– There are a lot of Iron Maiden fans around the world, is the conclusion we draw from the announcement about the large number of people who went to see the aging rockers in 'Iron Maiden: Flight 666'. From the press release, "70% of the total admissions, which exceeded 100,000, were from one-day-only special event screenings, day and date, on April 21st. The feature length film, released exclusively on digital prints, has achieved the distinction of being the biggest ever worldwide simultaneous release of a documentary film." In case you were wondering, "Flight 666 won the audience award for Best Music Documentary at the recent South by South West festival." Rock on;
– Celebration Cinemas is getting it's third generation of Loek's running the Michigan based exhibitor. 32-year old J.D. Loek seems a pretty progressive sort of chap, based on the interview inMLive.com. "Two years ago, J.D. Loeks, then chief operating officer, led the company to adopt digital projection technology. The $14 million project expanded the options for the Loeks chain of movie theaters. "With film projectors, the only thing you can put on our screen is film stock," Loeks said… "With digital, you not only have better movies, but you can put anything on the screen, including live TV broadcasts, anything on satellite, or anything on a computer screen." Young Master Loek has his eyes squarely on what the technology could do for the exhibitor's bottom line. "The technology brought opportunity to theaters with plenty of seating for large groups. "It's redefining what we can do in our facilities," Loeks said. "We're doing catering, banquets, sports events, business meetings, non-profit fund-raisers. We're in a period of rebranding right now." The non-movie events have grown from 1 percent of the company's income heading to 10 percent over the next year or two." The quote in today's headline is from JD;
– Want to know how to be a recessionista cinema goer in Korea? The Korea Herald has some good suggestions. "Even for just the price of a cup of coffee you can see some of the newest releases in Seoul. At small theaters in your area and even larger chain megaplexes in Seoul (Megabox, Lotte Cinema, Cinnus, CGV) you can watch early-morning showings throughout the week, and on the weekend, for about 4,000 won. Also, late-night double- or even triple-features are available at some theaters, where you can watch multiple movies through until dawn for around 10,000 won." The further suggestions are even more obscure but cleaver and helpful (not least for expats) and give a fascinating glimpse into cinema going in South Korea;
[youtube]http://www.youtube.com/watch?v=2dEdVwg7to4[/youtube]
– The Cannes Film Festival opening of Pixar's "Up" (above) is opening un petit boîte de Pandore regarding 3D in France. From AFP, "In France, for instance, "Up" will screen in 800 movie theatres from July 29, but only 120 are kitted out to show it in 3D. The French release of "Monsters and Aliens" was hamstrung by an unseemly row between Paramount, distributors and cinemas over the extra costs, although Pixar settled a similar row by offering cinemas a slice of ticket revenues for its hit "Bolt." Another glitch in the studios' plan: filmmakers, distributors and cinemas cannot agree on who should pay for the glasses that viewers still need to get the full effect." What isn't mentioned is that French audio-visual body CST has strict rules about quality norms for cinemas and that one of these is light output – something that any 3D system struggles to achieve on screens above a certain size. Maybe that's why Christie is installing two of its SB (super bright) projectors for the 3D screening of "Up." We are hoping for a full report from Sperling;
– Parents trying to smuggle their children into screenings of "Slumdog Millionaire" are putting at risk the licence of Screen Machine, says BBC News. "Operators of the Screen Machine – the UK's only mobile cinema – said they had never known of so many attempts to get under-age children into a film.They said an 11-year-old tried to get in to see the certificate 15 movie by hiding behind his grandparents….Robert Livingston, from Hi-Arts, said it appeared it was the children who wanted to see the film, rather than a problem of finding babysitters while the parents went out. He said it was a mystery to him why the film had captured the attention of so many young children." Read Robert Livingston's Hi-Arts blog for some of the better excuses parents use for smuggling in their kids;
– Finally, we bring you some ingenious thinking from Malaysia, how to come up with something even better than 3D. No, not 4D, not even the right direction. From Sun2Surf:
GSC general manager Irving Chee says: "As the leading cinema exhibitor, we always strive to bring movie fans the latest innovation in cinema technology, facilities and services for the best cinema experience.

"We kicked off the first-ever real-live 3-D version of Journey to the Centre of the Earth last year (2008), followed by the 3-D screening of the animation movie Bolt and Disney's Jonas Brothers concert earlier this year."
After listing a slate of upcoming 3D titles, the articles then goes on:
Chee adds: "It is only a natural ­progression for GSC to be able to screen movies in 2-D digital format and offer Malaysian movie patrons this improved viewing experience.

"GSC will look for more opportunities to showcase movies in 2-D digital based on Hollywood's approved DCI (Digital Cinema Initiative) Compliance Digital format."
That's right, "Angels & Demons" in glorious 2-D. Golden Screen Cinemas even charges more for Digital 2-D it than for 35mm…eeerh….2-D. We can see another Imax-type backlash brewing already.

Latest posts by Patrick von Sychowski
(see all)