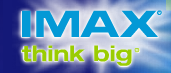 Regal has signed a major deal with Regal for the deployment of its digital 3D system. Major, but not as major as the previous 100 screen deal with AMC. According to Reuters:
Imax Corp said on Monday it had entered a joint venture with Regal Cinemas to have 31 of its giant movie screens installed in 20 major U.S. markets. Imax said the deal expands its joint venture partnership with Regal Cinemas to 38 theaters and will bring Regal's total number of Imax theaters to 52 by the end of 2010.
Similarly to the AMC deal, it seems that Regal will not be shouldering the costs of the new projectors directly, according to the New York Times, which noted that "The two companies said they would share the cost of installation and the revenue, but declined to reveal more detailed financial information."Expect more information to emerge when both companies have to file their quarterly reports, because you can't just give away 31 half a million dollar projectors without telling your shareholders about it – as well as how you are planning on making that money back.The first installations are expected to be in place in time for the IMAX version of the next 'Harry Potter' film on Noevember 21st of this year.

Latest posts by Patrick von Sychowski
(see all)