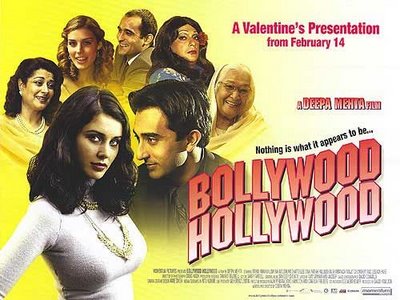 For one weekend out of 52, Indian cinemas look like those in almost every other non-US territory dominated by Hollywood films. There were no less than five studio titles opening this past Friday: I Am Legend, 30 Days of Nights, 1408, The Heartbreak Kid and Air Buddies, with just one Hindi film (Hitchcock's Strangers on a Train re-make Strangers), plus a last minute postponement of the release of Eastern Promises. While it shows a faltering grasp of the counter programming concept (vampire film, vampire/warewolf film, Stephen King adaptation and a narrowly avoided David Cronenberg film) it is the celluloid equivalent of saturation carpet bombing of Indian multiplexes with US films. The explanation is that no major 'Bollywood' releases are due for another week, when Aamir Khan's much anticipated Taare Zameen Par (Every Child Is Special) opens, alongside mid-size title such as Welcome. So next week is back to normal.
But Hollywood films are slowly starting to grow in the Indian cinema market even though they are still to mainstream cinema, what non-English language films are in the US cinema market. An article in Time of India (Hollywood spins Rs 300 cr web in India – not web link) shows that films from the major US studios have crossed the 300 crore rupees threshold ($76m) compared to 241 crore last year, a significant leap, despite the number of titles released only going up from 74 to 76, i.e. three every two weeks. From the article:
The mood in Sony, Warner and UIP is therefore celebratory. According to trade guru Amod Mehra, Hollywood's share in the cinema revenue pie in the country is still a nibble of barely 3 to 5%, but the fact that the Rs 300-crore mark has been crossed is reason enough to rejoice.

Proof of Hollywood's growng appeal is reflected in the distribution pattern. Casino Royal was released with 427 prints in 2006, whil Spider-Man 3- the biggest ever hit in India so far – was released with 597 prints this year. In fact, big Hollywood films are now often released with 100-plus prints, a sign of growing demand.
The article goes on to stress that part of the reason for the success has been the dubbing of films into local Hindi, Bhojpuri, Tamil, Telugu and other regional languages. In fact, the listings for I Am Legend showing in half of all the Mumbai screenings in Hindi, with even one Tamil screening in Bombay. Meanwhile, home-grown fare has not had a particularly good year (Bad year for Bollywood) with a disproportionate number of flops this year compared to 2006. But don't think that it is over for 'Bollywood'. From the article:
Tushar Dhingra, COO of Adlabs believes that in spite of the string of flops, statistically 2007 was better than last year. He says, "The marketing has been more aggressive and I would say that the quality of films were better than the quantity. If you take films like Hey Baby and Om shanti Om, or even Aaja Nachle, they might not be stellar box office hits, but the fact remains that they have had better weekends. The quality of the movies has improved quite a bit and we need to concentrate on that."
Hindi titles will still win out over Hollywood films at the box office for some time it seems. Despite the odd 'freak' week.

Latest posts by Patrick von Sychowski
(see all)