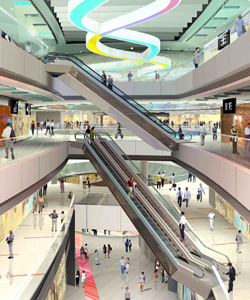 Anybody who has traveled to a developing country, be it Brazil, Russia, Turkey or India, and visited a new cinema can attest that the emerging middle classes demand no less luxury than their Western counterparts (even Ethiopians, as you can see from the item below). Yet the self-styled 'Five Star' multiplex by UA Cinema opening in Guangzhou in 2009 looks particularly impressive, if the artist's impression sketches are to be believed. Bob Vallone, director and general manager at Lark International Multimedia, is quoted in The Hollywood Reporter talking about the landmark property:

"The cinema will have every five-star requirement that's been inactive in China and all of the creature comforts built in. The proof is when you sit down, the picture is bright, sound is perfect, and you become engrossed in the move and it's an event," Vallone said.

The cinema, which also will house a Thai Orchids restaurant, will be located in the new Metropolitan Plaza mall and seat about 950 patrons. The cost is projected at about HK$20 million ($2.6 million).
It helps that people in the area have amongst the highest disposable income in China. The cinema and its owner have their eyes on the technological future as well:
"Our long-term plans in China are to continue to provide new technologies. I'm intrigued by holographic breakthroughs that are being made at the moment, but I think that's still 10 years away. Digital technologies will help to create the gateway for day-and-date release, which for me would be wonderful," Vallone said.
Not sure holographic cinema is even a distant reality (H-Cinema? Wouldn't we need a new Hollywood specification/standards body all over again??) But Vallone must know a thing or two about cinemas, or he would not be honored as CineAsia's 2007 Exhibitor of the Year "for his development of the multiplex market in Hong Kong."

Latest posts by Patrick von Sychowski
(see all)