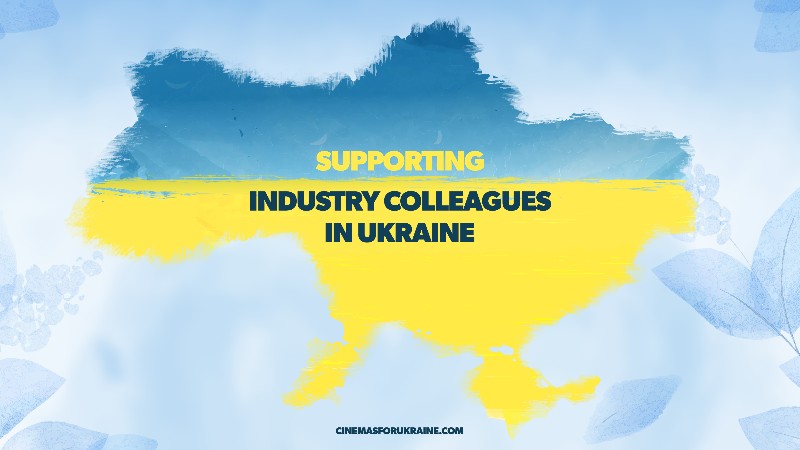 Cinemas for Ukraine, an initiative to help the UK cinema industry raise funds for their counterparts and others affected on the ground by the war in Ukraine has been launched today.
A joint initiative between the UK Cinema Association, Event Cinema Association and the digital agency Powster, 'Cinemas for Ukraine' has been developed in discussion with the Union of Cinema Theatres of Ukraine, the trade body representing cinema operators in the territory.
Funds raised by the appeal will be directed to the Fedir Shpyg Charitable Foundation, which has long-standing experience in providing targeted charitable assistance. Beneficiaries will include those working in the Ukrainian cinema industry, their families and others affected by the conflict.
Announcing the initiative at the UK Cinema Association's 2022 conference in London, UKCA Chief Executive Phil Clapp said:
"We know that everyone is looking for ways to respond to the horrific news coming from Ukraine, with UK cinemas already playing their part, with fund-raising preview screenings of the Swiss-Ukrainian film 'Olga' taking place at hundreds of sites now and across the coming weeks.

But we also wanted to provide an opportunity for those working in the wider cinema sector to help individuals and their families in our industry that are impacted."
Grainne Clarke, Managing Director of the Event Cinema Association, added:
"There are of course already high profile and long-established organisations like the Disasters Emergency Committee and the Red Cross, who are doing fantastic work in Ukraine. This is not an attempt to compete with those, but rather intended to provide another way for people in our industry to show their support for our fellow colleagues whose lives have been torn apart in recent weeks.

We are hugely grateful to colleagues at Powster who have supported this initiative by offering up their expertise in creating and hosting the campaign website. While our initial target to raise £5,000 is ambitious, we hope that colleagues across the entire industry will join us in making a donation to show their support and help those impacted."
The donation website can be found at www.cinemasforukraine.com
Cinemas for Ukraine
Funds raised by the initiative will be transferred on a regular basis to the Fedir Shpyg Charitable Foundation for use to help people on the ground.
A letter setting out agreement between the Foundation and the Union of Cinema Theatres of Ukraine can be found here: https://bit.ly/3DCHBlt
UK Cinema Association
The UK Cinema Association (UKCA) represents the interests of well over 90 per cent of UK cinema operators by number and market share. With membership ranging from the largest circuit and multiplex operators to single sites across the UK, the Association advocates on behalf of the UK cinema sector at international, national, regional and local level.
Event Cinema Association
The Event Cinema Association (ECA) supports and promotes event cinema on behalf of the industry and its members. Championing the growth and raising awareness of this evolving business of 'Big Screen' content. Members of the Association include exhibitors, distributors and vendors.
Powster
Powster, part of Vista Group International (NZX & ASX: VGL), is a digital creative studio and production company for over 150 movie distributors including all five major studios, streamers, broadcasters, brands and major music labels globally. POWSTER is known for its movie platforms which enable over eight million consumers a week to discover cinema showtimes on official movie websites, also its creative and award-winning use of innovative technology.