At CinemaCon 2023's International Day the honour of the International Keynote Addresses from Exhibition went to Mr Ajay Bijli, Managing Director, PVR INOX Leisure Limited & Founder PVR Cinemas. India's two largest cinema operators PVR Limited and INOX Leisure had recently merged to form the fifth largest listed cinema company in the world, the same year that India won two Academy Awards, marking a triumphant arrival at the global cinema scene for the world's largest country.
---
Good morning everyone, Namaskar, I would like to thank Mitch, MD Cinemacon, Laura, LPJ Productions and the entire team for inviting me here to speak at one of the most significant events of the industry. And thank you everyone for showing up this morning. I understand this is the first time an Indian exhibitor has been invited, so I'm truly humbled and honored. In these 15 minutes, I would like to cover as much as I can on the global trends, my own two big suggestions on what collectively needs to be done to resuscitate the exhibition sector and also to introduce India and the craziness of the Indian movie landscape.
Let me start with India first. We are the world's largest democracy with a population of 1.4 billion people. We are the fifth largest economy at USD 3.5 trillion and growing at a rapid pace of over 6%. The Indian consumer is spending a lot across 300 billion USD in the last quarter of 2022 alone. And also, as is widely known, we've got the largest number of millennials and Gen Z on the planet. 65% of Indians are under the age of 35. And of course, we are a movie crazy nation. So, here's a little snippet of that:
I'm going to resist the temptation of getting it to the NATO NATO song just now and make this as dignified as possible. But that was the madness of movie watching. There is a wedding scene there as well by the way. Somebody actually got married in the cinema last year, all four functions.
So, this passion that you just witnessed is what makes the Cinemas, India's number one out of home entertainment destination. With the highest number of admissions globally, we make more than 1800 films annually in over 20 languages. The Indian box office surpassed USD 1.3 billion in 2022 which is equal to the pre covid levels of 2019 and we are among the few markets where we continue to grow, adding 400 screens per year.
Now that I've given you the spicy flavor of India, let me just talk about the global exhibition as it stands today. I just want to remind everybody once again, I know it's been said before, that our sector has faced a lot over the last century and decades from World War I to II, Spanish flu and now with the advent of streaming, cinema has always prevailed hence we have every reason to remain confident that this difficult phase too shall pass.
So far, the trend has been very promising. For example, the number of new releases already have increased by 36% 89 to 121. And the number of wide releases have increased by 12% from 16 to 18 in the first quarter since last year. And over the years in spite of all the technologies and out of the home entertainment options, cinema has always grown. Pre – COVID global box office had exceeded USD 40 billion for three consecutive years. While we're nowhere near the pre COVID levels, we are heading in the right direction, with 81% year on year increase in global box office in 2021 and a 22% year on year increase in 2022. The start of the current year has also been very promising. We recorded the best first quarter since 2019. And ended up with USD 8 billion global box office within the first three months but of course a lot needs to be further done.
We can attribute this to many factors. For example, premium experiences are back and IMAX having the best first quarter in its history.
The big is getting bigger, big blockbusters are continuing to dominate with films like Avatar 2, top gun and Wakanda forever making global and local marks in the box office. The same thing is reciprocated in our country as well, in fact post covid regional films like RRR, Hollywood Avatar 2, Bollywood Pathaan have broken all-time box-office records surpassing what they had even achieved pre-covid. It just goes to show that once the movie connects with the audiences, there is no upper ceiling to how well it can perform.
More recently, the success of features like Mario Brothers and earlier puss in boots shows that families are also back. Blockbusters are working and so are midsized films. Several movies released last year also broke the myth that midsize movies are not performing well post pandemic. The bottom line is, we all have reasons to remain optimistic.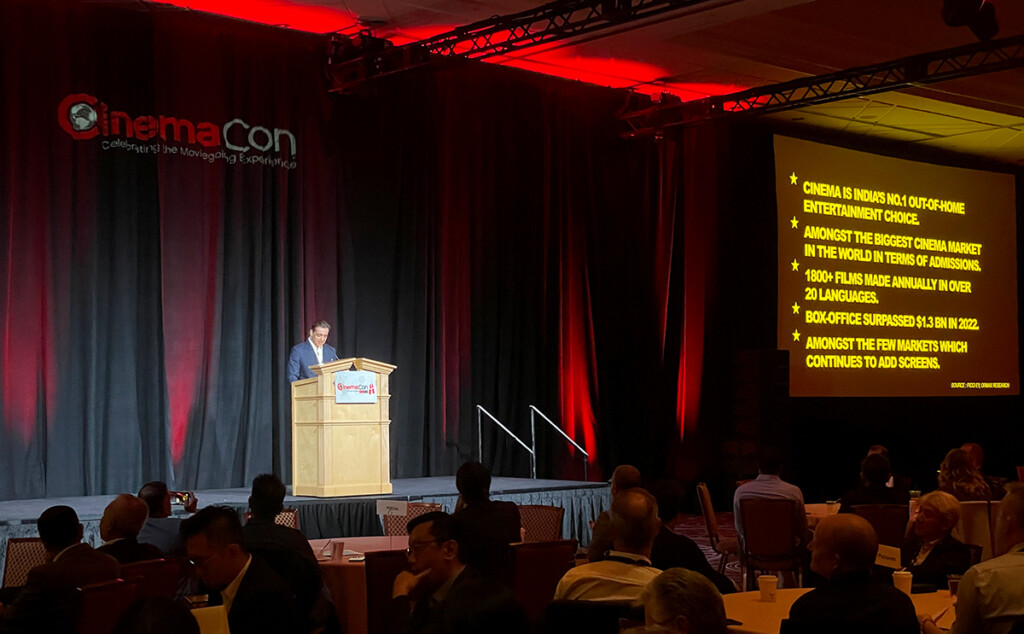 If you will indulge me a little bit I am going to talk a little bit about my own company. So, we started, we were the first to launch PVR cinemas in 1997.
Our philosophy has always been to celebrate movies as you know in India movie-going is a celebration. And we have led in every aspect of exhibition space from design to cinema concepts, technology, F&B, marketing and customer service. Consumers are looking for an out of home entertainment experience and there is no compromise that we have made in delivering the wow factor right from the entry to exit. Our Key pillars have always been Design to begin with. We want to completely transport our audiences from the moment they open our doors to our foyers, to the concession stands to the auditoriums and take them to the world of make believe. I mean movies transport you to another world. And we wanted the world that we've created as well is as close to what is unfolding on the screen.
We are also offering a range of premium seating solutions with formats including IMAX, 4DX, ICE. All differentiated cinema concepts. India is a very disparate market, and we have consumers at different price points coming to cinemas. So, we've tried to provide them with a truly elevated experience, right from a ticket price as low as $2 to as high as $20. F&B is another very important part, so we have International and Indian celebrity chefs to prepare an array of food that goes beyond popcorn, cola and the standard cinema to cater to the diverse audience needs. We've also recently started a home delivery, which has been very successful and now the fifth largest QSR brand in India.
And finally, personalized digital engagement. We believe in developing a robust calendar of marketing events. We leverage our loyalty program of 40 million customers to understand their needs.
But then, of course, all this came to a sudden halt in March 2020, like every other cinema company, we also got impacted. But we try to find some light in this darkness, and we managed to find opportunity in this adversity. And as Winston Churchill famously said, ''Never let a good crisis go to waste'' and neither did we. So earlier this year, we ended up merging with the second largest exhibitor chain in India to make our balance sheet stronger and confront the headwinds which are facing our industry.
We are now the fifth largest listed multiplex chain globally attracting around 180 million annual admissions with revenues of USD $700 MN annually. We currently operate approximately 1700 screens in 115 cities in India and Sri Lanka and we're also very proud to have the highest admissions per screen per year of about 1,26,000 customers.
That was enough about us thanks for indulging me.
Now, towards the end of my presentation, although I'm sitting in an incredibly experienced august company of people I would still like to share my two bits from of my own experience as a keen observer of the industry and as a well-wisher of how we can revive and our roles to play.
Let me start with the exhibitors first. I think we need to adapt ourselves to the ever-changing landscape and the consumer behavior. We need to make cinemas more relevant. We need to reimagine and reinvent keeping the youth in mind; making them cutting edge and experiential with some more formats, technology and hospitality so that cinemas once again can be celebrated. We should use our loyalty programmes and our database to communicate directly and ensure we are customizing our communication to them and we get those coming back to the cinemas. We need to be very open to the idea of using various pricing strategies as a marketing tool. Whether it's through subscription programs, bundling of various offers, tearing and segmentation to attract customers at various price points. We need to build out-of-home entertainment destinations and not just cinemas, completely differentiated from watching content at home.
Coming to the studios, I am extremely grateful to all our partners here in US, globally and in India to support us during and post covid for the revival of cinemas. At the same time, I'd like to urge the filmmakers to increase the quantity of films meant for the big screen. We need more films whether they are larger than life or mid-size. We need studios to ramp up production to keep audiences coming back for more.
With all the experimentation behind us, a theatrical window must stay. Windows have existed for decades, studios have created events around IP and made it more valuable. We need to maintain the monetization journey that's always been there of content. Increasing window further is not a thought that we should shy away from.
Coming to this streaming platforms, I think it's not a binary discussion, of either or. I think we are here to coexist. There is no question about the fact that incredibly, high-quality world-class addictive binge-worthy content has been created. However, I do believe that this talk about consumers having a choice to watch that content anytime, anywhere is something that needs to be carefully thought of. It will be a very short-lived strategy if we reduce windows as consumers will miss out on the big budget films that won't be able to recoup their investments if they come too quickly to the platforms. Consumers should be given a choice but in such a manner that the overall pie of the film industry increases and everybody benefits and can co-exist. These are two very completely different movie watching concepts. Its utilitarian v/s experiential. Theatrical release set the quantitative and qualitative benchmarks which drives greater value for streamers and everyone. Let's create a perfect ecosystem attune making content bigger, leveraging our inherent strengths, the longer a film runs, the better it does on streaming.
The recent news that streaming players like Apple and Amazon will invest more in content for theatres, which is awesome. Hoping others will also follow. I think it's obvious that we all need to work together and not necessarily look at this world for disruption. I just find disruption as a word very destructive. So, we don't need to use it that often and we need to co-exist.
Despite everything I've said about the roles that all of us have to play, the most important thing that gives us a lot of hope is this quote by Aristotle that a man is, by nature a social animal. I heard a phrase in one of the previous speeches, that if content is king, cinema is the kingdom. But the real king is the customer, and a customer wants to go out. He doesn't want to be incarcerated at home especially after the pandemic and he will always commit himself to the big experience.
Therefore, it's important for us to remain optimistic and keep our chins up and do all that it takes to get him back to the magic of big screen because we all love to experience to celebrate this togetherness called cinema.
Thank you once again for inviting me here today to share my thoughts. My best wishes to everyone for a blockbuster year ahead.

Latest posts by Patrick von Sychowski
(see all)