On 21 May, the Marina Stage of Cannes' Marché du Film hosted a conference organized by the Saudi Arabia Film Commission. The event, moderated by Antoine Khalife, explored the current state of Arab and Saudi Cinema and saw the participation of Mecca-born producer and director Aymen Khoja ("Rupture") and Egyptian writer and producer Mohammed Hefzy ("Feathers," "Amira").
This year, six Arab films are screening in the festival's main sections, with some being full European productions helmed by Arab directors ("Rebel" and "Our Brothers").
First, Hefzy talked through his efforts behind his first co-production, "Clash", and praised the French financing system, which he described as "open to Arab stories" and "perhaps the only one where you can see foreign films outperforming Hollywood titles." He described his Egypt as an exciting place for creativity where things are in transition "economically, socially and politically."
Afterwards, Khoja touched upon his work on "Rupture." Set in London and shot in Romania owing to COVID restrictions, the Saudi feature follows a young couple who relocate to London to start a fertility treatment.
One of the main challenges faced by the newborn Saudi industry is pacing, said Hefzy. After lifting the 35-year ban on cinemas, the country's untapped market is huge and there is an abundance of talent eager to give their contribution. The creation of good projects and infrastructure, however, requires time. A too fast, uncontrolled growth may be harmful for the sector's development, he warned.
Even so, over the last 18 months, Saudi Arabia has provided the backdrop for three major Hollywood titles, Ric Roman Waugh's action thriller "Kandahar," Rupert Wyatt's epic "Desert Warrior" and the Russo Brothers' crime drama "Cherry."
Moreover, the time is ripe for local stories. Eight features have been finalized over the last 12 months and are ready to hit the festival circuit. These include Tawfik Alzaidi's "Norah" and Moe Alatawi's "Within Sand," both in receipt of the bursaries awarded by the Saudi Film Commission's DAW Film Competition, an initiative launched by the Ministry of Culture in September 2019 to nurture the next generation of filmmakers.
Hefzy himself is producing a new Saudi feature – "Basma" by actress and activist Fatima Al-Banawi, a drama focusing on the theme of mental illness set to enter production in Jeddah in October. Staged with Paris-based Daniel Ziskind, Hefzy explained how a co-production with American and European partners must always be a creative collaboration: "The purpose is not just to fill a small financing gap. That's not the main reason why we're doing it. [Co-production] can really help the project to be done in a better way and to travel, find distribution, lobby with sales agents and, sometimes, with festivals…" Co-producing, however, is not necessarily the right path to take, he added. Many projects should remain local, as this allows them to maintain creative freedom and retain bargaining power, especially when it comes to negotiating rights.
Currently, the country hosts two festivals annually; the Saudi Film Festival, now in its 8th edition, and the brand-new Red Sea International Film Festival. In 2021, its year of inception, the gathering showcased 136 titles from 68 countries including 28 world premieres with 27 home-grown features and shorts. Furthermore, the future might be brighter thanks to the Saudi Film Commission's recently announced commitment on implementing a 40% cash rebate on local and international fiction, documentaries and animated projects shot in the kingdom.
"Within the upcoming years, I look forward for Saudi films to be watched by almost 400 million people. We can't achieve this alone. We can do this with people like Hefzy and other producers from across the region and learn from them," concluded Khoja on a hopeful note.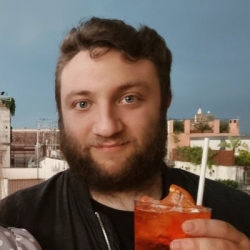 Latest posts by Davide Abbatescianni
(see all)