After our pre-Christmas look at Barco's efforts towards operating more sustainably we now turn our attention to fellow digital cinema projector manufacturers Christie and NEC. We also take a look into the wider issue of corporate environmental responsibility and action being undertaken by both companies.
Once again please note that the following discussed measures are not exhaustive, and each company has more information on their respective websites.
Christie Second Gen Projectors 
Christie's current laser platform is its second generation series. RealLaser advancements, particularly in green laser technology, mean that the current series is four times more power efficient than its predecessor and includes a developed, simplified cooling system. Image quality has also because of these improvements – a win for both operators, audiences and the environment.
Laser projection, and specifically RGB, is designed with longer operational life in mind. In older, lamp-based projection models the more harmful portions of light – UV (ultraviolet) and IR (infrared) particularly – caused longer term stresses on various components of lamp projectors. This degradation meant not only more maintenance was needed but the worn-out elements needed to be replaced mid-cycle (or whenever was necessary), generating waste. RGB laser projectors use a grand total of zero UV and IR light, therefore reducing the need for a) mid-cycle maintenance and b) disposing of waste lamp components.
President & Chief Operating Officer Zoran Veselic says, "Transitioning to solid state RGB laser projection benefits both parties. The Christie CP4330-RGB projector, for example, has an operational efficiency of more than 12 lumens/watt, which helps to significantly lower operational expenses while reducing the carbon footprint for exhibitors and Christie as a manufacturer."
Dusty (Not Springfield)
Another problem common to lamp projectors was/is dust ingression. Airflow was necessary to prevent lamp overheating but this also meant dust had free access to the inner parts of the projector. Over time this build up would, understandably, cause maintenance issues.
Christie's solution to this? Their RealLaser RGB projectors, with fully sealed optical design. No lamps mean no required airflow, which in turn means no dust and far fewer maintenance visits over the lifespan of the projector. Improved efficiency usually equals improved (minimised) environmental impact, and in "secondary" ways such as fewer car journeys for maintenance visits.
The Trickle Down Effect
To operate in an effective sustainable way, "green thinking" has to come from the top down. Without this stemming from and being led by leading management, any employees who try to do their bit will never have the capacity or reach to implement the same level of environmentally-friendly work practices in the same way management-backed initiatives do.
Christie launched their Environmental Management System (EMS) program over a decade ago, which has been shared among all Christie offices internationally. Along with parent company USHIO they have been working on realising a sustainable vision, company-wide, since 2004 (you can read USHIO's 2020 Environmental Vision here).
Christie's environmental approach covers all aspects from their RGB laser products through to employee engagement and involvement. Veselic comments, "Total cost of ownership, operational efficiency and carbon footprint are critical aspects of running a cinema business today."
Staff Involvement
A question I've asked more than once when attending various sustainability groups or conferences is: how do businesses, claiming to be acting sustainably, ensure their staff are adhering to their processes? Obviously no company can monitor and "enforce" eco-friendly behaviour 100% of the time – and a "nagging" culture does little to encourage positive behaviour. But Christie wanted to create a positive sustainability lifestyle that staff would feel encouraged and rewarded to be part of…
Green Legs
We've all been woken up by our alarm and suddenly that ambitious plan of getting on your bike for your morning commute suddenly seems like the worst idea you've ever had. But Christie encourages employees to consider – and change – the way they get to work so that 78% of offices (globally) have employees who commute without a car. At their California headquarters office building roof-mounted solar panels are not only there to offset energy usage in both buildings but to also charge employee electric vehicles.
Every May the Christie USA office encourages a "Bike or Walk to Work Day" and in return they're rewarded with a healthy breakfast and two free cinema tickets. What's not to like?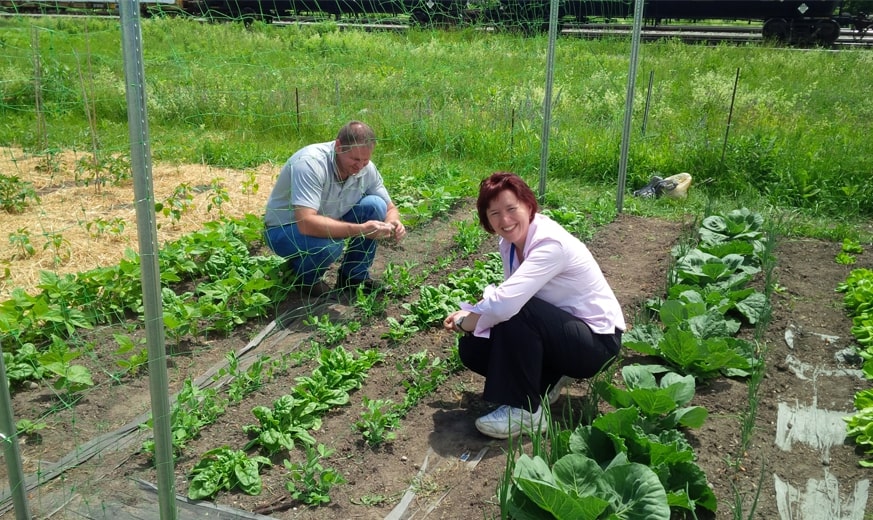 Green Fingers
Specific to Christie USA and Christie Canada community gardens have been planted and are tended by any staff who have green fingers. Not just a pleasant outdoor space to enjoy, these gardens give employees an extracurricular activity to orchestrate and participate in with the added bonus of fresh air and exercise. Staff are responsible for the gardens all the way from buying the seeds to planting, maintaining and then enjoying the produce. 
Recipe swaps are also common between staff which is the kind of wholesome-ness that we're here for.
Circular Heating
Christie made the conscious effort to examine and make fundamental changes to their product manufacturing process, addressing some of the waste creation issues it faced.
Their heat recycling is an example of the circular economy in action. When heat is generated during the projector testing process in production, this is preserved and redistributed to heat other areas of the plant. In the reverse of this when the weather is hotter, dampers expel heat to outside the building, reducing the need for air conditioning.
Reduce and Recycle
Even though not the most groundbreaking of initiatives, reducing and recycling are some of the easier ways to "do your bit". Overall, Christie's "Environmental Activities" have reduced natural gas consumption by 40% and water usage by 25%.
Their recycle rate, in-plant at their primary manufacturing site, is an impressive 82% – including their innovative foam recycling scheme, initiated by their very own employees. This latter programme was developed, together with their supplier, when discerning staff realised that the protective foam received as packaging was not able to be recycled in the typical way. Bravo!
NEC
"What Took You So Long?"
NEC's Environmental Responsibility website page reads as "actions speak louder than words". Hosted at the bottom of the page, a short but effective video explains the company's thoughts on the topic of sustainability. In the video, simple statistics are given on global pollution and emissions, and some on-screen text then explains that "Today, almost every manufacturer is talking up their green credentials…But, for NEC, environmental policies are nothing new." 
In one sentence NEC positions itself as a company that has been quietly working away at improving its environmental efficiency, before it was "cool" or necessary to do so. A clever touch.
Offsetting The Carbon Footprint
In 2002 NEC Taiwan began their Ecotonoha project in collaboration with the Taiwanese government, where they planted 750 acres of forest each year until 2011. For the following decade until 2021 these forests have been maintained, with the goal of one million tons of CO being absorbed over the two decades. 
The Telford Centre
NEC's European Technical Centre (ETC) in Telford, UK, is a cleaning and repair centre for NEC's projectors and displays. The ETC operates a zero-to-landfill policy meaning that all waste from the site is either recycled or incinerated, the latter predominantly being used for general waste such as food or plastics.
The range of materials that are recycled is wide – wood / pallets, hazardous materials, electronics, metal and paper / cardboard.
Prism Refurbishment Programme
NEC's Prism Refurbishment Programme does what it says on the tin. A fast and cost-effective way to clean, repair and/or refurbish an underperforming or non-operational projector, the Prism scheme is available to all cinema operators. This postpones the need for investment in new projection equipment resulting in significant cost savings and reducing the need for projector disposal.
And the best bit – the Prism scheme is available on projectors that are out of warranty, with NEC giving an additional six month warranty on any parts that have been replaced during the repair process.
CJ Green is the sustainability feature for Celluloid Junkie. If you'd like to be part of the feature, wherever you are in the world, or you'd like to nominate another company in the cinema industry who are doing their bit for the environment, then please contact Helen Budge on helen.budge@celluloidjunkie.com

Latest posts by Helen Budge
(see all)