This week Indian multiplex major INOX inaugurated its first Megaplex, promising the "World's First Cinema with Maximum Formats, Maximum Experiences" – and delivered on that claim. It was hard not to be impressed by the number of formats the multiplex combined under one roof, along with the wealth of F&B options, spectacular decoration, level of service and attention to detail. As India screen growth slowly catch up with it already being the world's largest film producing and ticket selling nation, Inox shows that India can also be a world leader in the type of multiplexes that it builds.
In raw numbers, this 11-screen cinema is part of the 598-screen strong INOX presence across 68 cities in India that the company has built since it launched its first multiplex in Pune in 2002. INOX operates 3,000 shows per day with +70 million patrons per year, or equivalent to 5-7% of the Indian population. The Megaplex is also the largest multiplex in Mumbai city (the second largest has nine screens). The formats include IMAX, ScreenX, Samsung Onyx, MX4D, Kiddles and the Insignia VIP screens. Underpinning this is technology from vendor partners Barco, GDC, Harkness, Volfoni, Dolby, JBL and QSC.
Yet putting together all these big-screen options in one place by itself is not what makes the multiplex memorable, but the fact that INOX has been true to its vision of 'Amplifying Experiences' by creating 'Massive Experience Driven Entertainment Destinations'. This is perhaps why it can boast of a 'host of accolades' and being the most awarded cinema operator in India, for everything from 'ET Best Brands' to several Multiplex and Cinema of the Year awards. No doubt more will come after the opening of the Megaplex.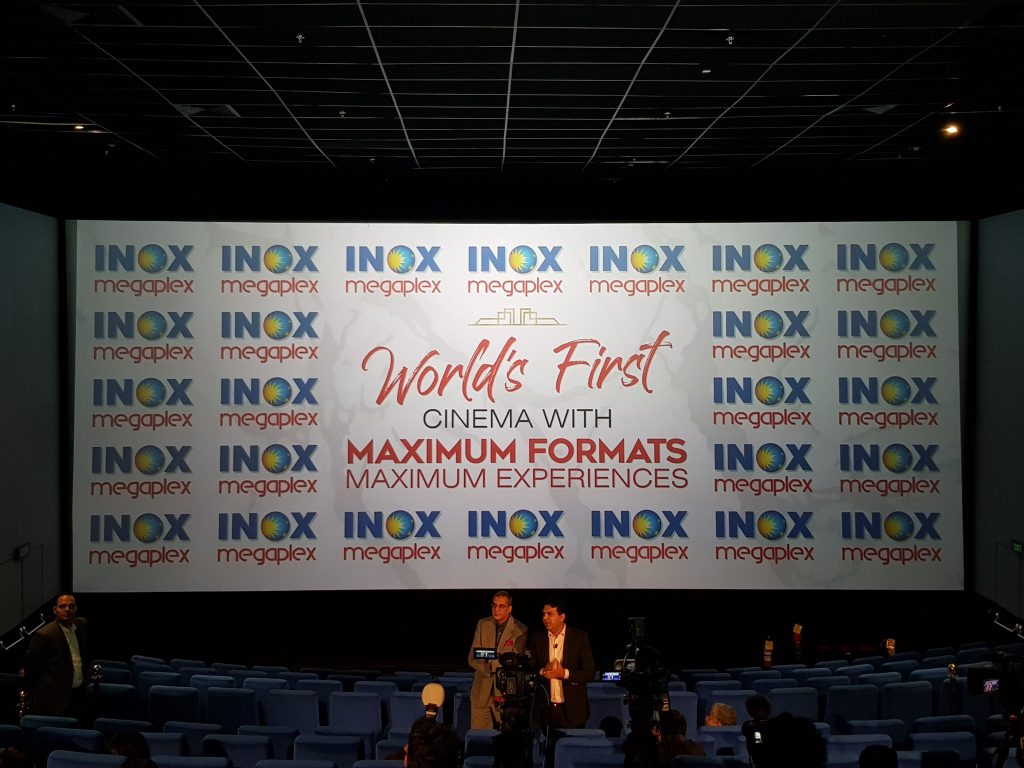 Formats, formats, formats!
It is worth looking at each of the six highlighted formats in turn briefly.
ScreenX

– is the most recent addition, having opened two months ago. Since then a second ScreenX has opened in Kolkata, with INOX being exclusive Indian partner of CJ 4DPLEX's 270-degree format. Even the 'Exit' signs and door were neatly incorporated into the side-screen design that goes as far back as the projection booth; 

IMAX

– This is one of five IMAX screens in Mumbai, but INOX is the only operator with two of those screens in the Indian commercial capital. Growing the format has been challenging in India compared to China due to fewer local films being suitable for it;

MX4D

– The immersive seating is the first one in India and what's more impressive is that it saw the opening of an Indian film, with Yash Raj's "War" having its Mission: Impossible-style car chases, whizzing bullets and fist fights translated into a combination of the 14 unique effects;

Onyx Diner

– With one of the first Samsung Onyx LED screens in India, INOX sees the Onyx Diner concept as "the future of cinema experiences", with the brighter screen allowing for more ambient light so that patrons can enjoy a self-serve buffet meal from the food station in the lobby; 

Kiddles

– Is the auditorium and lobby specifically designed for the youngest cinema patrons. The seats are smaller and colourful, while the lobby is a big play area with its own kids-size concessions counter;

Insignia

– This is INOX's brand for VIP auditoriums that positions itself as 7 Star. These four screens were added on as the multiplex expanded into a former retail area of the mall and has its own open-plan kitchen and cafe, in what will be a cordoned-off area. 
In truth there are in fact even more formats, with 3D projection on the 'regular' screens by Volfoni (3D is still popular in India), as well as Dolby Atmos in two of the screens and laser projection from Barco. For things such as screens, servers and speakers, INOX has also chosen to go with major international brands (Harkness, GDC Technology and JBL & QSC), even though domestic alternatives exist. Even the electric recliners are INOX's own patented solution, with its own stitching and small touches such as built-in illuminated USB sockets with a flap.
A Feast of Food and Feast for the Eye
Before you enter any of the auditoriums, however, you are struck by the abundance of food and beverage options. The Megaplex boasts a full five different F&B concepts, 12 cuisines and 250 menu choices. The menu was put together by Masterchef Vicky Ratnani and encompasses everything from traditional items like popcorn and Coke, to International favourites like Parmesan & Rosemary Truffle Fries, Indian classics like Aloo Masala and Paneer & Onion, to choices from China, Burma, Afghanistan and even the signature Popcorn Shake.
You could come back several times and be spoilt for a different choice each time before realising that the lengthy menu could have the same disclaimer that comes at the end of film credit titles: no animal was harmed in the making of these dishes. But India is the one country where you can easily feast without missing animal protein on your plate – especially in the cinema. We were treated to a full selection at the end of the presentation and it was a sumptuous feast.
No less of a feast was the design of the entire cinema complex. This is even more of an achievement given that it is a conversion from a very regular multiplex and that each of the screens was re-fitted with a different format one at a time, so that the rest of the multiplex stayed open and operational. The motto of 'Amplifying Experiences' start from the moment you cross from the mall into the cinema, with its floor-to-ceiling marble and welcome yellow 'INOX Megaplex' signage.
At a time when other multiplexes were going for a 'modern' look of neon and black, INOX has opted for 'Contemporary Art Deco', while the Insignia lounge and screens in the back have a 'Bombay Chic' aesthetic. There are five different sections to the megaplex and they manage to be tasteful even when they have not skimped on the glass, marble, chrome and decorations. Understated it is not, though. The staff are attentive and the uniforms of the Insignia staff, created by celebrity designer Arjun Khanna, one of India's leading fashion designers, are both functional and stylish.
Programming Films
Obviously it is a challenge to program such a variety of screens and formats, even when films run from 9am until 1:51am on the weekday (!) that I visited. Some film selection choices are dictated by the formats they are made available in, so even though Bollywood hit "War" was a more obvious action film, it was Warner Bros' "Joker" that played on the big screen. "War" was available in MX4D, though it will be a while before local titles play in ScreenX. However, Dolby Atmos is now almost standard for all major India releases – not just Bollywood (i.e. Hindi-language) either.
The Megaplex also programmes some regional Indian language films, such as popular films from the south (Tamil, Telegu and Kannada), as well as the local Marathi and occasional north Indian ones (Punjabi, Gujarati and Bengali). On the day I first visited, one screen played no less than five different films on that day: both Bollywood and Hollywood, with even a screening of the Diego Maradona documentary.
INOX Future Path
Looking ahead INOX plans to roll out the Megaplex to its other properties across India, though it can only work in sites of ten or more screens. Being within touching distance of 600 screens, INOX has a pipeline and commitments of a further 900 screens and is only held back by the pace at which malls are built. Converting single-screens, given ownership and regulation complication, is simply not worth the company's time and effort the CEO told me in a one-on-one interview. Having opened a record 85 screens last year, INOX could be on course to cross the 1,000 screen threshold within four years.
India might not be growing at the same pace as China, but it is growing sustainably and smartly. "The entire process has to be experience driven," CEO Alok Tandon kept emphasizing. He does not view Netflix or Jio's First Day-First Show as a threat, but still keeps coming back to new ways that cinemas can "de-counch you" to come.
He also envisions the INOX Megaplex as a tourist destination and 'One of the Top 10 Things To Do in Mumbai'. While it might be a far drive from the Gateway of India in 'old Bombay' down South, it makes sense as Mumbai may be the 'Heart of Bollywood', but it has no studio or rides for tourists to visit, like they can at Universal in Hollywood or the Warner Bros. studio lot tour.
There is a classic commercial for car rental company Avis, stating 'We are No. 2 so we try harder.' But attending INOX's multiplexes there was no sense of it being the underdog to the market leader by screen count. On the contrary, INOX came across as a bold, smart and visionary cinema operator that can benchmark itself with the best exhibitors around the world through its relentless innovation, humility and customer focus. The INOX Malad Megaplex is up there with the best that I have seen in top end cinemas in Korea and the Gulf.
Patrick von Sychowski attended the opening of the Megaplex as a guest of Inox. No payment was received or promises made of favourable reviews in return. It just so happens it is simply an amazing cinema.

Latest posts by Patrick von Sychowski
(see all)