Dear Junkies,
The month before the Harvey Weinstein scandal exploded in Hollywood, the cinema industry was grappling with its own mini-Weinsteins. There was the Los Angels theatre Cinefamily sexual misconduct allegations, there was Alamo Drafthouse's re-hiring of sexual harasser Devin Faraci and finally there was Harry Knowles stepping down from Ain't It Cool News following sexual assault accusation. But while less talked about now, as new accusers come forward against Weinstein and others like director James Toback on a daily basis, we need to ask ourselves whether the situation in the cinema industry is different in scale or quality.
Writer/actor Brit Marling writes in The Atlantic that much of Hollywood "functioned inside a soft and sometimes literal trafficking or prostitution of young women (a commodity with an endless supply and an endless demand)." Working in a multiplex does not have the same glamour appeal as starring in a film, but that does not mean that there are not men there in positions of power who sexually harass more junior female colleagues, or demand sex as a means of career advancement.
Writing in the book "The Glass Wall" Sue Unerman and Kathryn Jacob note that "in a traditionally male-populated environment, where most of the jobs are held by men, or where all of the high-status jobs are held by men, the atmosphere is going to be different than one where there's more equal gender mix." Sounds like an industry you know? Then it is incumbent on you (whether male or female) to take action because "many women daily navigate a barrack-room atmosphere that diverts their valuable time and energy away from their careers."
We don't need to wait to hear of specific examples of sexual predatory behaviour in the cinema world to act. There are many ways to enable women to rise in the ranks of the cinema, even without resorting to positive discrimination. There are also some outstanding senior female cinema industry leaders, but all too often the ranks gets thin above the roles of PR or HR. In an industry that is driven by female consumers, exhibitors can and should do more for gender diversity on all levels.
Regards,  Patrick

PVR to follow Cinepolis to Gulf? Regal upbeat and partners Atom; Chennai multiplex strike over; Saudi to allow cinemas? Odeon Bournemouth recruits; Supreme Court down on standing in Indian cinemas; Scottish cinema knife thugs jailed; man with fake rifle causes cinema panic; cockroach in CGV cinema; crackdown on Indian cinema concessions 'gouging'; access day at Cineplex and Mov'in Bed cinema in Sydney.
Gulf – Is Indian exhibitor PVR about to follow Cinepolis into the Gulf/Middle East market? Three months ago the company appointed a 'Head of Business Development – MENA Region' [Middle East North Africa], based in Dubai and a former Director of Retail Development & Delivery for Majid Al Futtaim – which is the parent company of Vox Cinemas. Mukta A2 Cinemas already has a multiplex in Bahrain and Cinepolis recently revealed that they are opening a cinema in Oman. "Plans are underway to raise a still unquantified number of screens in the Gulf states of Oman, Qatar, Bahrain, Kuwait and the United Arab Emirates by next year." No word as of yet from PVR though. Variety – 24 October 2017
USA (TN) – The transcript of the Regal Entertainment Q3 earnings call has CEO Amy Miles give one of the best analysis of the box office year. Naturally you would expect her to talk up the cinema business, but the numbers are on her side. The quarter and year-to-date for North America are down, agreed, but look closely and you will see that this is down to just one month – August. Why? Wide releases fell from 12 to nine and most of those underperformed. Particularly because last August had the USD $300 million "Suicide Squad". August 2018 has 13 releases scheduled. Meanwhile acquisitions (134 from Santikos and Warren), recliners and F&B (including alcohol) continues to grow the bottom line. Regal is evaluating dynamic pricing with Atom Tickets. Seeking Alpha – 24 October 2017
India – PVR and Inox multiplexes in Chennai have reopened. They were previously closed as the Multiplex Association of India protested double taxation, though Sathyam and Jazz did not join the protest closure. Tamil Nadu state has levied a 15% 'local body entertainment tax' (LBET) for non-Tamil films on top of the 18-28% good and services tax (GST). LBET for Hollywood films is 20%. Discussions with the local government are said to be ongoing, but multiplexes have mostly kept ticket prices below INR 200 (USD $3.07) in the meantime. Silverscreen.in – 25 October 2017
Saudi Arabia – Free short film screenings have been held in the capital's King Fahd Cultural Centre, in what some see as the precursor to the lifting of the ban on cinemas. Genders were strictly segregated, but it still represented a shift.
Saudi Arabia in recent months has organised concerts, a Comic-Con pop culture festival and a mixed-gender national day celebration that saw people dancing in the streets to thumping electronic music for the first time.
With the lifting of the ban on female drivers, allowing cinemas could be the next step of the sweeping reforms plan known as "Vision 2030". Gulf News – 22 October 2017
UK – The new Odeon Bounremouth is doing so well that it needs to recruit 20 more people. The cinema has hired 50 staff since opening and is pushing for greater acceess, in terms of making all screen wheelchair friendly, lowered ticket machine and counter have been installed, and more subtitles screenings. Bournemouth Echo – 25 October 2017
Law & Order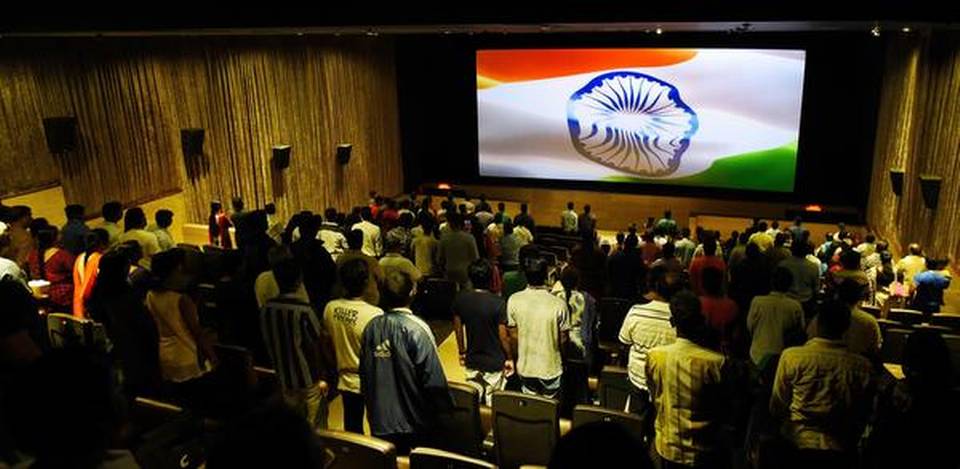 India – The Supreme Court is walking back the decision that people must stand for the National Anthem before all film screenings.
Supreme Court judge Justice D.Y. Chandrachud on Monday lashed out at the logic behind the November 30, 2016 order mandating people to stand up when the National Anthem is featured in cinema halls before every show, saying there is no need for an Indian to "wear his patriotism on his sleeve".
The court has pushed the question over to the government, though it is unlikely that the Hindu-nationalist BJP is likely to enact anything that could be perceived as a climbdown of nationalist symbolism. The Hindu – 23 October 2017
UK (Scotland) – Two men pleading guilty to threatening fellow cinema goers with knives after they were told to be quiet and stop kicking seats. After the film ("Fate of the Furious") ended the men went and bought kitchen knives and threatened the couple. After they were later arrested they got hold of the defendant's telephone number and called them and promised GBP £1,000 if they agreed to drop the charges. News and Star – 27 October 2017
Health & Safety
UK – Cinemagoers were locked into a room for protection while a man with a sawn-off shotgun took reportedly took hostages in a nearby bowling alley. The MFA Bowl in Bermuda Park, Nuneaton, saw films stopped at the Odeon cinema and the audience was taken into a side room where other people also sheltered. A man was later arrested and charged with false imprisonment and possession of an imitation firearm. The Mirror – 22 October 2017
Korea (Republic of, South) – A cockroach was spotted in a CGV cinema – and where there is one there are usually more. The sighting in the Yeongdeungpo CGV was in a 4D cinema but this was not an enhanced 'immersive seat' effect but a real critter. The customer was given a refund and CGV promised to call in pest control. Insight (KR) – 24 October 2017
Concessions/F&B
India – Multiplexes in Vizag have been warned not to charge more than maximum retail price (MRP) for packaged products. Media reporting this are not exactly impartial in their reporting: "Most of the multiplexes sell food and refreshments, including water, at exorbitant prices. This new rule will ease the pockets of the movie-goers." Yet apart form bottled water it is difficult to compare like-for-like as popcorn, nachos, fountain sodas and even samosas are sold loose. The News minute – 24 October 2017
Access
Germany – Cineplex is arranging a theme day discussion about access for cinema patrons with visual and hearing limitations. The theme day "Gemeinsam unterwegs – das Wundernetz" will be held Saturday 28 October and will feature talks and demonstrations of the Stark and Greta apps. Onetz (DE) – 25 October 2017
Finally
Australia – The world's biggest outdoor bed cinema has been launched in Sydney. The Mov'in Bed Cinema concept was developed by BBR Agency and will show the best of 2017 and family classic movies. There is wine and drink service right to your bed. No morality police, as far as we can tell. Mov'in Bed website

Latest posts by Patrick von Sychowski
(see all)