GST 28% upsets Indian cinemas, Korean cinemas convicted, Novo innovation insights, Eye Cinema awarded, Bengaluru cinema plans not welcomes, CGV concession sales grow, popcorn predicted to grow, Empire 'first full-seat D-Box' auditorium, Wonder Woman woman-only screening annoys whiny men. 

India – The decision to apply the maxim entertainment goods and services tax (GST) of 28% to cinemas in India – the same rate as for gambling and luxury goods, while cable and satellite TV is charged 18% – continues to cause waves. The Multiplex Association of India has urged the government to reconsider and suggests a 5% rate instead. Local entertainment taxes that it would replace vary widely from state to state:  Delhi and Maharashtra have 40% and 45%, respectively, while Punjab has a zero per cent tax rate. "The 28% rate doesn't move the needle at all because the blended entertainment tax across the country is much lower," said Ajay Bijli, chief executive officer and managing director, PVR Ltd. Capping of ticket prices in south Indian states means that exhibitors will also have to absorb any increase. Tax on F&B will be 21%, compared to the current 11% in Delhi and Maharashtra. Live Mint – 23 May 2017
Korea (Republic of, South) – The Supreme Court of Korea has after six years ruled mostly in favour of producers who sued CJ CGV, Lotte and Megabox for giving away free promotional cinema tickets. The Court found that cinemas can profit even from 'free' tickets because of concession sales and cinema advertising, granting KRW 2.7 billion (USD $2.4 million) liabilities saying the exhibitors had abused their dominant position. However, producers lost on another point as they are not direct parties to the transaction between exhibitors and distributors. Korea Herald (KR) – 25 May 2017
U.A.E. (Dubai) – Great insights about the focus on innovation and customer service that is driving Novo Cinemas. This includes partnership with Qatar Airways for the 7-star cinemas, IMG Worlds of Adventures, European Film Screenings (EFS), Mashreq bank (above), El Classico and European League Championship football games, Bolshoi Ballet, team events and corporate customer base. Khaleej Times – 24 May 2017
Ireland (Republic of) – The Eye Cinema in Galway has won the title 'Best Cinema Experience of the Year' at the inaugural Irish Hospitality Awards. The independent cinema beat IMC Group, Light House Cinema and other major Irish cinemas. A spokesperson from the Eye Cinema is quoted as saying that, "Staff and management at the 9-screen Wellpark establishment are both honoured and delighted to have won such an award on a national scale." Galway Independent – 25 My 2017
India – BMTC in Bengaluru (Bangalore) is accepting bids to build multiplexes and rooftop restaurants on the terraces of four of its Traffic and Transit Management Centres (TTMC) and two bus terminals. But the state's film industry is not impressed. "The BMTC has proposed multiplexes and other options on build-operate-rental model. It is a loss-loss formula for the incoming investors," realtor Prashant Sambargi is quoted as saying. Bangalore Mirror – 25 May 2017
Concessions / F&B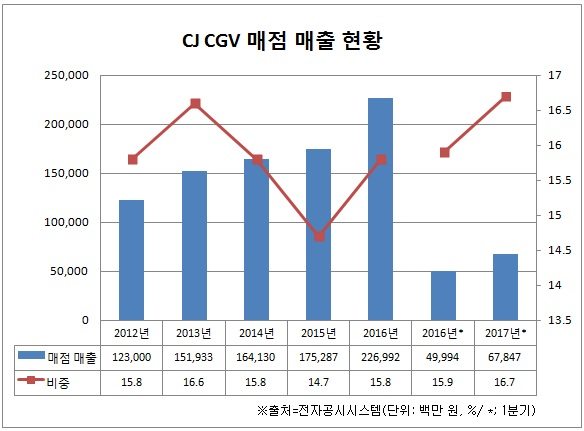 Korea (Republic of, South) – Concession sales at CJ CGV are up 35.7% year-on-year in Q1 of 2017 to KRW 67 billion (USD $59.9 million). Growth in sales was single digits in 2004 and 2015 but has picked up significantly in the last year. CJ CGV attributes the growth to constant demand for popcorn and soda but growth in the number of theatres. CJ CGV is also offering new types of local food in 30 of its cinemas in response to a ruling that customers are allowed to bring in outside food. The Consumer News (KR) – 25 May 2017
USA – Popcorn sales are expected to grow by almost 8% per year 2017-2021. Technavio analysts forecast sees trend driven by new flavor products, awareness of health benefits and rising number of multiplexes around the world. Top vendors are Conagra Brands, Snyder's-Lance (Diamond Foods), PepsiCo (Frito-Lay), Amplify Snack Brands and Weaver Popcorn Company. Convenience Store Decisions – 25 May 2017
Seating
UK – Empire Cinemas has opened what it claims to be "the world's first full-seater D-Box screen"at the Buttermarket in Ipswich. The two cinema have just 14 seats each. D-Box motion seats are usually just installed in one or a few rows – whereas 4DX seats are typically installed for the whole of the auditorium. Nearby Cineworld in Cardinal Park recently opened its 136-seat 4DX screen. Tickets for the Empire D-Box screens are GBP £5 extra – more for 3D. Ipswich Star – 24 May 2017
Finally
USA (TX) – Alamo Drafthouse will be hosting a women-only screening of WB's "Wonder Woman" in Austin, Texas.
Apologies, gentlemen, but we're embracing our girl power and saying "No Guys Allowed" for one special night at the Alamo Ritz. And when we say "People Who Identify As Women Only," we mean it. Everyone working at this screening — venue staff, projectionist, and culinary team — will be female.
Cue outrage from a sub-section of men online who probably spend too much time on 4chan and have nothing better to worry about than things like there not being an International Men's Day. Get a life, get a date and go see it the next day. Preen – 26 May 2017
@drafthouse one special night at the Alamo for the ladies, and dude's boxers are twisted

— Ron King (@RonKingInc) May 25, 2017

Latest posts by Patrick von Sychowski
(see all)