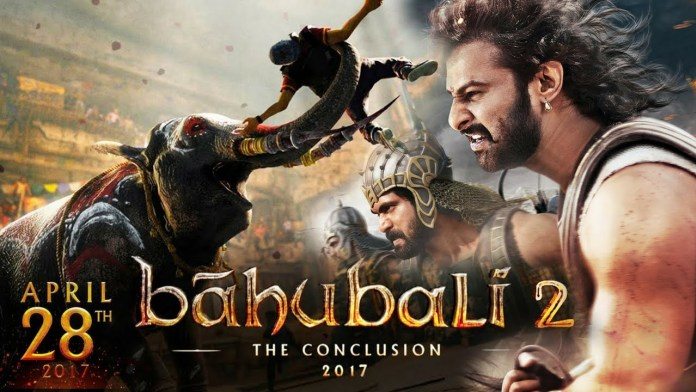 Baahubali 2 overload, JJ Abrams on bad cinemas, SPIO and VdF for German cinema tickets, mm2 buys into Pro Cinema, vote on 10% ticket tax in Switzerland, AMC Manchester to become Odeon, French cinema strike, Polish Q1 growth, CGR PLF ICE with Light Vibes, Vue picks BrightSign, Inox + Orbgen, Gaumont gaming, Vue Plymouth mystery closure, Village cinema campaign, smelly Korean cinema food, Odeon Bournemouth success, Japan 'universal' cinema and "Logan" and "Mad Max" in B&W.

India – The biggest cinema story of the past week was the global day-and-date release of south-Indian blockbuster sequel "Baahubali 2: the Conclusion", set to be the biggest global Indian hit ever, having taken INR 785 crores (USD $118) million as of Wednesday. (N.B. as a Tamil-language original it is technically not a Bollywood – i.e. Hindi-language – film.) Shares of cinema exhibitors like PVR and Inox were up by several percent, and even smaller chains like Mukta are also riding the Baahubali's coat tail. In one cinema angry audiences had the climax spoiled for them when the second half of the film was accidentally shown first (Indian films/DCPs come in two parts to allow for an intermission). At another screening a woman was molested and her husband beat up by five men. The introduction of the INR 200 (USD $3.11) ticket price cap in the state of Karnataka (Bengaluru/Bangalore) meanwhile was delayed until after the opening of the film, but film fans were further upset to discover that this did not include the 'entertainment tax', which means that cinema ticket will actually cost INR 265 (USD $4.12). Not surprisingly the Multiplex Association of India (MAI) has asked the state government to withdraw the cap, as multiplexes threaten not to invest more in 'gold class' auditoriums and say it will encourage black market sale of desirable tickets. To truly appreciate the impact of "Baahubali 2" read why its opening has more of an impact than "Fate of the Furious" had in Forbes – 3 May 2017
USA (CA) – JJ Abrams calls the collapse of the theatrical and home window "inevitable." But read the Variety article closely and you will find that the Screening Room stake holder is really bemoaning the state of most cinemas, including an un-named one in his home town:
There is a theater chain that I'm convinced hates movies. You go there. They're angry with you. It's cold. There's no music. The lights go out when the movie starts — there's no ceremony. It's the most uncomfortable seats.
Fair enough. But read the lengthy comment below from a projectionist in his home town that has a small and welcoming theatre – but they are not allowed to screen movies like "Star Wars: the Force Awakens" due to clearances. "Mr. Abrams, you and your industry have created your terrible experience. I believe the chain treated you in the same way your industry treats theaters – both chains and independents alike." Variety – 1 May 2017
Germany – Cinema ticket news from Germany. Smart Pricer's dynamic pricing is now compatible with POS systems by ticket.international and is said to offer five to ten percents revenue bump. Showtime Analytics is also compatible with ticket.international. Meanwhile issuing online tickets without SPIO-seal will only be possible with VdF certified ticketing systems. Other online tickets, such as print-at-home, have to be exchanged for tickets with SPIO certification at the box office (see above). Three POS system are currently VdF certified (Compeso Version 7.0, ticket. international Version 8.0.600 and Mars EDV Version 5.34.00) while two more systems are pending. Very German. Blickpunkt: Film (DE) – 4 May 2017
Singapore – Content producer mm2 has bought a 19.68% stake in Hong Kong-based Cinema Pro for HK$ 4 million (USD $514,000).Taiwan's Kbro Media is the majority stake holder in Cinema Pro, which is active in cinema projects across Asia. Last year mm2 bought 13 cinemas in Malaysia from Lotusfivestar. Straits Times – 3 May 2017
Switzerland – The inhabitants of Eikon will vote on a proposed  10% tax on all tickets sold in the municipality, located in the canton of Lucerne, on 21 May. The planned vote came as a "shock" to Pathé, which will open a 12-screen multiplex in the Mall of Switzerland on 8 November. The tax would also hit local festival and concerts, but small local organisations would be exempt.  20 Min (DE) – 26 April 2017
UK – Having had to sell off its Printworks cinema to Vue, Odeon looks set to rebrand the nearby AMC multiplex in Deansgate Great Northern site as Odeon. AMC owns both Odeon Cinemas and the Deansgate site, but as separate entities. "We're working with AMC on plans to bring this cinema into our UKI estate. We'll share the details as soon as they're confirmed," Odeon is quoted as saying. Manchester Evening News – 26 April 2017
France – Strike in Cine Ville three-screen cinema in downtown Conflans-Sainte-Honorine. All four staff are protesting the closure of the cinema, which is facing a funding shortfall to convert to digital. Astonishing that non-digital cinema are operating at all. Le Parisian (FR) – 25 April 2017
Poland – A record first cinema quarter for Poland, with attendance up 12% year-on-year to 17.1 million. The biggest hit of the quarter by far with 1.7 million viewers was local blockbuster "Sztuka Kochania" ("The Art of Loving"), based on the true story of Poland's first communist-era sexologist. Wyborcza (PL) – 29 April 2017
Imax/PLF
France – Mega CGR has launched its premium large format (PLF) immersive cinema experience (ICE), which uses Light Vibes side panels from Philips. The ICE in Torcy features luminous side panels that extend the action of the on-screne content to the peripheral vision. A trailer of "Despicable Me 3" was shown but the first full-length film to show it will be "Valerian" this summer, exclusively in CGR with Light Vibes. Le Parisien (FR) – 3 May 2017
Technology
UK – Vue has selected signage technology from BrightSign. The chain chose the  Digital Signage-Mediaplayer XD232 for its 85 cinemas in UK and Ireland to switch from posters to digital displays, with help from systems integrator 360 Digital. Professional Systems (DE) – 3 May 2017
India – Inox has partnered on ticketing with Orbgen Technologies. Udaipur Kiran – 2 May 2017
France – Gaming in the cinemas as Gaumont Pathé partners Ubisoft to allow selected audience members to play the "Steep" slide game in 4K on the big screen on in Annecy ahead of the screening of "Wonder Woman". Le Dauphine (FR) – 1 May 2017
Health & Safety
UK  – What is behind the mystery closure at Vue Plymouth cinema?
A Devon cinema has closed suddenly and unexpectedly with management unable to reveal what has happened at the venue

A sign has been stuck to the doors of the Vue cinema on the Barbican Leisure park in Plymouth telling the public the venue is 'closed due to unforeseen circumstances'.
A reader comments, "Having used Vue in Paignton for 13 years, I can guarantee your readership that it won't be closure for maintenance." JJ would not be impressed. Devon Live – 25 April 2017
Advertising & Marketing
Australia – New campaign to promote cinema going from Village Cinemas under the slogan 'Where Movies Mean More'. "Whether it's the comfy luxury of Gold Class, the supersized experience of Vmax, the chilled-out atmosphere of VPremium, or the family fun of Vjunior; Village Cinemas has made going to the movies mean more for everyone." The advert stars actual Village cinema goers. Campaign Brief – 28 April 2017
Concessions
Korea (Republic of, South) – Controversy in Korea as CGV begins to sell tteokbokki (hot and spicy rice cake in a soup, with sweet potatoes, deep-fried squid, etc, with red pepper paste or cheese) in 30 of its cinemas. As of nine years people are permitted to bring in their own food to cinemas, but are discouraged form taken with them noisy or smelly food. CGV suggests that you eat your tteokbokki in the lobby. SBS News (KR) – 1 May 2017
UK – The manager of the new flagship Odeon Bournemouth talks about the early success of the cinema, including F&B and dispels the myth that they have no projectionists.
"It's a common myth that cinemas no longer have projectionists. All our leadership team are trained in digital projection to a very high standard. It's important that you see on screen is spot on. All our team know how to troubleshoot shows when required to."
They even show Bollywood and Polish films, to cater to the diverse local community. Bournemouth Echo – 25 April 2017
Access
Japan – A universal cinema has launched in Tokyo. The Tupuki Tabata single screen might just have 20 seats, but they are all equipped with technology allowing deaf, hard of hearing, blind, visually impaired and wheelchair patrons to all enjoy films. Sankei – 29 April 2017
Finally
USA – Not just one but TWO Hollywood blockbusters are being re-released in black & white. After "Mad Max Fury Road: Black & Chrome", which came out in US last year and UK/Europe last month, comes "Logan Noir", screening one night only in elect Alamo Drafthouse cinemas on 16 May, followed by a Q&A with the director. Guardian – 28 April 2017

Latest posts by Patrick von Sychowski
(see all)