US Q1 ticket prices up, NAB Future of Cinema, Mumbai single screens survive, French election tickets, Inox fined for water, growth plans for PVR and Inox, Bahrain Cinema Q1 profits, certificate-less film trouble, eating & boozing themed screening, "Boss Baby" for cancer victim. 

USA (CA) – US cinema ticket price was driven up slightly in the first quarter of 2017 to USD $8.84, compared to USD $8.79 in the last quarter of 2016 and the full-year average price of USD $8.65 for 2016, according to figures released by NATO.
Strong performance by top titles available in 3D/Imax/PLF (Rogue One, Beauty and the Beast, Lego Batman, Kong: Skull Island), R-rated (Logan, Fifty Shades Darker, John Wick, Get Out) and adult-skewing tiles (La La Land, Hidden Figures) accounted for more than half of Q1 revenue and ticket sales – $1.56 billion. The top R rated and adult-skewing titles accounted for half that total.
For those complaining how expensive tickets have become, average ticket price in 1977 was USD $2.23, which adjusted for inflation would be USD $9.26. (NATO email)
USA (NV) – The Future of Cinema Conference at NAB looked at how the rappid advancement of techonlogy, and launch pf new formats (HFR, HDR, immersive audio, etc.) has complicated the digital picture with a proliferation of DCP versions. But for cinemas the investment focus is elsewhere. "ROI [return on investment] are the big letters we use everyday," said Marcus Theatres' director of digital projection Mark Collins. "For us, it's chairs, and after that, it's heated chairs — we're from Wisconsin." THR – 22 April 2017
India – An in-depth look at how single-screen cinema in Mumbai (Bombay) have managed to survive the onslaught of multiplexes through a combination of Maharashtra's 1992 zoning laws ("once a cinema, always a cinema, even if partially"), refurbs (New Excelsior in Mumbai's Fort area) and improved service and mix of films. The 91-year old Deepak single-screne in Lower Parel now shows a mixture of Bollywood and Hollywood and offers pizzas, dim sums and cranberry-flavoured mojitos. Makes a refreshing change from doom-and-gloom stories about single screen cinema shutting down. The Reel – 23 April 2017
France – In a bid to encourage civic participation, the municipality of Port-Jérôme-sur-Seine (Seine-Maritime) offered young voters two cinema tickets for those who vote in the two-round Presidential election, the first round which was this past weekend. 165 first-time voters are registered in the municipality. Across france only 52% of 18-25 year old polled planned to vote. Actu (FR) – 23 April 2017
Concessions / F&B
Inox Hyd fonnd guilty, hiked MRP n wtr bttle. All theatrs drctd to stop it imdtly n sply free wtr in Hyd n scbad @ANI_news @hydcitypolice pic.twitter.com/5zUynCj0lt

— VijayGopal (@VijayGopal_) April 22, 2017
India – An Inox cinema in Hyderabad has been fined INR 5,000 (USD $77.55) for selling a bottle of water for INR 50 (USD $0.77). The plaintif to the Hderabad Consumers Forum, Mr Vijay Gopal, complained that he was not allowed to bring in his own water and that bottled water in the shop only cost INR 20 (USD $0.31). He was also awarded INR 1,000 (USD $15.50) directly. The News Minute – 23 April 2017
India – This shouldn't dent Inox's plans to grow by 50 screens per year and hit revenues of INR 2,000 crore (USD $311 million) in the next three years. Unlike numbers bandied about by other (smaller) operators, this seems like a reasonable and realistic growth plan. Occupancy rate is on average 30% and interestingly online ticket sales now accounts for 40% of transactions – half of what China does, but still impressive. It is also looking at converting more single screens into multiplexes, as it is doing with Metro Cinema in Kolkata (Calcutta). The Pioneer – 24 April 2017
India – PVR is pushing to make more money from food and beverage (careful with that bottled water!) as well as advertising, to lessen dependancy on ticket sales, which has gone down from 70% of revenue to 57% in the last four to five years.
PVR, which has launched various initiatives including theatre-on-demand service Vkaao, virtual reality lounges VR Lounge and 'Book now, Pay later' service, enabling micro credit facility to its customers, in 2017, said the company will announce more technology driven services going forward.
The expectation is for Vkaao to contribute up to 3% of sales in two years' time. Screening opening plans are 70-80 in the next fiscal year. Business Standard – 23 April 2017
Bahrain – Bahrain Cinema Q1 net profits increased to 1.5 million dinars (USD $3.97 million) versus 434,069 dinars (USD $1.15 million) one year ago. Reuters – 23 April 2017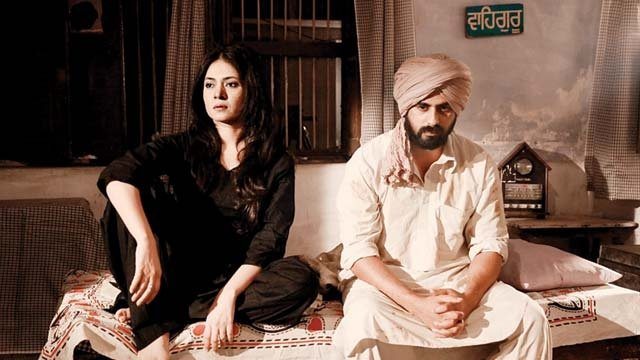 India – A screening of a film about the Partition of India and Pakistan has lined an un-named multiplex chain in Mumbai in trouble for showing the film before it had received a censor's certification.
Confirming the development CFBC chairperson Pahlaj Nihalani says, "We've received information that filmmaker Rahat Kazmi held a screening on Thursday April 20 of his new film Mantostaan without a censor certificate.This is  completely illegal and a shocking example of how creative people flaunt rules to taunt the government ."
Not clear if it was a closed or commercial screening, but still an obvious and avoidable mistake. SKJBollywoodNews – 24 April 2017
Switzerland – Eating & boozing-themed film series at Basel's Neue Kino, with films such as "Tampopo", "Withnail and I", "The Cook, The Thief, His Wife & Her Lover" and "Garlic is as Good as Ten Mothers" (above) showing togehter with paired dishes and drinks. Not a new idea but still fun. Tahgeswoche (DE) – 22 April 2017
Finally
UK (Wales) – A man in the last stages of cancer and with "just days to live" was treated to a free screening with his family and friends of "Boss Baby". The recently opened Gaumont Plaza in Flint organised the screening for the 42-year-old and about 55 more people, where they were also treated to free snacks and drinks. "It is a newly-opened cinema, they really are well thought of in Flint and this just goes to show why," said close friend Ricky Nicholson. News North Wales – 22 April 2017

Latest posts by Patrick von Sychowski
(see all)