Celluloid Junkie is proud to have partnered with Vista Entertainment Solutions (VES) for the Cinema of the Month series. Vista is the worlds leading cinema ticketing and software solutions company. We won't just be featuring cinemas whose operators use Vista, but we will surely mention when that is the case. CJ would like to thank everyone at Vista for enabling us to showcase some of the most interesting, innovative and inspiring cinemas from around the world. 
---
Do people talking loudly during the movie at the cinema irritate you? Then you might not like Comedians Talk Over Movies, one of the many delights of Sydney's unabashedly retro and unbelievably gorgeous Golden Age Cinema & Bar. True to its name, this historic single-screen is something from a different age, but also offers amongst the most refined cinema experiences possible in the southern hemisphere.
This cinema is one of the smallest commercial theatres we've ever come across, with just 56 creaky seats. But that's because it is not a simulacra attempt at retro cinema cool, but the real thing restored and re-invented for today's hip and discerning cinema goer.
Located in the Surrey Hills section of Sydney, the neighbourhood was once known as the "Hollywood Quarter", as this was the US studios' regional headquarter for Australia, New Zealand and Oceania for decades.  The original building was designed in late Art-Deco style, built in 1940 and became the Paramount Pictures Building; nearby was the Twentieth Century Fox building. The cinema is the original Paramount Theaterette screening room, which was the first place in the Southern Hemisphere to ever screen films such as "The Godfather" and "Chinatown".
Golden Age Cinema opened in 2013 and spearheaded a revival for the area, which by then had definitely seen better times. Paramount Pictures moved out in the 1970s, though its former building became heritage-listed. It was Golden Age's managing director and designer Bob Barton, who saw the potential in re-opening the venue as a cinema, but with a distinctly classical feel. The authenticity effort included keeping the 35mm projector.  The seats however are not original and were salvaged from a cinema in Zurich.
Interviewed in Alt Media a year after it opened the cinema's Programming Director Kate Jinx noted:
Golden Age is a different kind of cinema experience because it harks back to slightly more romantic times, when going to the movies was a bit of an event – something to look forward to. I grew up being able to visit a lot of independent cinemas that each had their own charm and it's been quite devastating to see some of my favourites pull down their shutters.
A visit to the Golden Age Cinema & Bar is definitely an event and it is also best enjoyed in reverse order of its name, i.e. starting with the bar. As much, if not more, thought has gone into the design of the lounge area, which is an under-stated feast of red velvet, dark walnut, gleaming brass and dark mirrors. Designer and MD Barton said that this warm but eerie effect was intentional:
The concept was 'a hotel in space, where you never knew if you were going forwards or backwards in time', and I'm really happy with how surreal it all feels. It's great to see the surprise on peoples' faces when the curtain wall in the bar opens up to reveal a secret stage.
Sadly the secret stage was not revealed on the night of our visit, but an attentive waiter showed us to an alcove and was quick to suggest the Maple Pecan Old Fashioned. It was an offer too intriguing to resist and richly rewarding with its roasted-pecan infused bourbon, maple syrup, aromatic old-fashioned bitters, orange twist, topped off with a delectable candied pecan.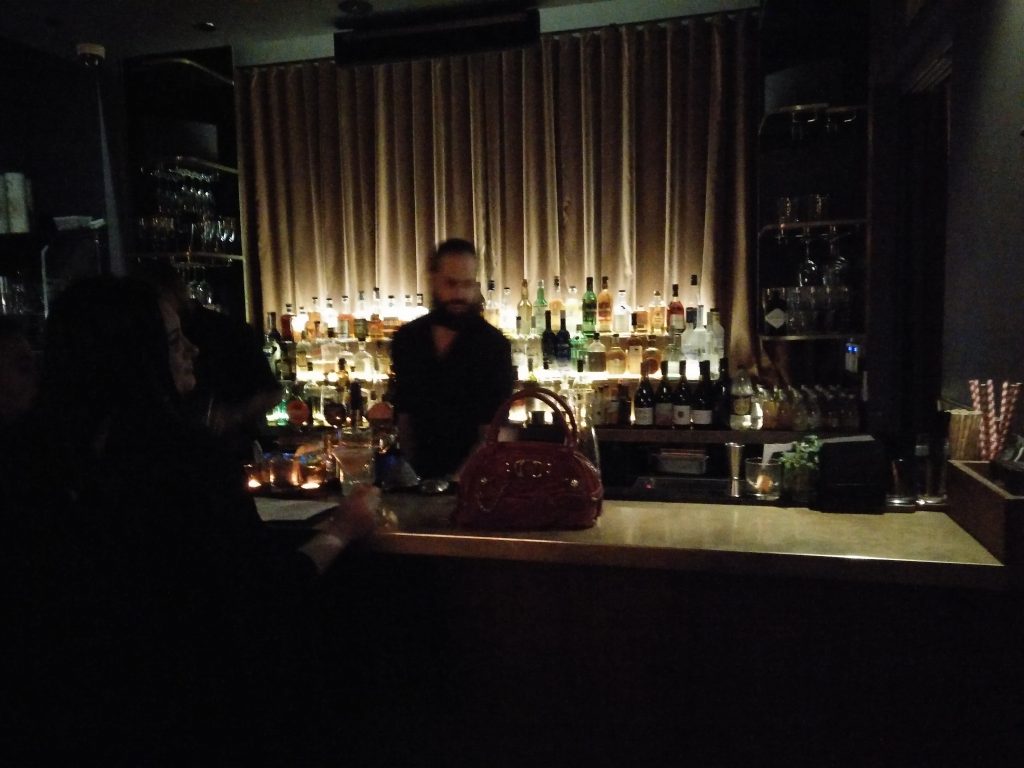 The same attention has gone into the drinks and food offerings as the decor of Golden Age's Bar. Talking to a lady at the bar counter she admitted that this was a regular who came here more often for the drinks and ambiance than for the films. The food menu is small but well curated, offering snacks such as hickory smoked almonds and alto marinated olives, finger food such as king prawn and beef sliders, or a more substantial Jamon Serano pizza and a platter of meats and cheeses (called The Director's Cuts).
Yet the award for outstanding food and beverage innovation goes to the popcorn, which is not only freshly made in a small "old skool" popper, but is then given a "cocktail popcorn" treatment with a choice of half a dozen sweet and savoury salt flavours to choose from. The bartender will then pour your popcorn into a silver cocktail shaker, give it a good shake (stirred just wouldn't work), and then serve it to you in this same shaker. Brilliant in its simplicity and stylishness. Not to mention tasty.
We visited the GAC on a night they were screening Jan de Bont's 1996 action-disaster classic "Twister" featuring Helen Hunt and the late Bill Paxton as tornado chasers. The website is very clear in its warning, "Comedians Will *Actually* Be Talking Over This Movie." And if that was not enough of a red flag for any Jan de Bont purists who want to catch the film without irreverent interruptions, it adds, "We've Warned You". It also lists which comedians will be talking, in partnership with Comedyish and Spoiler Alert troupes from Sydney stand-up club Giant Dwarf.
The idea of watching an twenty-year-old film with added quips and puns in nothing new. Cult cable television classic Mystery Science Theatre 3000 (MST3K) built a devoted following in the pre-web 1990s by heckling old B-movies (and is soon to be re-born on Netflix). So what is amazing about Comedians Talking Over Movies is that more cinemas haven't ripped off the idea and done it themselves. It is not as if most cities with an independent cinema don't also have a stand-up comedy bar with a gaggle of under-appreciated comedians.
The four comedians settled into the front row, each with a microphone and a pint of beer or glass of wine. The jokes start before the credits have even started. One of the comedians claims to have seen "Twister" ten times. The question is thrown open to the audience if anyone can beat that. Someone in a middle row has seen it sixteen times. She gets odd looks from the rest of us.
The film unspools with a generous mix of film banter, reminiscings about the 1990s, sly put-downs of the acting and meterological arguments between the comedians. It is a strange experience watching "Twister" like this, but enjoyable; like having a group of friends over for the ultimate relaxed cinema evening. Never do the comments detract from the enjoyment of just watching the films. The jokes keep coming right though the end credits. Comedian 1: "But who played the twister?" Comedian 2 (without missing a beat): "Meryl Streep."
Of course, the Golden Age Cinema offers more than just novelty repertory screenings, with a diverse mix of new titles that combine art house and more mainstream international, Australian and Kiwi fare, such as "Rams" and "Hunt for the Wilderpeople". There was a David Lynch season running when we visited, highlighted in the program with an ear symbol – we don't think they meant hearing loop (see the director's "Blue Velvet" to get the reference). If that was not enough there is even the Golden Age Gallery, where throughout the year artists and guest curators show off creativity "at the junction of film, sound, photography and new media."
After the film it is hard not to linger in the bar under the Robert Haussmann chandeliers and soak in the timeless mid-century  modern atmosphere over one final nightcap. Perhaps the Paramount House cocktail (vanilla-infused vodka, PCP espresso and Dobsons Le Cafe) or why not a Godfather (Campari, house-made lemon syrup, Sicilian blood orange soda), while you think about the films, directors and stars of yesteryear who must have once spent time here.
Any trip to Sydney is obviously incomplete without obligatory stops at the touristy trinity of the Sydney Opera, the Harbour Bridge and Bondi Beach. But it would be remiss not to stop by this gem of a cinema and bar. Because as the motto of the place proclaims, "The Good Old Days Are Now" – and most certainly here.
Celluloid Junkie selects the CJ Cinema of the Month based on our own independent survey. We always pay for our own tickets, hand-crafted Australian cheddar popcorn and 2013 Anstead Variation No.1 Syrah  Barossa, and visit the cinema in a 'mystery patron' capacity in most cases. Whenever possible we take our own photographs of a cinema in lieu of corporate stock photos. Thus, sometimes you get authenticity at the expense of focus. Our impressions may be subjective, but we always try to be fair and factually accurate in everything being presented about one of the cinemas we have chosen.

Latest posts by Patrick von Sychowski
(see all)