C2L CEO puts small-town cinemas in focus, Follow's film recoupment overview, ICTA LA seminar, recliners for MJR and Rome cinemas, Film2 on-demand service in Spain, "Fifty Shades" wanker arrested, "Chicago" immersive cinema and vintage mobile cinema 'Audrey'.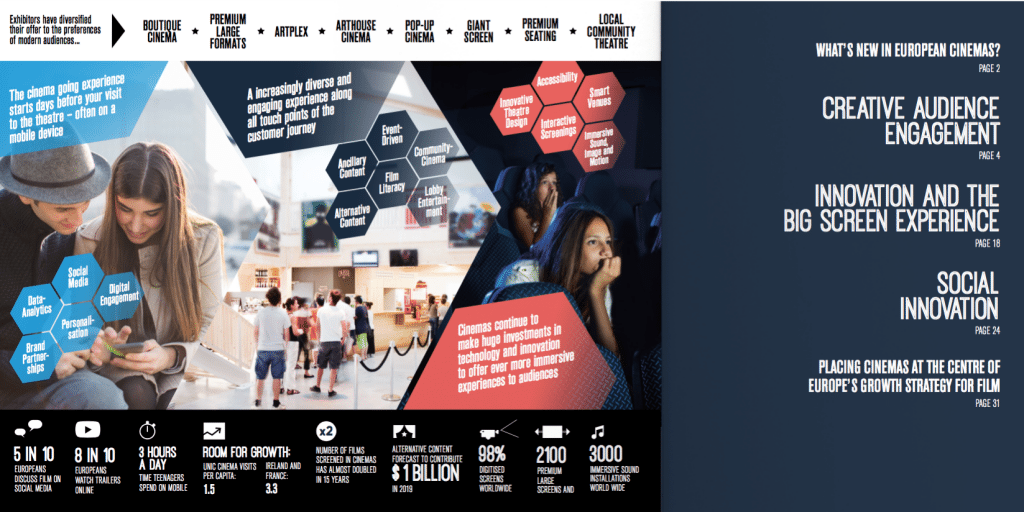 France – A good interview with the CEO of  Cinéma C2L, Marie-Laure Couderc (above), who speaks up for cinems in medium-sized cities. The family business has survived for three generations and held its own against bigger French chains.
I defend the medium-sized cinema downtown format that was at times decried and unloved. These are usually historical cinemas of medium-sized towns of less than 50,000 inhabitants, which are often generational homes of farm families.They have between 80,000 and 400,000 annual admissions.
Ten years ago betting on small town city-centre cinemas was a gamble, but now it is starting to pay off thanks to the likes of C2L and the Couderc family. Le Monde (FR) – 19 February 2017
UK – CJ's friend Stephen Follows has done another insightful and data-heavy post, this one on how film recoup their money at the box office and beyond. As well as providing great visual breakdowns of the different income splits, he dwells deep into the myth that cinemas only keep 10% of what they earns from movies. He does a good job of cutting through the industry's secrecy and opaqueness and should be required reading in film schools. Stephen Follows – 20 February 2017
Canada – 2016 was a bad year for cinemas in the province of Quebec, which saw a decline of 7% to 18.6 million admissions – the lowest it has been since 1994. The occupancy rate f 9.6% is "the lowest since 1975." Local films saw just 1.2 million admissions – the lowest since 2000. The malaise was exemplified by the bankruptcy of the Excentris cinema in 2016. RCQC (FR) – 17 February 2017
UA (CA) – A good summary of what was discussed at the International Cinema Technology Association (ICTA) seminar in Los Angeles last month from FJI. Read it. Film Journal – 15 February 2017
Seating
USA (MI) – MJR Digital Cimema's Brighton Towne Square Cinema 20 theater is preparing for a USD $4.3 million makeover with comfortable recliners. There will also be a new lounge and bar, with the possibility of taking dinks into the screenings. Livingston Daily – 20 February 2017
USA (NY) – More signs of small and independent cinema joining the switch (rush?) to VIP recliner seating. Rome Cinema has just installed 24-inch wide "luxury plush" reclining seats to "enhanced the movie-going experience." "We sat in the chairs while attending a movie convention and the response was very good," Chairman and President Conrad Zurich said. "One thing they (customers) like is the sight line to the screen. Now there's 6 feet in front of a row, not three, so heads are not in the way." Zurich thus enables comfy cinema in Rome. Rome Sentinel – 18 February 2017
Technology
Spain – Film2 is an interesting online platform for small cinema or screening venues to access a catalogue of over 100 independent titles from distributors like Caramel Films. With the aim of returning the cinema "to places where there are no more cinemas" this effort is backed by Spain's Film Academy, the General Society of Authors and Publishers (SGAE), the ICAA (Ministry of Culture) and with the support of the Cervantes Institute and its Hispanismo university network. Initial launch sites are  Melpómene Association (Torrevieja, Alicante) , The Antic Teatre (Barcelona) and the Isabel de Farnesio Cultural Center (Aranjuez, Madrid). Telemadrid (ES) – 15 February 2017
Law & Order
France – If you're going to masturbate in a cinema showing "Fifty Shades Darker" (please don't!), then at least don't do it next to two off-duty police officers. That is the lesson of one over-excited patron who was promptly arrested, so now the 45-year old suspect won't even know how the film ended. Le Courrier del'ouest (FR) – 17 February 2017
Event Cinema
Spain – Taking a leaf (or two) from Secret Cinema,  Vodafone yu What a Movie! is staging its third 'immersive cinema' event. Following on from "Jaws" and "Bram Stoker's Dracula" a 1930s prohibition bar will be created for a screneing of Oscar winner "Chicago" on 3 March. Huffington Post (ES) – 17 February 2017
Health & Safety
Germany – 200 people were evacuated from a cinmema in Kempten on Saturday due to a fire in the parking space below. Nobody was injured but one car was burnt out. Idowa (DE) – 17 February 2017
Finally
UK – A vintage mobile cinema is taking part in the Stratford Festival of Motoring.
The last known surviving vintage mobile cinema, known as Audrey, will be rolling into the town over the May Day Bank Holiday weekend.

Audrey has featured in George Clarke's Amazing Spaces TV show and was described as 'the most amazing cinema bus in the world.'
It is one of only seven touring cinema commissioned by the UK government in 1967 and is beleived to be the only surviving one. Stratford Observer – 19 February 2017

Latest posts by Patrick von Sychowski
(see all)