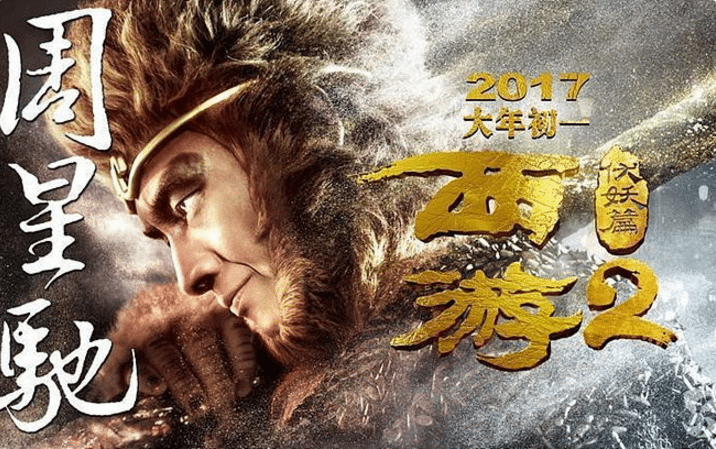 Chinese New Year (aka Spring Festival) is over and the box office winner is "Journey to the West: The Demons Strike Back", though it is unlikely to match the success of last year's "The Mermaid" and has led to soul searching in the industry about everything from quality ranking to how to count box office.
"The Demons Strike Back" set a single-day record of USD $50.6 million on Saturday according to Ent Group data, making it the biggest film for the global box office that weekend with a total of USD $85 million – with USD $8.6 million coming from the 390 Imax screens that were showing it. Second and third place were taken by Jackie Chan's "Kung Fu Yoga" and comedy "Buddies in India", while animation "Boonie Bears" and drama "Duckweed" rounded up the top five. Yet there were several caveats attached to the success of these releases on the all-important CNY festival.
China Film Insider (required reading for anyone wanting to understand the market) has a good overview of the ratings assigned to the various titles, finding that "The Demons Strike Back" had a relatively low score amongst the CNY releases, which could explain why it is unlikely to do much more than half the business that "The Mermaid" did a year ago. Meanwhile Jackie Chan's "Kung Fu Yoga" got an eyebrow-praisingly boost from the Jackie Chain cinema chain, which allocated it 40% of all of it screenings.
There has also been suggestions that "ghost screenings" have made a return (also read more here).
"Boonie Bears" and "Duckweed" did surprisingly well, given that they were never destined to be on the top three prize podium. Lastly, in a what could be seen as an effort to boost the box office, online service charge fees will now be counted towards the total box office numbers of films, creating headache for industry analysts. (We share your pain, Jonathan.) It should also be remembered that a record CNY BO haul is not indicative that the fortunes of China's BO as a whole for 2017 have turned around. Meanwhile BO in the Hong Kong SAR fell 11% over the holiday period.
Perhaps the most noteworthy trend is the fact that BO share form Tier I cities declined 6.6% compared to last year. There was also a big difference in tastes as to which of the top five films were popular in more urban or more rural areas, with southern cities dominating over northern cities. Ent Group – 29 January 2017
China's financial media has noted that Dadi paid CNY ¥ 3.286bn for OSGH's China cinemas, even though total market cap of OSGH on the Hong Kong stock exchange is 'only' HK$1.89bn (CNY ¥1.67bn). So why pay twice as much for just the cinemas in China (OSGH also has cinemas in Hong Kong, Taiwan and Singapore) instead of just buying the whole company? Particularly when OSGH's BO haul in 2016 was a relatively lowly CNY ¥808 million (even if 8 is an auspicious number) ranking it 10th on the Mainland. OSGH cinemas are obviously worth much more to Dadi as a strategy fit than as a stand-alone cinema operation. CNbeta.com – 1 February 2017
Interesting profile of Dadi and its approach to expanding its business, which it sees growing very much in the same vein as fast food franchises like McDonalds. To this end it has created a 'Dadi College' to train and teach staff in customer service and enhance the quality of the staff. This is also seen as a way of internally combatting fraud through 'dual ticketing' and other types of fraud. Also worth reading is the interview with Yu Xin, CEO of Dadi Cinemas, where she affirms that buying OSGH cinemas was a strategic move. Winshang – 31 January 2017
Finally – a heartwarming tale from a village in Hunan where the town folks swore off bad habits like gambling and bandied together for a fundraiser that collected CNY ¥190,000 (USD $27,656) to build a local cinema hall in time for the Spring Festival/Lunar New Year. The cinema repaid the villagers by playing the movies for free during the entire holiday. Gong Xi Fa Cai! China News – 2 February 2017

Latest posts by Patrick von Sychowski
(see all)