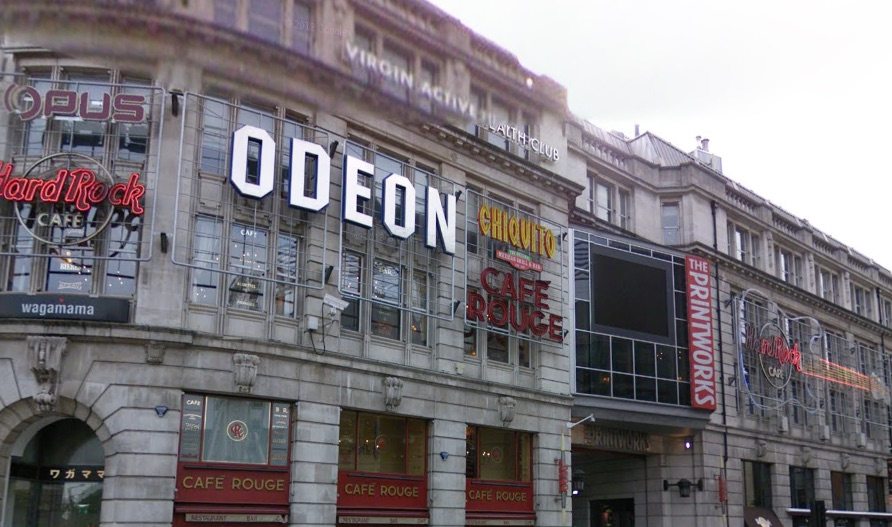 Imax Manchester VR centre, Carnival goes Unlimited, Inox growth, Ymagis Perform2020, US 2016 BO up, Cinema of the Future report, Lotte customer satisfaction award, CGV network failure, Hackney Picturehouse strike, UK's cheapest cinema, From-Live-to-Digital report, Comédie-Française goes live, Indian outdoor screenings, Dutch cinema ad spend jump, Indonesia's Whisper Cinema, iPic opens in Brooklyn, Munich cinema saved and Berlin's 11 best cinemas to lounge in. 
---

Like Celluloid Junkie on FACEBOOK for ALL THE LATEST NEWS.
---
UK – Imax will open its first European virtual reality (VR) entertainment centre in Manchester (UK) in partnership with Odeon, whose Printworks multiplex will host it. The site will offer "immersive, multi-dimensional VR experiences, including entertainment content and games," lasting 5 to 15 minutes in length at a price of GBP £8-£10 (USD $9.85-$12.31) per ticket. Max's first VR centre will open in Los Angeles in a few weeks and tests will last around six months. Imax has also singed a deal with Gaumont Pathe for five more of its regular big screens, the first one in La valletta Cinema in Paris. Variety – 11 October 2016
India – Carnival Cinema has become the first multiplex operator in India to launch an 'Unlimited' monthly pass. The Carnival MoviEcard has four different options, ranging from weekday pass for INR 399 (USD $5.96), all-days pass for INR 799 (USD $11.94), couples' weekday pass for INR 998 (USD $14.92) and couple's all-days pass INR 1,598 (USD $23.89). Wishesh – 6 October 2016
India – Rival Inox is meanwhile expanding, but not by opening multiplexes in the four largest cities (Mumbai, Delhi, Chennai and Kolkatta), focusing instead of cities like Rajkot, Gujarat. 10 new multiplexes have been opened in the last six months and 50 more are scheduled for FY'17. Interestingly Inox has an all-vegetarian policy for all of its concessions. Business Standard – 9 October 2016
France – Ymagis has revealed its three-year strategy called 'Perform 2020'. With the cash flow of the VPF set to turn into a trickle soon, the company is instead banking on "double-digit organic growth" for both its Eclair and Cinema Next operations. The replacement of first generation digital cinema equipment coupled with the potential for EclairColor is seen as a bright spot in the future. The company previously announced that "Aquarius" would be the first feature released in EclairColor.  Press Release (PDF) – 11 October 2016
USA – 2016 looks set to outperform 2015 at the North American box office (but probably not admissions) says Seeking Alpha.
The U.S. box office is up 3.8% Y/Y to $8.7781B through October 9, according to the latest tabulation from Box Office Mojo.
The sector received a boost in the third quarter from the strong runs of The Secret Life of Pets and Suicide Squad.
A higher average ticket price this year helped to offset some traffic slips.
However, there are doubts that "Rogue One" will match last year's "Star Wars" in takings. Seeking Alpha – 10 October 2016
France – 'Cinema has a future' is the message of the report for French audio-visual body CNC by Jean-Marie Dura, former CEO of UGC and working with Ymagis. But "in a context of profound changes" (advent of digital technology, increasing power of social networks, etc.), "it faces many challenges," is the finding of "La salle de cinéma de demain." Le Parisen (FR) – 27 September 2016
Korea (Republic of – South) – Lotte Cinema has come first in the 2016 Korean Customer Satisfaction Index (KCSI) – for the fourth year in a row.  Lotte has been expanded the content and customer offering by screening opera and ballet performances, as well as introducing 6P laser projection. Lotte has also signed deals with Chinese institutions and increased Chinese films, operas and more. Lotte has also ramped up Smart Order ticketing platform and social initiatives. The Fact (KR) – 13 October 2016
Korea (Republic of – South) – CGV suffered a major network failure that disabled its ticketing, booking, signage and app network on 28 September. What was suspected to be a cyber attack was subsequently blamed on a network failure, but highlights the vulnerabilities of fully automated cinema operations. Staff had to resort to hand drawn posters advertising screening times, paper tickets and crossed-off cinema seating plans. YTN (KR) – 28 September 2016
UK – Hackney Picturehuse staff are striking over not getting paid London's Living Wage. Picture house's Brixton Ritzy staff previously strikes over the same issue and also disrupted this year's London Film Festival. A spokesperson for the company said "We negotiate pay rates each year with the Forum and negotiations for 2017 have not yet started.  We are therefore disappointed by the decision of a minority of staff, 26 out of 82, who voted for strike action on Saturday 15th October." Hackney Citizen – 11 October 2016
UK – Is this the cheapest cinema in the UK? Regular ticket prices at the Odeon Darlington is now just GBP £3.00. Darlington Vue tickets cost GBP £9.99 by way of comparison. And did you know that "you can now buy 13 pints of cider for the price of a ticket to the cinema", according to a new study from the Alcohol Health Alliance. The Northern Echo – 7 October 2016
Event Cinema
UK – The Society of London Theatre (SOLT), UK Theatre and Arts Council England (ACE) have published their research on event cinema called "From Live-To-Digital". The work that was mainly undertaken on their behalf by AEA Consulting and is effectively a counterweight to the argument made by touring theatre and opera companies that event cinema cannibalises their audiences. The full report, as well as Exec Summary and responses can be downloaded here, but further research is promised. Press Release – 12 October 2016
France – Comédie-Française will begin transmitting its plays live to cinemas. First out will be "Romeo and Juliet", "The Misanthrope" and "Cyrano de Bergerac" in partnership with PathéLive. Pathé-Gaumont and UGC are already transmitting 25 events per year, of which 15 are Met Opera and Paris events. Le Parisien (FR) – 29 September 2016
Outdoor Cinema
India – The phenomenon of outdoor cinema screenings is spreading to India. While the country long had a tradition of travelling tent cinemas, the current wave screens family classics like "Harry Potter" and "Lion King" on the lawns of five-star hotels. SteppinOut Movie Nights attracted 500 people to its first screening on 19 June in Bengaluru. Hyderabad followed on 25 September with a screening of" The Dark Knight", which was chosen through a Facebook poll. Times of India – 9 October 2016
Advertising
The Netherlands – Cinema advertising saw the biggest increase of ad spend in Holland in the first half of this year. Growing at a staggering 24% it was just over double that of on-line spending (11.9%). Not surprisingly newspapers and magazine adverts fell. eMarketer – 10 October 2016
Access
Indonesia – Cinema in developing countries often lack the technology to provide access to deaf/hard-of-hearing and blind/visually impaired patrons. So in Indonesia there is Whisper Cinema instead. Straits Times – 12 October 2016
Cinema Opening/Closings
New York (NY) – iPic has opened its latest cinema in Brooklyn's South Street Seaport, where the eight-screen upscale cinema forms part of the neighbourhood's re-development project. Next up will be the Alamo Drafthouse cinema opening in Downtown Brooklyn's City Point, while Nitehawk is expanding with a second location on the site of the current Pavilion Cinema in Park Slope. AM New York – 11 October 2016
USA (IL) – AMC Oakbrook Center 12 latest 'State-of-the-Art' cinema has joined the recently renovated AMC Oakbrook Centre 4. The new cinema offers:
Plush, power recliners
Online ticketing, reserved seating and ticketless entry
Dolby Cinema at AMC featuring the latest in sight and sound technology
The IMAX® at AMC immersive theatre experience
A full bar featuring craft beer, wine and cocktails
An expanded menu of treats for every taste bud
The food options are too many and varied to be included here. Press Release – 12 October 2016
Germany – Four cinema lovers have saved Munich's Neue Maxim cinema and are operating it as a neighbourhood cinema. The 100+ year old cinema is doing very well. Mediabiz (DE) – 12 October 2016
UK – Errol Flynn Filmhouse is expanding to Daventry as part of growth plan. A consultation process will determine the specifics of the cinema. Daventry Express – 9 October 2016
UK – Haverfordwest is getting a five-screen cinema on the Wilko site. No operator is as-yet attached. Western Telegraph – 9 October 2016
Romania – Cinema City has opened its fourth multiplex in Bucharest, with 14 screens and 1,966 seats located in ParkLake Shopping Centre. The €6 million investment is Cinema City's 24th multiplex in Romania, making it Cineworld's third biggest territory after the UK and Poland. Film New Europe – 6 October 2016
UK – The Light Cinemas has agreed to develop a nine-screen multiplex as part of the extension of the Trinity Walk mall in Wakefield. The work is due to be completed in 2018 but the planning application has to be submitted first. This would The Light's 12th cinema. The Business Desk – 29 September 2016
Finally
Germany – After last issue's Top 11 Independent London Cinemas, this time we look at the 11 Berlin cinemas that could be your second lounge. Our favourite is Eiszeit (Ice Age – no relation to the Fox cartoon franchise).
In the "living room of the film art" it is anything but frosty. The red and cozy interior of the bar invites you to linger, and the cinema programm, in addition to the more common alternative films, always surprises with modern classics (such as Blair Witch Project) on the big screen.

Latest posts by Patrick von Sychowski
(see all)