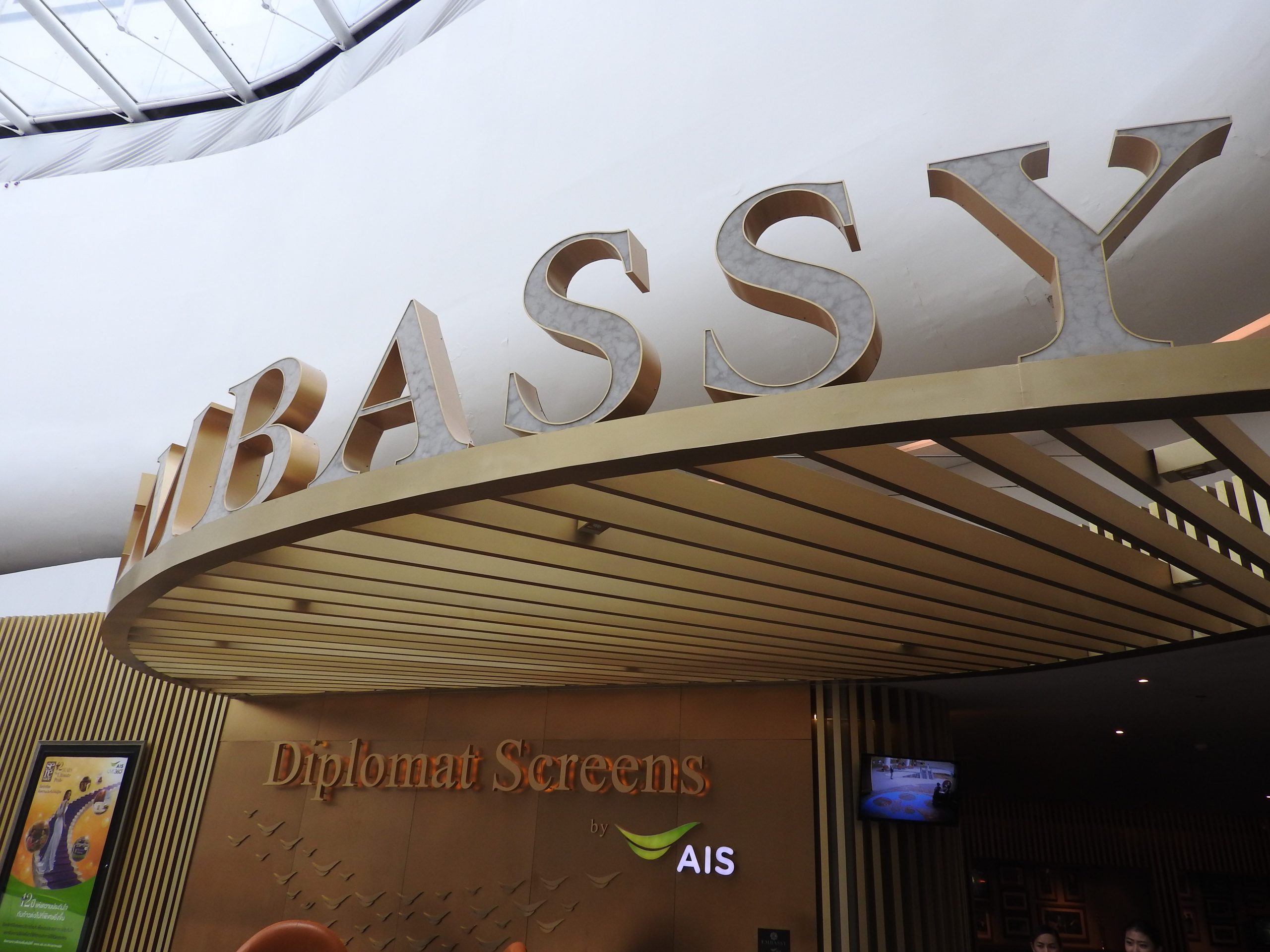 The setting is thoroughly familiar to any jet setting CEO. A tastefully decorated lounge with a large selection of complimentary snacks, canapés, hot dishes and deserts, not to mention water, juices and coffee. A well stocked bar and an attentive bartenders who will bring you complimentary drinks. As the time printed on your ticket approaches, you are escorted to your gate, where you will be made to feel at home for the duration of your journey.  You are shown to your seat, which can be fully reclined into a bed; blanket, cushion and slippers, while the arm rest features a USB charger, adjustable light, bag hanger and a summon button for the staff to bring you more food and drinks. You settle in to enjoy a recent movie on the large screen in front of you. A very large screen.
Except this is not the Emirates Airlines Gold Card frequent fliers VIP lounge nor the A380 Upper Deck flight from Dubai to New York. This is the Bangkok luxury cinema that models itself on the most premium airline, hospitality and service experiences available to discerning customers. And you can thus enjoy a six-star cinema experience for THB 900 baht (USD $26), as opposed to a five-figure amount for the equivalent airline or hotel deal.
Bangkok has long prided itself in offering some of the most luxurious cinema experiences anywhere in Asia, something which the leading exhibitor Major Cineplex is now also exporting to neighbouring countries. Embassy Diplomat Screens by AIS (the venue's full title and sponsorship recognition) may be a couple of years old, but it holds its own against other premium cinemas such as Quartier Cine-Art at Emquartier, Emprive Cineclub at Emporium, Bangkok Airways Blue Ribbon and Enigma at Siam Paragon or SFW Cinema First Class at Central World. It is not a stretch for it to call itself "The World's Most Exclusive and Personalised Cinema."
The five-screen luxury-plex designed by Rockwell Group Europe and built at a cost of THB 120 million baht (USD $3.4 million) is located in the swanky Central Embassy high-end mall, a stone's throw from the United States Embassy in the diplomatic quarter of the Thai capital. The cinema is part of Major Cineplex Group, Thailand's largest exhibitor, but you will not find a mention of it either in the cinema or on the dedicated website embassycineplex.com (though the URL is a give-away). Instead the holding company is Executive Cinema Corporation. This is because contractual obligations with the mall owner and proximity to competing cinemas means that the cinema has to have stand-alone branding, though this is hardly a problem for it.
To arrive at the theatre you must pass five floors of high end boutiques including Prada, Jill Sanders, Harrods Bakery, Ralph Lauren, McQueen and Maison Margiela in a building that is all sleek sinus white curves and bright open spaces. The escalators announce 'World-class Cinema L6'. Once you reach the top floor you are not greeted with a box office and concessions counter, but rather a 'Ticket Concierge' and 'Gourmet' desks. In addition to buying your ticket, you can pre-order the popcorn (caramel, sour cream or salt – not complimentary) to have it delivered to your seat.
As much as the cinema's design impresses as soon as you enter, it is the attention, hospitality and knowledgeability of the staff that seals the deal of this being a world-class cinema. Thailand has a reputation for being the 'Land of Smiles' and staff here could easily have been plucked from the First Class deck of the flag carrier Thai airline. Seeing that I was taking pictures like a wanton tourist, the hostess did not admonish me, in a misguided proprietary fear of me being there to steal the design. Rather she offered me a tour of the facility, including a peak into one of the auditoriums – empty between films.
Screen 5 has 48 'CoCoon' seats arranged in pairs, for secluded enjoyment by couples. The leather seats can be reclined 180-degrees and are comfortable enough to fall asleep in. The cinema website boldly states "Forget business class plane seats. These are very much beyond." I can't disagree.
Sadly I was not able to also peek into the smaller Screen 1, which costs THB 100 baht (USD $2.89) more, but in return offers 31 different types of seats, from loft beds, to day beds, to loungers and grand sofas, with a private bar and headphones for multiple language options (films are shown in their original language with subtitles in Thai). Screen 1 calls itself "a cinema with the luxury of a great living room," though they must have Facebook founder Mark Zuckerberg's living room in mind.
Screen 3 offers "16 luxury honeymoon day beds and 16 cozy day beds." Beware, watching a film here while jet lagged could cause you to get some seriously good slumber.
The equivalent of USD $26 might seem like a lot for a cinema ticket, but know that there are enough snacks, noodles, food, desert and pastries on offer for you to easily skip a meal. The attentive staff even encourage you to enjoy the lounge area in the middle of the complex both before and after the film.
There is also an unlimited amount of raspberry and mango juice, bottled water, coffee and a selection of gourmet teas. Alcohol, similar to the popcorn, the one thing that is not complimentary, though it is not only reasonably priced but a great selection of wines. The mixologist at the bar will even make you a complimentary non-alcoholic 'cocktail', while cheapskates can have a Heineken beer for THB 90 baht (USD $2.60), which is not much more than you would pay for the Pepsi.
It is not just the amount of food on offer that impresses but rather the quality and selection. The Finger Food Bar menu reads:
Shark Fin Dumpling With Brown Sauce
Stir Fried Shrimp and Penne With Basil Sauce
Skewered Bacon and Iceberg Lettuce With Blue Cheese Dressing
Bruschetta Mini Pizza
Spicy Grilled Shrimp With Herb Salad
Perhaps not surprisingly the savoury dishes are supplied by Dean & Deluca, which has an outlet a couple of floors below. This is both a tasty and smart tie-up that maximises the mall's synergies. Did we mention that the deserts are provided by The Oriental Shop? You are very likely to be tempted to shop from either gourmet boutiques afterwards, having sampled their goods at Embassy Diplomat Screens first. You can enjoy your nibbles in any one of the different sofas or cubbyholes that line the round room.
Having lounged in the lounge and tried everything at least once (except the Shark Fin dumplings), and some things even twice, the host led us to our screen, which today was Screen 4 showing "The Secret Life of Pets". A quick detour to the restroom confirmed that the cinema passes the 'CJ Toilet Test' and with flying colours too – or should that be cotton towelettes and incense oil wood sticks?
The screens feature  RealD XL technology, though curiously none of the films were screening in 3D that day, even though several of the ones playing were released in that format. The servers used were GDC, though the projector make is not known. Both the picture and audio quality were of the same high quality as the seats, as one would hope and expect. Pressing the button for service would alert the host/hostess through a device on their wrist that flashed with the auditorium and seat number (see right). Service was quick, efficient, unobtrusive and unfailingly polite.
Having stood for the national anthem (bit of a bother if you are already in a reclining position – but the Thai king deserves everyone's respect) and watched adverts for the cinemas sponsors (Thai telecom operator AIS gets its name most prominently) the film was enjoyable, though should more accurately have been called "Pet Story". It was tempting to stay on in the lounge afterwards for a coffee, though resisting more snacking would have been difficult, and reviewing cinemas is a sedentary enough occupation already.
So is this the perfect six-star cinema experience? Of course we could nit pick. The carpets seem a tad faux Burberry and the jazz elevator muzak playing is dreadfully inoffensive. You only need to visit a high end restaurant in the neighbourhood, such as Osha Bangkok, to realise that it is possible to go up by half a notch, with even further attention to detail. Perhaps Embassy Diplomat Screens is also best enjoyed in the evening as a couple, rather than by yourself for a Monday matinee. But it is not taking anything away from the tremendous experience there to say that Embassy Diplomat Screens at the moment sits between five and six stars.
Embassy's bigger issue is foot traffic. While it resides in a premium shopping location, it is a destination that requires a trek to the sixth floor. Word of mouth rather than passing traffic is what drive attendance. The mall itself comes across as spacious (empty) and may not have the footfall to help 'feed' Embassy with customers. In its first year of operation the cinema was running at 4,000 to 5,000 movie goers per month, representing an occupancy of 30% per cent. This is double what a typical cinema might have, but Embassy still wanted to grow that to 40%. If it has achieved that than it was not evident from my afternoon visit.
Spending THB 1,200 baht (USD $34.70) for the full price weekend evening cinema ticket might seem extravagant. But it is frankly the most pleasurable and luxurious two-and-a-half hours that you can enjoy in the Thai capital for that sum. The ticket is pricey, but it represents value for money, particularly when you consider the whole experience. This is one night in Bangkok that you will neither forget nor regret.
Alas, there is a somber post-script to this cinema review.
Earlier this month Jim Patterson passed away after a year-long battle with cancer. As the Managing Director of Executive Cinema Corporation the Embassy Diplomat Screens was very much his baby. This is not just for guiding it through its development, build and launch, but also thanks to his uncanny negotiation skills that secured AIS, Krungsri Bank, Bangkok Bank, Noble, Mercedes-Benz, Emirates Airline, Heineken and Pepsi as sponsors that enabled the financing of such a prestige project. Embassy claims to have the highest per-seat cost of any cinema in the world and even the high ticket prices would not have made this project possible if it were not for him.
Jim will be much missed for the tremendous work that he did for Major Cineplex Group and many other exhibitors, but above all for being a larger than life presence, a Canadian who was a citizen of the world, who achieved success in no less than three different careers, and who created the world's most luxurious cinema. The best tribute you can pay to Jim is to visit the Embassy Diplomat Screens the next time you are in Bangkok.
---
Celluloid Junkie selects the CJ Cinema of the Month based on an independent survey. We always pay for our own tickets and popcorn and visit the cinema in a 'mystery patron' capacity in most cases. Whenever possible we take our own photographs of a cinema in lieu of corporate stock photos. Thus, sometimes you get authenticity at the expense of focus. Our impressions may be subjective, but we always try to be fair and factually accurate in everything being presented about one of the cinemas we have chosen.

Latest posts by Patrick von Sychowski
(see all)