Ymagis' EclairColor, Tarzan VR tickets, Ghostbusters Snapchat, BookMyShow investment, Korea's Cine Station Q, AlloCiné and Médiamétrie's Drive In, tickets VAT ruling, FACT's pirate busters, Wine in a Glass, Star Trek Escape, French "Conjuring 2" troubles, knife robbery Germany, The Light goes ahead in Wellgate, Curzon Colchester OK, 10th Traumpalast, Multiplex in Kiyv and 'laugh on the inside' for "Absolutely Fabulous". 
---
France – The biggest news of the week (or even month) was the announcement of Ymagis' EclairColor, which had been demonstrated at invitation-only screenings during CineEurope. The enhanced film mastering an and projection technology could give Dolby Cinema a run for its money, but at a lower cost, though it still has hurdles to clear. Having seen and been impressed by it at CineEurope, we will give a more detailed analysis of it next week, together with an interview with Ymagis CEO and Chairman Jean Mizrahi. Press Release – 7 July 2016
UK/USA – Exciting things are also happening in the online film promotion space, with Hollywood studios engaging with younger audiences through new technologies and social media. This week Warner Bros together with Powster launched Legend of Tarzan VR ticketing, which allowed you to go from a 3D virtual reality experience straight to ticketing for your nearest cinema through geolocation. Meanwhile Sony Pictures launched the first ever front and rear-facing Snapchat sense to promote its reboot of "Ghostbusters". If you are over 30 then just trust us, these are important things even if you never use Snapchat or snigger at people with VR headsets.
India – US investor Stripes Group has led a USD $80 million fu****************************************——————————nding round for Indian cinema ticketing platform BookMyShow's parent company Bigtree Entertainment. This D-round of funding values the company at USD $440 million. The market leader in India is looking to expand abroad and claims to have sold 100 million tickets in 2015-16, of which 60% were for cinema shows. Variety – 6 July 2016
Korea (Republic of / South) – Film financier and distributor Next Entertainment World is entering the exhibition business with the launch of its first multiplex in 2017. The first of the Cine Station Q multiplexes will be a complex acquired from CGV in the capital Seoul, with three more venues planned for later in 2017. Variety – 6 July 2016
France – AlloCiné and Médiamétrie have launched separate studies to measure cinema going habits. The former is called 'Drive In' and looks at habits before entering the cinema, such as internet use, transportation and media interaction. The second looks at conversion from online engagement. CBNews (FR) – 6 July 2016
France – Cinema tickets are subject to VAT (sales tax) whether they are used or not, unlike airline tickets, for which European consumers can get a refund on the tax, even if they cannot get the money back for the ticket itself. That is the result of a recent ruling by the Court of Justice of the European Union. Boursorama (FR) – 6 July 2016
UK – 17 cinema ushers have been treated to special ceremony and given a cheque for GBP £500 each by UK copyright body FACT for apprehending people cam cording films in their cinemas. It would be a shame of FACT's national "Fight Film Theft" campaign were to end, given the funding concerns about the organisation's future, with the MPAA set to do its own reverse 'Brexit' soon. Ars Technica UK – 7 July 2016
Concessions / F&B
Australia – Having been granted licence to serve alcohol, Majestic Cinema in Tambour is experimenting with the best way to serve up a glass of wine. "We need to offer a drink that is completely safe in the theatre environment," Manager Michelle Weir is quoted as saying. The preferred option is the Wine in a Glass concept, with Moscato, Sauvignon Blanc, Cabernet Sauvignon and Shiraz on offer. Sunshine Coast Daily – 6 July 2016
Imax/PLF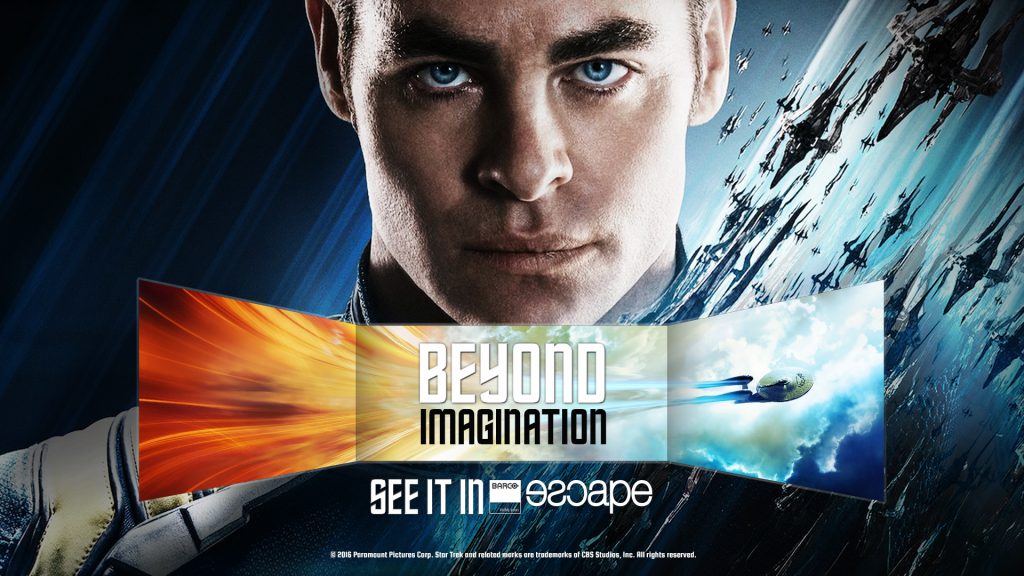 USA (CA) – The Mary Pickford 14 cinema in Cathedral City is one of a handful of cinemas that will screen the latest "Star Trek" film in Barco's Escape format. Formerly an UltraStar cinema, it is now part of D'Place Entertainment. Brace's test-bed multiplex LA Regal Live and Cinemark 18 in California will also show the film with the 20 minute three-screen sequence. The Press Enterprise – 5 July 2016
Law & Order
France – More details about the unrest in French cinemas showing "The Conjuring 2", which has been pulled from several screens as a result. In Pathé Montataire, in Oise, there were "problems like with all horror movies," the local manager sighs. UGC is not showing the film on any of its 400 screens. Le Parisien (FR) – 5 July 2016
Germany – A man armed with a knife attacked an employee of the Freiberger Harmonie cinema and escaped with the day's collection of around €2,500. The attack took place on Sunday evening when Germany was playing and he was said to be draped in a German flag. Badische Zeitung (DE) – 4 July 2016
Cinema Opening/Closings
UK – Despite the collapse of retailer BHS Dundee's Wellgate will get a new multiplex operated by The Light. "We're comfortable with the situation and we don't think it's an issue," The Light's John Sullivan is quoted as saying. "It's unfortunate that BHS is to make way but I think there will be a new use for the space." So there is The Light at the end of the tunnel. Evening Telegraph – 7 July 2016
UK – Cursor's plans for a three-screen cinema in Colchester has been approved by the local council. The former Keddies Department Store, now called Roman House, will re-open as a boutique cinema in the spring of 2017. Maldon Standard – 7 July 2016
Germany – The new Traumpalast Leonborg cinema opened this past Thursday. The 10-screen cinema has both Dolby Atmos in all screes (a first for Germany) and 4D seating, with 1,300 seats in total (mostly regular). It is the tenth Traumpalast cinema opened by the Rudersberg-Basee investor Heinz Lochmann. StZ (DE) – 6 July 2016
Ukraine – The largest cinema in the Multiplex chain is set to open in the Lavina Mall trade and entertainment center in Kyiv. The USD $5.5 million multiplex will have 13 screens and 2,500 seats, as well as housing the own-brand M-cafe coffee shop. Interfax – 4 July 2016
Germany – Roxy Cinema is said to be trying to block the construction of a 10-screen, 1,250-seat multiplex in Neustadt. Negotiations between the two-screen cinema operator and Mannheimer Filmtheaterbetrieb Spickert have been going on for months but seem deadlocked. Die Rheinpfalz (DE) – 6 July 2016
UK – A campaign in underway to re-open Wellington's Clifton Cinema, which was converted to a store in 1987 before closing completely in 2012. Campaigners want to see it converted to an arts venue with a 100-seat cinema. Shropshire Star – 8 July 2016
USA (MI) – Muskegon's Harbor Cinema is set to re-open at the end of July. You have to be 18 or older to apply for work there. WZZM – 5 July 2016
Finally
[youtube]https://www.youtube.com/watch?v=Dj3ZWhlmexw[/youtube]
Two older women were expelled from the Vue Islington from laughing too hard at the new "Absolutely Fabulous" movie. "Great-grandma Cindy Amass and grandma Jacqueline Cox, 60, said they were told to leave by the cinema manager after he hid round the corner to listen to their hysterics." They were allegedly told to 'laugh on the inside'. Even without this made-for-a-poster tagline the film was headed for local blockbuster status. The Mirror – 5 July 2016

Latest posts by Patrick von Sychowski
(see all)