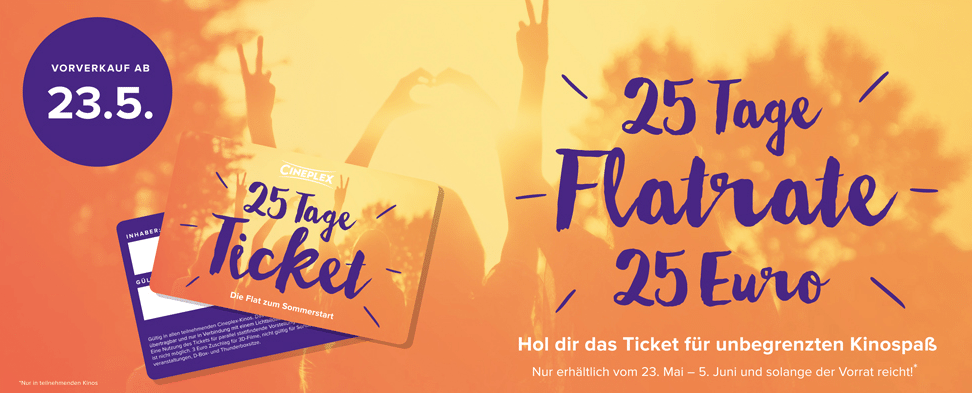 Cineplex's €25/25 days, 9 Oct Euro Art Cine Day, Ymagis Q1, ICTA screen awards, 3 month window means 'death' in Germany, Rio strike, Screenvision connects, goodbye Marble Arch and something in the cinema air.
---
Germany – Cineplex has launched a Flat-rate one-month-only 'unlimited' card in time for summer. The '25 Days' card costs €25 and is available between 23 May and 5 June. It can be used form the 30 May onwards. D-Box and Thunderbox (?) are not included and 3D costs €3 extra. Interesting alternative to a yearly 'unlimited' card during peak season. Cineplex Website (DE) – 11 May 2016
France (Cannes) – This year 9 October is 'European Art Cinema Day' in an initiative announced in Cannes by CICEA, the international art-house cinema federation (or Confédération Internationale des Cinémas d'Art et d'Essai, to give it its French title). More than 1,000 cinemas are expected to take part, screening previews, children's films and cinema classics that celebrate European cinema. Blickpunkt: Film (DE) – 12 May 2016
France – Ymagis has announced its full Q1 2016 results. "For the first quarter of 2016, the Group's revenue amounted to €42.7M, an increase of 33.8% compared to the first quarter of 2015." VPF revenue was unchanged, other exhibitor services up 30.6% and content service ups whooping 229.4% on the back of the Eclair acquisition.  Press Release (PDF) – 11 May 2016
Spain – ICTA has announced the winners of its Screens of the Year. They are, as voted for:
Odeon Leicester Square, London, as the CLASSIC SCREEEN OF THE YEAR
Vue Cinema, Alkmaar as the NEW BUILD SCREEN OF THE YEAR
Cinecitta, Nürnberg as the SCREEN OF THE YEAR for it's technical renovation
We are told they will be given their awards during a cocktail reception on Sunday evening, June 19th, 2016 at Boo's Restaurant & Beach Club in Barcelona. Register for the ICTA sessions here.
Germany – "Three months will be the death of cinema," says Thomas Negele, the head of HDF Kino, Germany's trade body for cinema, referring to the proposed easing of the block on releasing cinema films on subsequent platforms. The proposal is being considered by Germany's highest court and Negele complains in an interview with Blickpunkt: Film that the former six month window has shrunk first to five and now four months. Blickpunkt:Film (DE) – 12 May 2016
UK – A strike has been called on Wednesday 25 May by the staff of the Rio cinema in east London. Rio is one of the most notable independent cinema in London by the BECTU union staff are unhappy with lack of union recognition, pay and staff cuts. The cinema is said to have been close to insolvency for several years. Press Release – 11 May 2016
Advertising
USA (NY) – Screenvision has announced its 'Connected Cinema' initiative. A partnership with MovieTickets.com, Timeplay, EdisonX and Branded Entertainment Network will allow advertisers to target cinema goers throughout their cinema journey. Deadline – 12 May 2016
Cinema Opening/Closings
UK – Odeon Marble Arch closed on 8 May. At one time it was Europe's largest cinema. Announcement – 9 May 2016
UK – Everyman has re-opened the High Barnet cinema that used to belong to Odeon. GBP£3 million was spent restoring it, with five screens to show both Hollywood and art-house films. It will feature the trademark Everyman sofa seating and pizza delivery to your chair. North London Today – 9 May 2016
UK – These are the first images from the upcoming Scarborough cinema in North Bay. The planning application has been submitted and the cinema is expected to open in 2017. No operator has been selected yet. Scarborough News – 12 May 2016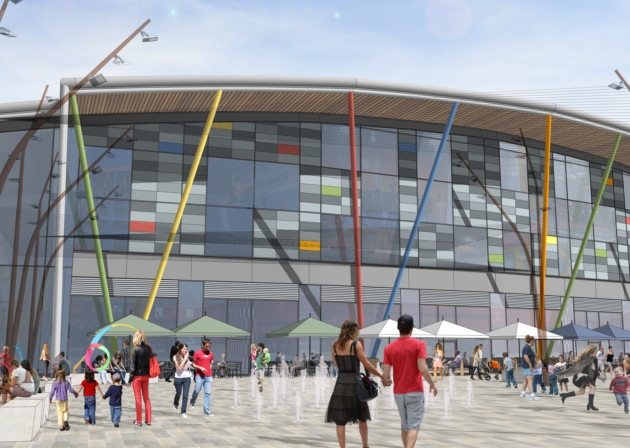 UK – Odeon in Colchester has filed an objection to the plans to build a 12-screen out-of-town Northern Gateway cinema. "It is of significant concern to our clients that a substantial quantum of new leisure floorspace, including the provision of a 12-screen cinema, has been proposed in an out-of-centre location," Odeon wrote. "Such proposals are likely to have significant implications for the continued operation of Odeon's existing premises and the town centre as a whole." Gazette News – 12 May 2016
Thailand – An online petition has been started to save Bangkok's iconic Scala Theatre. "This tropical art deco cinema, wedged between the modern malls and towers of downtown Siam, was built in 1969 but has its heart very much in the roaring 1920s. " While Thailand is SE Asia's largest cinema market, sadly high realestate prices puts pressure on old buildings such as the Scala. Monocle – 12 May 2016
Finally
Germany – Scientists at the Max-Planck-Institute for Chemistry and the Johannes Gutenberg-University in Mainz have published a research paper that claims that it is possible to detect the level of emotional tension in a cinema by measuring the molecular composition of the air being exhaled by the audience.
Here's an example of the chemical trace associated with shows of the movie "The Hunger Games 2: Catching Fire", featuring three chemicals – carbon dioxide (CO2), acetone and isoprene. It's obvious that levels of all three increase over the course of the movie, as they accumulate in the air from all the people in the audience:

But more interestingly, we also see two peaks in the level of CO2 and isoprene towards the end of the movie. These peaks turn out to correspond to two especially tense moments in the film. This association makes sense because emotional stress increases heart and breathing rate, which will tend to increase the amount of CO2 exhaled. As for the isoprene, this is believed to be released by muscle activity – perhaps the isoprene peaks reflects people moving or 'fidgeting' in tension.
Read all about it in. Williams J, Stönner C, Wicker J, Krauter N, Derstroff B, Bourtsoukidis E, Klüpfel T, & Kramer S (2016). Cinema audiences reproducibly vary the chemical composition of air during films, by broadcasting scene specific emissions on breath. Scientific Reports, 6 PMID: 27160439

Latest posts by Patrick von Sychowski
(see all)