In this issue: Barco LA Live, UKCA & UNIC oppose Screening Room, AMC-Carmike deal opposed, Springtime for Cinema in France, poor spring for Indian cinema but good year in Pakistan, wine & cinema, sex assaults in cinemas and the 'cinemability' of cities.
USA (CA) – Barco is taking over the 14-screen Regal: L.A. Live cinema in Downtown Los Angeles, to be used as a creative hub for the company's cinema offerings. Parco has struck a multi-year deal with owner AEG, also giving it naming rights to what will be known as Regal L.A. Live: A Barco Innovation Center. Solutions on show will include its Auro immersive audio, three-screen Escape and Lobby Experience. It is not known if the 4DX seats currently installed will remain. Launch is set for 1 April. L.A. Biz – 21 March 2016
UK/Belgium – The UK Cinema Association (UKCA) and UNIC, the European cinema trade body, have both come out against The Screening Room venture for day-and-date releases in the home. Unlike their US counterpart NATO, which has to strike a more neutral tone on account of any member cinemas that may test the scheme, neither UKCA nor UNIC hold back in their criticism. UKCE weighs in that "it is difficult to envisage how this proposal – if adopted – could do anything other than present an unprecedented opportunity for film piracy," while UNIC counters that "The model as outlined seems to offer little benefit to cinema operators and their distribution partners, while representing significant potential risks." Variety – 18 March 2016
USA (NY) – A major investor in Carmike is unhappy that the investors are not being paid more for AMC acquiring the cinema. Mittleman Bros. is the chain largest shareholder with 7.1% and feels that "poor negotiating tactics" led to the acceptance of the USD $30 per share, instead of USD $35 in shares or USD $40 in cash. It plans to vote against the merger. Deadline – 21 March 2016
France – It's Springtime for Cinema in France, the three day festival during which cinema tickets are available for just €4 each in an effort to encourage more people to visit the cinema, now in its 17th year. Some 5,600 cinema screens participate. French cinemas just recorded their best February at the box office since the 1980s. Le Figaro – 20 March 2016
India – Annecdotal information that multiplexes in India are temporarily closing some auditoriums. There has said to be a dearth of films with broad appeal – both Hollywood and Hindi/Bollywood – with an anonymous exhibitor quoted as saying "We cannot afford to run so many screens unless we get good content." Spring is traditionally a slow box office season due to exams and the IPL cricket, though the latter has not yet begun. SpotboyE – 19 March 2016
Pakistan – After having suffered terrorist attacks in substandard single-screen cinemas, the Pakistani exhibition business is now growing tremendously. Around 20-30 news screens will open this year, mostly in small multiplexes. Box office was up 28% year-on-year in 2015, with Bollywood (Hindi films from India) credited as having brought Pakistani cinema back from death's door. But the country still only has 52 DCI-grade digital cinema screens. It is estimated that the country will need at least 200 screens to support a viable domestic film industry. The News – 20 March 2016
India – The Competition Commission of India (CCI) has told it needs to sell some of its cinemas – most likely in north India – to get the go-ahead to merge with DT Cinemas. "Sources privy to the developments said the internal order of CCI had the support of four members of a total of seven." PVR recently crossed 500 screens in India. Business Standard – 22 March 2016
Concessions / F&B
France – Now this is a great pairing: three wine merchants have partnered the Cap'Cinéma for wine tastings followed by screenings. Over three Wednesdays there will be a tasting at 19:30 of red and whites from a different wine maker, followed by a screening at 20:30. The films are a mix of classics ("Babette's Feast") and a new documentary with the director in attendance. Centre Press Aveyron – 20 March 2016
Law & Order
Australia – A man has been charged over the sexual assault of a 13-year old girl in the Glen Waverley cinema in Melbourne on 20 February. The 23-year old has been charged and will appear before Melbourne Magistrates Court on 29 April. The Age – 20 March 2016
UK – A sex attack on a 14-year old boy in a toilet at the the Middlebrook Vue Cinema. Greater Manchester Police (GMP) have asked for the publics help in finding the suspect. Wigan Today – 22 March 2016
USA (KA) – Police had to be called to the Hollywood 14 cinema in Topeka after a fight broke out after one patron complained about another talking during the film. "Those type of incidents occur frequently because people don't know how to de-escalate,"Lt. Chris Heaven said. cjonline.com – 20 March 2016
Cinema Opening/Closing
France – Fourmies will be getting a 'miniplex' in 2019. The local Council has approved plans for a €4.3 million three-screen 450 seat at rue Saint-Louis. This will involve the demolition of the old business centre and the brasserie Le Saint-Louis. The towns only current cinema le Sunset only seats 133 and has admissions of just 9,000 per year. La Voix du Nord (FR) – 19 March 2016
France – The Pathé Lumière cinema in Caen that closed in May 2013 will be demolished. Even though the city has announced it, however, the deed has not yet been acquired from Gaumont. The cinema became uneconomical after the opening of a multiplex in Rives de l'Orne. Liberte – 16 March 2016
Norway – Lillehammer Cinema is re-opening after refurbishment that saw the addition of two new screens, one with Dolby Atmos, in addition to the existing three. Both new screens are under ground behind the existing screens. Press Release – 18 March 2016 Two new screens have also been re-opened by Gjøvik Kino & Scene after extensive refurbishment. The cinema was opened in 1990 and the main screen re-done in 2004. KinoMagasinet – 20 March 2016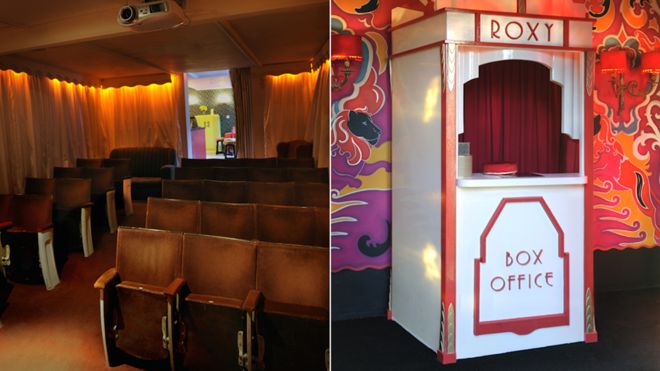 UK – Sufficient funds have been raised to carry out needed repair for a 30-seat cinema in Axbridge. The Roxy is thought to be one of the smallest working cinemas in the UK. It has an Art Deco box office and a bar from the 1950s. BBC – 22 March 2016
Finally
Australia – An interesting piece of research by the Kinomatics Project, ranking cities by their "cinemability", defined as ability to support cinema going. 311 cities from 48 countries have been included and ten variables applied. You can change the weight of the criteria to see what results it produces. The top spot both is and isn't a surprise. Cinemacities.com
Patrick was a Senior Analyst at Screen Digest, went on to launch the digital cinema operations of Unique and Deluxe Europe, then digitised Bollywood at Adlabs/RMW, and now writes, consults and appears on panels about cinema all over the world.
Latest posts by Patrick von Sychowski (see all)