In today's CJ Cinema Digest: could Poland's Helios make an attractive acquisition target, Carnival's secret strategy for India revealed, Imax expands in France with Pathe and in UK (with everyone?), Movio-Vue partner for analytics, why studios and cinemas need to co-operate, THX 2.0 in Japan for "Star Wars VII", "Deadpool" ass poster censored, 4DX in Aeon in Japan, a terrible cinema robbery, plus Odeon Orpington opening while Screen in Dublin and Astor in Frankfurt close. Finally, your boring snaps as cinema posters.
Poland – In a prescient move Polish newspaper publisher Agora bought cinema chain Helios in 2010. These days its flagship newspaper Gazeta Wyborcza is facing the same problems as most news print, but the multiplex business is booming. Its 37 multiplexes with 206 screens outnumber Multikino (27/226) and Cinema City (31/339) on the locations if not screen count and offer the best profits of all of Agora's businesses. Let's see if Agora ends up spinning it off to supports its print operation, much like Bonnier did with SF Bio in Sweden. With Poland becoming one of Europe's largest cinema market, it would definitely make an interesting acquisition target for a multi-national chain. Money.pl (PL) – 22 February 2016
India – Having acquired BIG Cinemas and established itself as a national player, India's Carnival has a strategy of targeting Tier-2 and -3 cities and undercutting rivals PVR, Kinepolis and Inox on ticket prices, while focusing on footfall rather than the latest technologies (Dolby Atmos, laser projection, 4D seating, etc.).
For the multiplex business in India, this is a first. In an industry where movie exhibitors have always behaved in a cartelised fashion, Carnival's gamble could shake up the business. Traditionally ticket prices operate within a narrow band and rise and fall according to the newness of the release and its perceived popularity. Prices also vary according to the timing of the show. Among the rivals, PVR sells at a marginal premium over the rest but, the difference is not enough to significantly impact a moviegoer's choice.

Carnival is hoping to change all that. It will price tickets under Rs 100 while rivals charge between Rs 120 [USD $1.75] and 180 [USD $2.63] and more. The company is also building a presence in the non-metros. Shrikant Bhasi, Chairman, Carnival Group says it has set aside around Rs 200-225 crore [USD $29.8 million to $32.83 million] for expansion into small towns.
Carnival aims to hit 500 screens by the end of this year, with another 100 screens in 2017. By 'charting' a further 400 screens it aims to hit 1,000 by the end of 2017. Oh, and it is getting into film production and distribution. Business Standard – 22 February 2016
Canada – Expectations are riding high on Imax's latest quarterly results, coming off a strong three months with "Star Wars: the Force Awakens" and now also "Deadpool". Ahead of the results it has been announced that Imax and Pathe will be rolling out the large format screens into five of Les Cinémas Gaunt Pathe's locations in France and Switzerland. Pathe Cinema Gaumont in Montpellier will get Imax laser projection. Imax CEO Andrew Cripps also revealed in the Evening Standard (no link) that it will open around 30 new screens in the UK over the next five years. The company is looking at 70-75 potential locations to open between 2019 and 2021. This news might provide an uptick for Imax's share price, which shed 19% of its value in the previous quarter. Motley Fool – 22 February 2016
UK/Ireland – Vue and Morio have signed an agreement to form a single customer view for its UK and Ireland locations. The Movie Cinema platform will create "an ecosystem that will leverage a real-time, single customer view from multiple sources," said Dominic Rowell, Commercial Director at Vue. It will be integrated with Vista Cinema management software already operating in Vue's locations. Press Release – 22 February 2016
USA – A critical look behind the good box office numbers of 2015 and a plea for better co-operation between cinemas and distributors by John Calkis in Variety.
Declining attendance will only be addressed by finding a way to reach audiences more effectively and tackling the price imbalance of going to the theater vs. staying home.

There are two clear levers that exhibitors could bring to bear. Direct marketing via consumer loyalty programs could improve the opening prospects for all films, but to date, that strategy has been focused primarily on tentpoles, with little credit earned by exhibitors for their efforts. Why couldn't exhibition support smaller pictures, and do so for compensation from film distributors? And to address the growing home/theater price imbalance, coupling loyalty programs with expanded discount and subscription offers to consumers also would help attract audiences to smaller movies.
But will Hollywood studios and exhibitor CEOs listen and act? 20th Century Fox's Tomas Jegeus said on stage at last year's CinemaCon that they all know that they need to work together, but seem unable to do so. Variety – 19 February 2016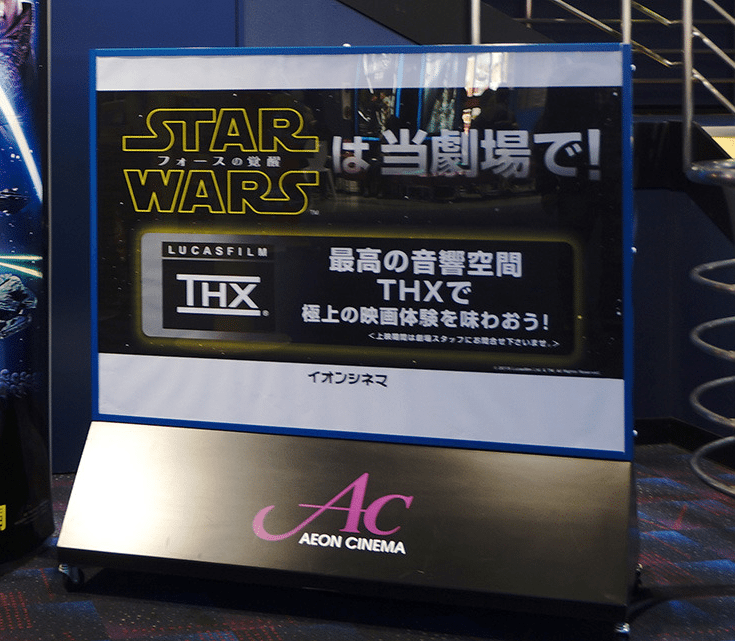 Japan – THX 2.0 is making further inroads in Asia, this time in Japan with this installation in the Aeon Cinema in Ebina. There still seems some confusion, even for an AV specialist website, what "THX special sound" is (a technology or a standard or a specification?). According to the article and interview, "Dolby and THX is a different thing as a standard, but the concept of trying to provide the best sound to customers with respect to the theater of the sound is the same." There are eight other auditoriums in Japan that are THX certified. Stereo Sound (JP) – 22 February 2016
Censorship
UK – A Devon cinema is facing ridicule for censoring the "Deadpool" poster, by covering up the word 'ass' three times with black tape. (You might say that the managers made a bit of an ass of themselves.) Herald Express – 22 February 2016
Seating
Japan – 4DX is expanding its foot print (bum print?) in Japan with the opening of more auditorium in Aeon cinemas in April: Koshigaya Lake Town, Natori, Chikushino, in the Kyoto Katsura, for a total of six screens across Japan. Interesting to see motion seating taking off in traditionally conservative cinema nation Japan, ahead of, say Singapore. AV Watch – 19 February 2016
Law & Order
USA – Erhhm – we're just going to leave this one here…
Cinema Opening/Closings
UK – Orpington has its first cinema in 34 years thanks to Odeon. Lots of pictures of the seven-screen multiplexes in their article showing it off. We particularly like the look of the Croma Pizza Point (above). It is also one of only two Odeons with Isense screens in the whole of the UK. News Shopper – 22 February 2016
Ireland (Rep.) – Dublin's iconic Screen Cinema is set to close on 29 February. Owner IMC Cinemas (Ward family) has confirmed that the art-house and independent cinema will relocate its staff to the Savoy on O'Connell Street. The cinema has been in operation since 1984 but had been losing audiences and was no longer deemed profitable. The famous bronze usher statue was removed two weeks earlier. The Journal – 19 February 2016
Germany – The last big single-screen cinema in Frankfurt-am-Main is closing. "Hail, Ceasar!" is the last film to be show at the Astor cinema. The screening is fully booked. It was one of only three Astor cinemas that was capable of playing back 70mm film. Frankfurter Rundschau (DE) – 22 February 2016
UK – Planning permission has been granted for the re-development of the old Odeon Kensington cinemas into 40 apartments and a new six-screen cinema. The old cinema façade to Kensington High Street will be retained, despite not being listed [i.e. officially recognised as having architectural and/or historical merit]. Seating capacity will shrink (875 seats v 1,301) but be of a higher quality. Celebrities and others had campaigned against the development. Prime Resi – 19 February 2016
Finally
Your photo posts re-done as movie posters? We'd love to watch at least half of these if they were films.

Latest posts by Patrick von Sychowski
(see all)