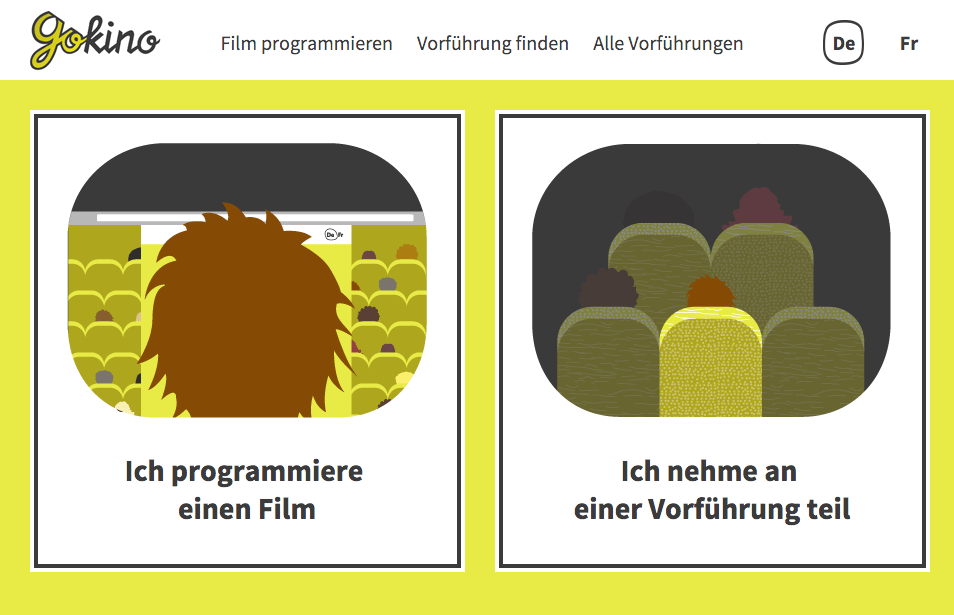 Cinema-on-demand has suffered a major setback with the announcement that Pathé Switzerland and Cinérive are terminating their year-long trial with Gokino.ch. The concept of social media and group booking of films remains a tantalising prospect for cinemas, with several platforms around the world promoting the concept, but continues to face numerous practical problems that seem to inhibit it from moving beyond a proof-of-concept stage.
"The idea was good, but it did not work," is how Umberto Tedeschi, Director of Programming at Pathé Switzerland, characterised the trial in an article by 20min.ch, a sentiment shared by his counterpart Jonathan Waser at Cinérive. The two cinemas had been taking part in a year-long test whereby several exhibitors allowed audiences to select films through the Gokino.ch portal to watch together.
The trial that began in October 2014 initially covered Geneva and Zurich with 15 auditoriums in Zurich alone, including both regular cinema and art-house screens such as Houdini, Riffraff, Piccadilly and Movie. Tickets cost between SFR 10 to 18 (USD $9.87 to $17.76) and there was a wide selection of films, with the only restrictions that it could not be a film currently on release. Organising a group outing could be done via social media or e-mail. The trail was then expanded to also include the cities of Basel, Bern, Lausanne and Dietlikon (ZH).
A year after launch the results were not encouraging. Pathé's Tedeschi said that the number of sessions that took place, "could be counted on the fingers of one hand." He attributes the lack of success to people's habits of going to the cinema mainly between Friday night and Sunday afternoon, which is when they could not free up auditoriums for the trial.  Only 28 screenings in total went ahead, which amounts to just 20% of all programming attempts.
GoKino.ch did have some success with sessions booked by school classes, companies and clubs. The size of the groups was critical in guaranteeing the projection took place. "It went well too," notes Thierry Spicier  with "sessions scheduled through distributors. Sometimes they filled auditoriums with movies in preview that would not otherwise be released in theatres." The problem for regular session was the high threshold in terms of audience required to even partly fill an auditorium.
GoKino is currently being re-designed and re-thought. The only cinema still associated with the project is Houdini in Zurich, which has no auditorium larger than 55-seats, but which still holds one special screening per week.
Cinema-on-demand has been attempted in many markets by several different operators. The idea would seem to promise a way of filling cinema halls during off-peak days (Sunday-through-Thursday), if it could tap into social media and the ability for friends or people with shared tastes to book a film jointly.
The company perhaps best associated with group purchases of tickets, Groupon, has forayed into cinema, but also with mixed results. Speaking at the Europa Cinema conference in Prague last November, Kalar Boguslawska, who is Programmer for Kinoteka Multiplex in Warsaw (Poland) said that their experience with Groupon had been too many shows with unsold seats, which is why they had terminated the co-operation with Groupon. This reflect the larger problems companies like Groupon face in terms of activating new consumers and expanding markets, as opposed to cannibalising existing sales.
In France La 7e Salle has also tried a similar concept. But having launched in 2012 with an ambition to grow to 250 auditoriums by 2014, the company has now gone quiet. Its idea was the members who singed up on the website would get to vote from a selection of films to watch, with most being independents, classics and documentaries, but when Italian film "Annalisa" got the most vote for a screening at Le Majestic cinema in Lille only six people showed up for the screening in September 2012.
Then there was the Dutch We Want Cinema that ran in Holland between 2012 and 2015. You can see an interview with the company's CEO and founder here. Sadly the message on the We Want Cinema website these days is not an encouraging one:
Best We Want Cinema fan, unfortunately, we are not online! Despite all the (inter) national awards and recognition we have not been able to find new investors for our platform. We Want Cinema was from May 17, 2012 to March 1, 2015 the only platform in the Netherlands through which you could start your movie events in the cinema or on special locations beyond…

Thanks for the tickets that you have purchased, the great events where you were at, the shared messages on social media and the fan mail you wrote! Maybe we'll be back, but for now we wish the other international efforts lot of success with the coolest idea since times: Cinema On Demand
Yes, the idea is cool, but the execution in terms of catching potential audiences' interest is what has failed.
Some notable other attempts at cinema-on-demand include Tugg, which has had success in screening documentaries and niche films across a network that includes "nationwide chains such as AMC, Cinemark, and Carmike as well as hundreds of regional and independent cinemas" across the US and also in Australia. There is also FanForce, which has had success with Q&A screenings and curated events. While both have proven to work technically and have had some success with niche titles, they have failed to have a larger impact on mainstream cinema.
With Gokino.ch having to go back to the drawing board, it seems that the cinema-on-demand or social-media driven cinema experience is yet to be cracked. But rather than a start-up coming up with the all-conquering solution, expect Facebook and Twitter to be at work on e-commerce solutions for how you and your friends can book a cinema night out together and be guaranteed to get to sit next to each other in the cinema.

Latest posts by Patrick von Sychowski
(see all)