UK – It is not just cinemas in the US taking security precautions during the new "Star Wars" film, with UK cinemas also asking patrons to refrain from wearing Darth Vader masks and bringing light sabres. Odeon has sold 500,000 tickets and Vue 320,000. There will also be an un-precedented anti-piracy operation in force. "There will be extra staff with night-vision goggles who are trained to look out for unusual behaviour," says UKCA's Phil Clapp. The Independent – 12 December 2015
USA (NY) – NYT looks at apps that allow cinema goers to avoid the "popcorn pinch point". AMC is testing in four theatres in Kansas City. Regal is running separate tests with Atom Tickets in five theatres in its home town of Knoxville, Tennessee. New York Times – 13 December 2015
Saudi Arabia – Coming after a Godot-length waiting period, it's been announced that the conservative islamic kingdom is to get its first cinema. Saudi Arabia's cinema committee has signed an initial agreement to build the cinema in the capital Riyadh and "activities in the cinema theatre will be committed to the Islamic and traditional values of Saudi Arabia." Now the latest news is that authorities are dementing this. ""Regarding reports carried in several media about launching cinemas in Saudi Arabia, the General Commission for Audiovisual Media clarifies that the reports are baseless and that the people mentioned in them do not have any official capacity,"". Zee News – 13 December 2015
Germany – The Babylon cinema conflict between employees and management has gone on for 140 days. (That must be longer than the Brixton Ritzy?) But now the co-owner Timothy Grossman has re-opened wage increase discussions, meaning that the strike has been suspended for now. RDD (DE) – 12 December 2015
India – Unlike China, internet and mobile ticketing is not taking off like a rocket in India. "According to cinema halls in the city [Kanpur], the online sale of tickets accounts for merely 15-20% of total ticket sales, because as it turns out, online tickets cost more than what you would pay at the counter." But apparently in other Indian cities it is more popular. Times of India – 10 December 2015
Seating
[youtube]https://www.youtube.com/watch?v=2LL4XY-FIDw[/youtube]
Argentina – 4D seating is coming to Argentina in March 2016 courtesy of Lumma. The company will be equipping two auditoriums in the Greater Buenos Aires area in time for "Kung Fu Panda 3". The company had previously installed in the Techonlpolis room of YPF in July 2014. MDZonline – 13 December 2015
Germany – Kinepolis has installed Dolby Atmos as well as 14 D-Box seats in its Leverkusen cinema. Interesting to see just one row of seats converted, as well as combination with Atmos. So far there are 35 auditoriums in Germany equipped with a total of 400 D-Box seats, meaning that it is an average of just over 10 seats per screen. We are informed that there are 38 German cinema screens with Atmos.
To install Atmos in Leverkusen cost 200,000 euro, while D-Dox came to 4,000 euro per seat. A ticket for a D-Box seats costs six euro extra, making it 19 euro for a 3D film. That is before the cost of popcorn and Coke, which the journalist makes the inevitable home about whether it will spill when the seat shakes. Leverkusener Anzeiger (DE) – 10 December 2015
Law & Order
France – A 19-year old has been arrested for breaking the glass of a the box office of the Omnia cinema in Rouen to steal tickets. Apparently he was caught with his hand bandaged by the sock. No word on whether he was after "Star Wars" tickets. Normandia Actu (FR) – 13 December 2015
Imax/PLF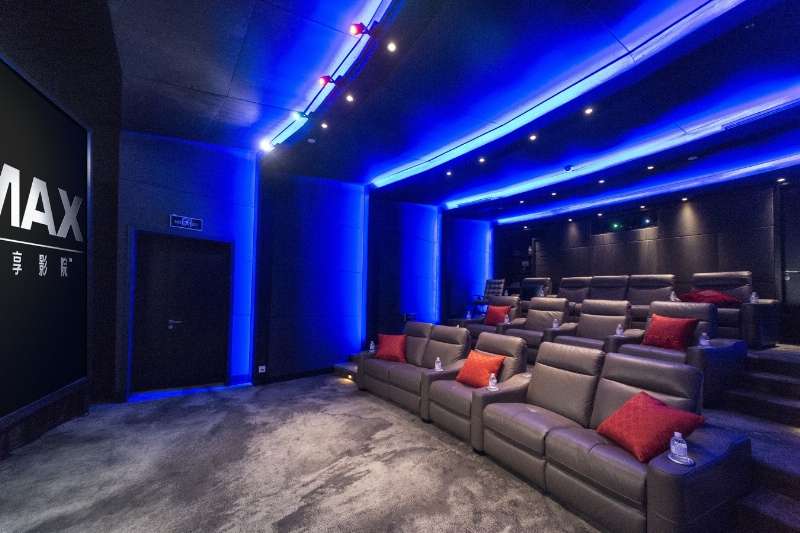 Canada – Imax has formally launched its long-mooted private cinema theatre business, claiming 80 initial signing. "The majority of the total systems signed to date comprise agreements with high-end luxury property developers in China. The first installations are taking place now, with the current backlog scheduled to install over the next three years.  In addition to these larger-volume deals, the TCL IMAX joint venture has also signed multiple additional Palais agreements, including iconic global installations inLondon and New York." Financial Times 'How To Spend It' section got a preview of the first such cinema, but the 5 December paper article does not appear on its website. Pity. Press release – 9 December 2015
Advertising
[youtube]https://www.youtube.com/watch?v=222ztGhX4SE[/youtube]
UK – Accusations of hypocrisy over UK cinemas not showing an advert for the Church of England (CoE), while a seven-minute Pixar cartoon about Hinduism was allowed to play. "Odeon, Cineworld and Vue cinemas are screening a short animated film called SanJay's Super Team [above] before every showing of The Good Dinosaur, which depicts Hindu deities acting as superheroes during prayer to protect a young boy." Never mind that this is the CoE trying to cash in on "Star Wars" publicity with feigned surprise at not being allowed to play before the blockbuster of the decade, when they fully well knew that religious and political adverts don't get shown in cinemas. The short film (NB: not advert) in question was made by Pixar, who always play one of their shorts before their features.  Telegraph – 10 December 2015
Health & Safety
UK – A Cineworld cinema in Birmingham caught fire in a spectacular way and all cinema goers had to be evacuated. It is thought the fire started when the Cineworld sign overheated. Metro – 6 December 2015
Censorship
France – Conservative pressure groups have succeeded in getting a French court to cancel the under-12 classification of Cannes-winner "Blue Is The Warmest Colour". The case was initiated by Catholic pressure group Promouvoir, which had previously managed to get the rating for Gasper Noé's "Love" changed from an under-16 certificate to an under-18 certificate this past the summer. Screen Daily – 10 December 2015
Cinema Opening/Closings
USA (TX) – Alamo Drafthouse wil be opening a cinema at Imperial Market in Suger Land, Texas. It will house eight to ten screens over 55,000 square feet. Community Impact – 11 December 2015
UK – Cineworld is opening its new multiplex in Hanley (Stoke) on 17 December ("Star Wars: the Force Awakens", natch). The 1,100 seat multiplex boasts since screens. Stoke Sentinel – 13 December 2015
India – PVR has opened a five-screen multiplex in the Grand Mall, Velachery in recently flood-hit Chennai. PVR now has 482 screens in 108 cinemas across 44 cities in India, with 17 of those cinemas and 110 screens in South India. Business Standard – 11 December 2015
UK (Scotland) – Paisley is set to get a five-screen GBP £40 million cinema as part of a proposal by Paisley Community Trust, in a development that will also include a theatre, restaurants and bar. A location has not been selected but it will be in it will be central Paisley and modelled on Glasgow Film Theatre, rather than a typical multiplex. Daily Record – 11 December 2015
UK – Savoy Cinemas has signed a contract to deliver a six-screen cinema to Doncaster's Civic and Cultural Quarter, with work set to begin in Spring 2016. The 984 seat cinema will be complemented by four family restaurants. Doncaster Free Press – 11 December 2015
UK (Wales) – The oldest cinema in Wales has had a single screen for 121 years. Now it is set to get a second. Construction work for the second screen will start in February 2016 and takethree months. "The new screen will, according to organisers, be opened with a top-secret world premiere screening." Apparently it is a 'biggie'. Holyhead's Empire cinema in North Wales is also getting a second screen.  Wales Online – 10 December 2015
Austria – It has been a good cinema year for Starmovie, which is planning on expanding its cinema in Wels in 2016 with two new screens. Business is up 15% year-on-year thanks to Bond and Star Wars. 45% of Austrians go to the cinema once per year, while 55% don't, so there is scope for improvement. Nachrichten.at (DE) – 9 December 2015
Finally
Australia/USA – Of course there would be a Star Wars obsessed fan who would tie the knot over a bucket of popcorn and a light sober.
Caroline Ritter and Andrew Porters flew travelled more than 7,000 miles from New South Wales, Australia, to camp outside Hollywood's iconic Chinese Theatre cinema until the Star Wars: Episode VII – The Force Awakens is released.

But before they sit down to watch the eagerly anticipated Star Wars film, they will get married in the LA cinema's forecourt surrounded by some of the franchise's biggest fans.

Ms Ritter, 34, will walk down a makeshift aisle in a white dress accompanied by Darth Vader, while Mr Porters, 29, will wear a traditional suit but will sport a Storm Trooper bow tie and braces.
They've already been engaged for eight year. May the Force be with them. Express – 10 December 2015

Latest posts by Patrick von Sychowski
(see all)