UK – The two leading IP protection bodies in the UK are increasing the bounty for cinema staff who catch camcorders in the act. The Film Distributors' Association (FDA) and the Federation Against Copyright Theft (FACT) will now pay cinema staff GBP £1,000 (USD $1,532) – double what it paid earlier – between 23 October to 1 January 2016, when films such as "Spectre" and "Star Wars VII" are released. The reward has already been paid out 13 times this year and several prosecutions have followed. IBtimes – 23 October 2015 bounty for cinema staff to catch cameras
France – Over a hundred pre-teen (!) youth stormed in and ran riot during a screening of "Paranormal Activity 5" in the Mega Castillet cinema in Perpignan. 60 police officers (!!) were called to the scene to re-establish order and several individuals were arrested. Similar incidents were reported in France at screenings of "Annabelle" last year and "Paranormal Activity 4" in 2012. Whatever possesses French youth to act this way? Following this incident, the film "Paranormal activity" has been 'deprogrammed' by the Mega Castillet cinema. BFMTV.com (FR) – 24 October 2015 Youth run riot Paranormal Activity 5
UK – The Guardian asks if "Monday is the new Friday" in terms of film releases, with both "Studio Movie Grill" and "Spectre" opening at the start, rather than end of the week. To save you having to read the whole article, the answer is "No", it only works for a certain types of films and releases:
[Suffragettes'] move in the release calendar to 12 October was in fact precipitated by Spectre's own move to 26 October – believed to have been prompted by the availability of royal family members and the Royal Albert Hall for the world premiere. Pathé decided to leapfrog Bond, giving its film two weeks before the inevitable loss of screen space that will occur when Spectre lands.
So while Friday will remain the preferred date, expect more experimentation with booking patterns. The Guardian – 23 October 2015 Monday the new Friday cinema
USA (CA) – Forbes looks at the phenomenon of premium cinema, with contributor Scott Mendelson visiting the new Studio Movie Grill opening in Simi Valley. The articles acknowledges larger trends of declining movie attendance in the US, affluent audiences preferring Imax/PLF and/or premium screens, studios squeezing release windows and more, mixed in with a personal review of the cinema.
Yes, theaters like the Studio Movie Grill add something extra, but the overriding message remains that the very notion of theatrical movie going is not enough anymore to get people out of the house. That may be true, but that makes it no less dispiriting. But on the plus side, I have another high quality theater within driving distance of my house, so that's a win… for me.
Exclusivity of films no longer cuts it for cinemas. But you probably didn't need to read that in Forbes to know it already. Forbes – 23 October 2015 Cinema studio grill
Japan – CJ 4Dplex is expanding its deployment of 4D cinema seating with Japanese exhibitor Aeon. The first screen opened in 2013 in the Aeon cinema Shijonawate in the Osaka area. The company now has 19 screens deployed, which is noteworthy, given that Japan is traditionally a very conservative cinema market, which already has the highest ticket prices in the world. The plan is to have 33 4DX screens in Japan by the end of this year. Press release (JP) – 23 October 2015 4DX Ion cinema Japan
Germany – Cineplex has equipped three screens in its Passau cinema wth motion seating from D-Box. Six films are lined up to be screened in the format. Similarly to Japan, Germany is a conservative exhibition market and will need more deployments to see a steady stream of DCPs mastered for motion seating format. So far the deployment has been slow. Passauer Neue Presse (DE) – 22 October 2015  D-Box Cineplex Passau
Singapore/USA – Bollywood films are gain ing in popularity abroad, at least in Singapore it seems, where the number of Indian films showing is significantly up year-on-year.
 Singapore's Golden Village Multiplex, which operates 11 cinemas around the city-state, has screened 19 Indian films since the beginning of the year, compared with just three in all of 2014. It began showing Hindi films regularly in 2005, adding Tamil movies in the past few years along with some in Malayalam, another southern Indian language.
While Singapore has a small South Indian population, Indian films are also catching on with ethnic Chinese and Malay audiences. In the US Wanda-owned AMC has shown 53 Indian films this year, grossing USD $7 million. Indian films earn 10-15% of their takings abroad, mainly from diaspora audiences. Nikkei Asian Review – 22 October 2015 Bollywood popular abroad
USA – Want to read a long analysis why the cinema industry is doomed (Doomed, I tell ya!), then read this lengthy piece from Seeking Alpha, that kicks off with the quote. ""A movie theatre is the place where people who buy lottery tickets go to watch films." Charles Mortimer. The gist is.
Technology has irreversibly transformed the way US consumers view and pay for all forms of entertainment including motion pictures. The industry's predicament (popcorn vendors – not content creators) is unwinnable.

Movie chains will become increasingly less competitive than virtually any other venue on 1) price, 2) convenience, 3) food and beverage, and most importantly, 4) theatre experience.
So invest in Netflix and short Regal, seems to be the message. Seeking Alpha – 21 October 2015 Cinema is doomed
Technology
USA (TX) – A couple of weeks old, but noteworthy: Santikos Theatres will alegedly become the first exhibitor to equip an entire multiplex with laser projectors in a deal with Barco. All 16 screens of the Casa Blanca Theatre will have a combination of Barco 6P and laser phosphor projectors installed when it opens in early 2016. Press Release – 14 October 2015 Barco Santikos all laser
Starlight Cinemas in Southern California is also installing a Barco  DP4K-45L ultra-bright, Flagship Laser projector for its 68-foot screen in its Dos Lagos 15 theater. Integration partner Moving iMage Technologies (MiT) installed the project, which is set to go into use in late October. Press Release – 22 October 2015
Germany – A Barco laser-first in Cologne, where Kinoton Digital Solutions has installed the country's first Barco 6P laser, as well as Dolby Atmos, in the Cinedom multiplex's Premiere Auditorium. While it is not quite Germany's first Atmos, it does feature 44 speakers for a total output of 65,000W. Installation – 22 October 2015 Barco Cologne Cineplex laser
Event Cinema
UK – Following the success of the "Doctor Who" cinema screenings, the BBC will be screenings its other great export "Sherlock Holmes" in cinemas. The 90-minute Sherlock Christmas Special will be shown as a special 'global cinema event', including in China, where BBC Worldwide recently signed a deal to show the popular television series in cinemas. Radio Times – 21 October 2015  Sherlock Cinema
Advertising
Korea, Republic of (South) – CJ CGV, the largest exhibitor in South Korea, has been sued for forcing people to watch adverts by delaying the start of the feature film. The lawsuit was filed by Youth Union, People's Solidarity for Participatory Democracy (PSPD) and the Lawyers for a Democratic Society on behalf of 26 cinema goers for the violation of the Fair Labeling and Advertising Act. The lawsuit seeks KRW 1.01 million (USD $890), including KRW 10,000 (USD 8.82) in psychological compensation, on behalf of each moviegoer from CGV. It is alleged that CGV took unfair advantage of the cinema goers by screening them adverts without their consent. CGV points to a 2004 ruling that profits made from adverts shown before films cannot be considered illegal.   Korea Times – 23 October 2015 Cinema sued for adverts
USA (NY) – The US Presidential campaign is in full swing, but don't expect to see any political adverts in cinemas, with NCM declaring the multiplex a "Politics-Free Zone". Despite US election spend predicted to hit USD $4.4 billion nation-wide, NCM will not be showing any adverts in its 1,600 cinemas.  "There is no way to change the channel in a movie theater. So we must respect the fact that people go to the movies to enjoy the FirstLook preshow and lose themselves in the magic of the movies, and we believe that it is important to honor this entertainment experience," said Cliff Marks, president of sales and marketing with NCM is quoted as saying. So if you get tired of the Trump and Clinton ads, go to the movies. Press Release – 15 October 2015 NCM political ads
People
USA (MO) – Ronald P. Krueger, the third-generation president and CEO of Wehrenberg Theatres, passed away Wednesday 21 October 2015 age 75 of congestive heart failure at St. Clare Hospital. In addition to his work, Ron was involved with charity work through the Salvation Army and supporter of the Cans Film Festival, where people could watch a film in return for donating a few cans of foods. RIP. St. Louis Post Dispatch – 23 October 2015 Ron Kreuger RIP
Concessions/F&B
India – Popcorn may be a hit with Indian cinema goers but not with Indian farmers. While a premium is paid by multiplex patrons, farmers are forced to sell popcorn maize below the government-set minimum support price (MSP) of INR 13.25 (USD $0.20) per kg for regular maize. Popcorn maize also only offers half the yield of regular maize varieties and cannot withstand monsoon rain. Apart from cinemas, popcorn is also not a snack that features regularly in the Indian diet. The Indian Express – 22 October 2015 Popcorn not hit with Indian farmers
India – Multiplex operator Inox has been fined for not offering potable water to customers for free, instead of charging for the bottled variety. The Vadodara District Consumer Forum ordered Inox to pay INR 5,000 (USD $77) compensation to the customer who filed the motion, as well as INR 1,000 (USD $15.40) litigation cost, as well as being required to deposit INR 1,000 (USD $144) in consumer welfare fund. Not clear what precedent this sets for other Indian cinemas.  Nyoooz – 19 October 2015 Inox fined for water
USA (PA) – Getting a liquor licence is not a foregone conclusion for cinemas in the US. AMC has just had its application rejected by the Bensalem council within Bucks County by a majority of 5-0 to allow the AMC multiplex at Neshaminy Mall to sell alcohol. And this is in Pennsylvania, not Utah. Bucks County Courier Times – 19 October 2015 AMC alcohol licence rejected
Cinema Opening/Closings
UK – There will NOT be a Vue cinema coming to Walsall after Developer Cordwell Property Group allegedly pulled plugs on the plan for a second cinema to compete with The Light on Walsall Waterfront. The developer noted that ""There isn't room for two cinemas in Walsall town centre, there never was. We've moved on and we're looking forward to announcing our new plans for the site in the next few weeks. We have to commend the Light for getting on with the project. They'll do a good job, as Vue would have done, but we have exciting brand new plans for another mixed-use scheme on the site." Gracious words. Express & Star – 21 October 2015 No Vue cinema for Walsall
India – PVR has opened a three-screen theatre in Kolhapur with seating capacity of 726, digital 3D capabilities and 7.1 audio, operational from 22 October. PVR's screen count stands at 138 across 34 properties in the state of Maharashtra (where Mumbai is located). Across India it operates 477 screens at 107 locations across 44 cities in 15 states and 1 Union Territory. IndianTelevision.com – 23 October 2015 PVR three screen
India – SRS Cinema plans to invest between INR 450 million and 600 million (USD $7 million – $9.23 million) in expanding its network of 57 screens across 15 cities to 100 screens by the end of 2016. Presently focused on the north of the country, the exhibitor aims to target urban and semi urban areas of South and East India, with a special focus on Tier-3 and Tier-4 cities. As always, such ambitions tend to run into the brick wall of planning regulations and other problems holding back screen growth in India. Business Standard – 26 October 2015 SRS Cinemas plan expansion
India – The capital of India's newest state has got a brand spanking new multiplex: "Capital Cinemas is one of the world's best Theaters in Vijayawada consisting of 7 Giant Screens, 90,000 Square Feet of 2D, 3D and 4D Viewing pleasure, 7.1 Digital Surround Sound, Auro 3D Sound, 4K Projection and Stadium like Seating for around 2000 people. This initiative was taken by Suresh Productions and Prasad's Groups to offer entertainment to the people of newly formed AP state." Indred.com – 19 October 2015 new multiplex for AP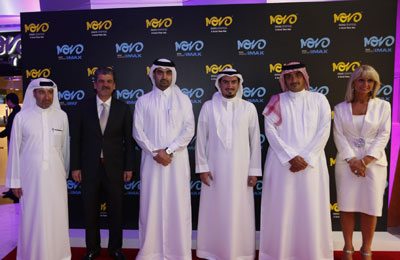 Bahrain – Novo Cinemas has opened a new "state-of-the art" multiplex cinema in Seef Mall, Muharraq, Bahrain, which includes the country's first Imax screen. The multiplex has 14 screens and a capacity of over 1,300 seats, including the luxury of Novo 7-Star theatre experience, with reclining leather seats, individual iPads for F&B easy ordering, a dedicated chef, butler service and a VIP Lounge for relaxation before and after the movie. Trade Arabia – 19 October 2015 Novo cinema Imax opening
UK – Approval has been granted for a bunch of cinemas in various English towns, many of which had been waiting a long time for the green light:
Thailand – A noted local director premiered his film in one of Bangkok's porn cinemas to draw attention to the heritage being lost.
It's been a long wait for Thai film buffs, but "Vanishing Point" has finally un-vanished, and Jakrawal wanted to make a "point". For its premiere in his homeland, he chose the Laem Thong Theatre on Rama IV Road, one of Bangkok's off-the-radar porn cinemas. It's not that he's into porn (any more than the rest of us) – he just wanted to make a statement about the need to preserve the country's old-fashioned stand-alone theatres, which have fallen like flies to the advancing armies of malls, condos and the multi-screen cinema chains. The Nation – 20 October 2015 Thailand porn cinema premiere
USA (MI) – The last multiplex in Detroit has been sold as part of a USD $3.8 million online auction for an east-side shopping centre. The Bel Air 10 Theatre was the last first-run multiple-screen movie complex within the city limits after the Ren Cen 4 Theatre closed in June after nearly 40 years. Detroit News – 15 October 2015 Detroits last multiplex sold
Finally
Japan – Does where you sit in a cinema say something about your personality? This story has been making the rounds in several newspapers lately, with claims of zones in the cinema offering the following insights about you:
Center rows: People who like to sit in the center of movie theaters are supposed to be confident and decisive.
Middle row sides: These people crave personal space and only gravitate towards those they feel they can be themselves with.
Center back rows: People who sit in the center back rows are clam, collected, timid, and afraid of being influenced by others.
But Bad Psychology takes these articles and claims to task. "But here's the problem: From what I can gather from the articles, these ideas are based solely on Dr. Mizuki's thoughts. They are not based on a psychological study." So unless it is a study from a peer-reviewed scientific journals, take this withy a large pinch of salt. Bad Psychology – 20 October 2015 Cinema seating Japan psychologist

Latest posts by Patrick von Sychowski
(see all)