Online ticket sales through Baidu now account for half of all tickets sold at some cinemas, with particularly strong showings during special promotions on Tanabata Day (Chinese Valentine's Day). Out of 6.8 million tickets sold across China that day, Baidu accounted for 1.7 million or 25%. In several cinema chains Baidu ranked first in terms of platform for ticket sales. Baidu's growth has come at the expense of market leader Cat's Eye, who has suffered a loss of confidence and exclusivity with several cinema chains, following financial issues earlier this summer.
Baidu joined SMI, Earth and other theatre chains in April to launch a CNY ¥17.5 (USD $2.73) membership card promotion that rapidly sold out. Baidu claims that cinema attendance for its membership card holders is 12 film per year, compared to China's average cinema attendance of 4.8 (sic). Baidu also launched a promotional popcorn and Coke combo offer for just CNY ¥9.9 (USD $1.54) with Stellar Cinemas that saw 400,000 redemptions in 20 days (20,000 redemptions on average per day). Wabei – 24 August 2015
Interestingly this article points out that the rise of on-line ticket seat-selection booking has made it difficult for singles to to buy tickets during the Tanaabata/Valentine's festival, when the third-party cinema ticket apps are geared towards couples. "Single Wang", the term for a single person, was mostly out of luck trying to book a single ticket. Zhejiang – Yu Fei – 19 August 2015
ChinaByte provides a good overview of cinema ticket e-commerce platform start-ups and how Wanda came to "ban" market leader Cat's Eye from selling tickets for its cinemas. Highlights the volatile nature of China's third-party mobile ticketing market, where entrants can spend hundreds of millions of yuan on subsidising tickets in order to build market share, only to see the proverbial rug pulled out from under their feet by the exhibitor majors. This does not make for a stable future. ChineByte.com – 22 August 2015
One Chinese exhibitor has taken on the clutter of various e-commerce ticketing machines that crowd the lobbies of most cinema by moving ticketing to the cloud and having a single ticket redemption machine for different providers. China Film International Studios has in partnership with China Film tickets unified a dozen e-commerce ticket providers, including Dianping, Baidu and others on one unified type of terminal (pictured above). China Film, which as a rule does not set its cinema ticket prices lower than those of the third-party e-commerce providers, has launched its own ticketing app as well. Zhuzhou Daily – 21 August 2015
Box office in China has already crossed CNY ¥25.8 billion (USD $4 billion) with 800 million tickets sold and is predicted to hit CNY ¥45 billion (USD $7 billion) by the end of 2015. This would represent a 50% increase year-on-year. After no Hollywood films showing for two months, the autumn sees the release of "Minions", "Pixels" and "Mission Impossible: Rogue Nation" following the surprise success of "Terminator: Genisys". In 2014 China contributed 13% to global BO count, a figure set to go up in 2015. Yin Yan Network – Xiaxiao – 26 August 2015
For the release of the Taiwanese film "The Assassin", which won Best Director at the Cannes Film Festival, the distributor Huayi Brothers have partnered Migu to launch a non-traditional promotion campaign using the smartphone app. For an art-house film without immediate blockbuster appeal, this is a smart way to position the film using a mobile-first marketing approach. Wabei – 24 August 2015
The Commercial Real Estate Herald takes a long and analytical look at the complex interplay and intra-dependencies between multiplexes and shopping malls in China, with a particular focus on Wanda. Cinemas are always built on the top floor, so that when people leave and go down, "popularity will be able to radiate to other floors of commercial activities." Yet the article calls for new commercial relations between cinemas and malls, whereby shopping in one gives 'points' that can be redeemed with the other and vice-versa. The article also looks at the situation in London with The Electric cinema in Notting Hill and Odeon Covent Garden. The Commercial Real Estate Herald – Sun Yi – 24 August 2015
The explosion in Tianjin that caused major death and destruction also impacted the nearby CGV Star Juhui Star Studios cinema. Pictures (above) show the damage, though nobody was seriously injured at the site. However, screenings have been suspended. There were a total of five cinemas within a eight kilometre radius of the blast.  Mtime – 13 August 2015
The topic of private cinema is one that we often return to in the CCD, because it highlights how the growth of the urban middle class in China seeks out cinema experiences away from traditional cinemas, creating a major new niche business. Win Business Network does a good job of providing an overview of lots of examples of such cinemas, worth scrolling through just for the pictures of the individual rooms. In Chengdu one of the first regular cinema, which closed in 2005, has be re-fitted and re-opened as a private cinema (lobby pictured above). Win Business Network – 13 August 2015
Yet an informal survey by a reporter in Guangzhou found that of around 20 private cinemas in the city, the majority of them were located in private apartments that were not zoned for commercial use. For example a private cinema in Beijing Road was hidden inside an apartment on the 23rd floor of a residential building. Regulation specifies that private cinemas have to be at least 300 square meters in size, have two or more fire exits, a fixed POS ticket window, CCTV and more. There seem to be similar doubts about the copyright status of the films being screened in these private apartment private cinemas. Guangzhou Daily – Zhou Haojie – 18 August 2015
China cinema 2015 infographics galore in this article – but only makes sense if you can read Chinese. LINK
Imax/PLF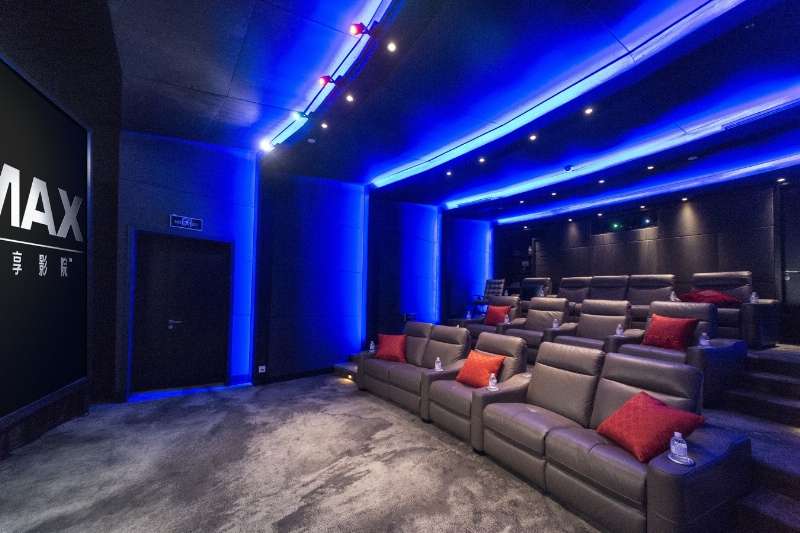 Le Royal Meridien Hotel in Shanghai hosts a showroom where TCL-Imax unveiled their joint venture home-PLF solution, with a demo suit installed permanently in-situ (pictured above).
According to the Global CEO Rich Gelfond IMAX presentation, "IMAX Private Theater "Palais"" is the first solution designed for families to create a one-stop modular program, the most advanced technology and the IMAX theater design, while providing the same level as the IMAX theater service, providing the world's most reliable maintenance service theater system and 24-hour monitoring service. Meanwhile, IMAX Private Theater "Palais" theater will be transferred to high-end customers at home, as demand for audio-visual experience with a wide range of groups, high-end customers at home can be an immersive experience Hollywood movies, sports events, concerts, games, TV shows, and even karaoke, so as to provide the ultimate in enjoyment. 
TCL and China Film Science and Technology Research Institute had previously launched their "Sync Cinema" solution for day-and-date distribution of first-release films to the home. Western Daily – Gansu Daily Network – 18 August 2015
Imax has expanded its partnership with Shanghai Film to a further five cinemas, in addition to the 26 existing sites/deals. Four of the new theatres will be situated in existing multiplexes in Hangzhou, Qingdao, Shenzhen and Chengdu, while another will be added to a new multiplex in Changzhou. Press release – 20 August 2015
Cinema Opening/Closings
The opening of the second Poly Theater cinema in Yunnan, originally set to open in January, has been pushed back to the end of September as fire safety inspections are being carried out. The five-star cinemas occupies an area of 4,400 square meters, with seven screening rooms, and take up the entire five-story Riverside Chun Fat Square area. The city's first Poly cinema opened in 2012.  Win Business Network – 20 August 2015
Finally
Infrared cameras recently caught a violent incident in a cinema in Sanya City. The incident took place after two girls complained about a man in the next row being too loud. He allegedly attacked them, with at least one of the women requiring a hospital visit. The article helpfully posts a lists of guidelines for civilised behaviour in cinemas and things to avoid.
Talking loudly and phone calls in the dark cinema.
Feet hang off your shoes at the seats in front.
Smelly food and crustaceans [sic!] and fast food.
The non-reserved seat.
Smoking in the cinema.
Stripped shirt viewing.
Littering garbage.
Accompanying children running around, making loud noise, affect cinema audience.
(According to the Hainan Daily reporter trainee client Shu Li Meng)

Latest posts by Patrick von Sychowski
(see all)