UK – An event cinema record has been set in the UK with the live transmission of the Mike Leigh's staging of of Gilbert and Sullivan's "The Pirates of Penzance" at the English National Opera (ENO). "Pirates, in Mike Leigh's production, took £600,000 at the UK box office at a single screening, reaching an audience of over 40,000 people. The previous UK best was the Metropolitan Opera's broadcast of Franz Lehár's The Merry Widow, which grossed £504,000 in total, including repeat screenings." (Could this translate to demand for a Pirates sequel?) LINK
Germany – Cinema attendance is in decline in Germany according to the "Kinobesucher 2014" ("Cinema audiences 2014") study by the FFA German Federal Film board. Most worryingly, between 2009 and 2014 the decline amongst 10 to 19 year olds and 20 to 29 year olds was 36% and 33% respectively. "Not quite as much as the number of visitors, but sales have also declined, namely by four percent to EUR 981 million. Reason: On average, ticket prices have increased: from 7.98 to 8.15 euros per ticket last. The reasons for the cinema fatigue amongst young people will be analysed in a separate study by the FFA, which will be presented soon."  LINK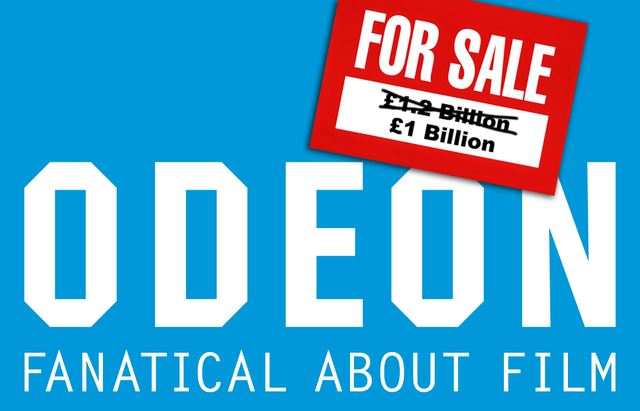 UK – Odeon & UCI hopes for a bumper box office crop this year. It needs it. "The firm posted a 12.2 per cent rise in paid attendance during the first quarter, well ahead of market growth, and pointed to particularly strong performances in the UK, Germany and Italy – driven by the likes of Fifty Shades of Grey and The Theory of Everything. Revenues in Q1 topped £183.9m, up from £163.3m a year earlier."  LINK
Japan – With Japan having the highest cinema ticket prices in the world, dropping prices to attract students makes sense. "Cine Libre Umeda, Umeda Theatre, and cinema groups such as Cine Libre Kobe, have implemented the 'One Coin' campaign for students under which you can join for just 500 yen [USD $4.14] till the end of May." Tickets still cost between ¥1,000-¥1,300 (USD $8.28-$10.76). LINK
USA (CA) – More crossover between cinema and gaming as Sony live streams its keynote from the E3 gaming convention live to cinema. "If you want to enjoy Sony's E3 2015 keynote stream in style, then why not do it in the best way with the biggest screen and with a bag of popcorn? Now you can as Sony states that the show will start at 6.30pm PDT on Monday June 15."  LINK
Technology
UK – Researchers at Goldsmith University claim that watching stereoscopic 3D films can improve your brain power. "[P]articipating filmgoers showed a 23% increase in cognitive processing ability after watching a movie in stereoscope. Their reaction times improved by 11%, and they experienced a "brain boost" for up to 20 minutes after viewing." The study video is 'presented' by Vue and RealD. A previous study found no neurological difference between watching 2D or 3D.  LINK
People
India – One of India's largest multiplex operators has appointed an industry veteran as its new COO. "Carnival Cinemas has appointed Saurabh Saxena as its chief operating officer (COO). With over 24 years of experience in the hospitality and entertainment industry, Saxena has previously worked in multiplex companies such as PVR, Fame Cinemas (now Inox Movies), Big Cinemas, Cinemax, Wave Cinemas and Sahara Entertainment." LINK
Seating
Romania – The first 4DX auditorium has been opened in romania. "Cinema City opened this Tuesday its 18th multiplex in Romania in the Mega Mall shopping center in Bucharest following EUR 6.5 million investment which was shared with the project's developer, NEPI. The multiplex features 14 screens including one with 4DX technology which enables the viewer to experience environmental effects such as seat motion, wind, lights, scents and water."  Cinema City plans to open five more multiplexes this year. LINK
Outdoor Cinema
Spain – Karaoke cinema is making a return to Madrid this summer, with films like 'Grease' (always 'Grease'!), 'Moulin Rouge', 'Dirty Dancing' and 'The Rocky Horror Picture Show '. "The sessions will take place in the courtyard of the Galileo Theatre June 23 to July 5, with subtitles so the audience can sing and dance and animation show in which two actors help the public with choruses and choreography." Cinema Karaoke is said to date back to a Gay Film Festival in London in 1999.  LINK
Cinema Opening/Closings
UK – Manchesters Cornerhouse cinema has moved and is now HOME (just don't call it 'HOME cinema') with five screens and an ambitious agenda. "Cornerhouse was always about the best in independent cinema and programming. We're going to continue that but with a greater commitment to foreign language films, artist films, our own label films."  LINK
UK – Liverpool Victoria Street's Court Number 8 has become a small cinema. "The building, once used for low-level crime and traffic offences, was shut in 2013 but has now been given a new life. It shows a mixture of historic and current films of all genres but also hosts research, events, experiments, film-making and events dedicated to linking cinema with the local community."  LINK
Finland – One of Helsinki's loveliest cinemas has been saved from being turned into a hotel. Instead "employment pension company Ilmarinen and hotel and restaurant owners Kämp group had decided to preserve the two theatres presently operating as well as adding one new one to the Maxim cinema establishment."  
USA (NY) – Monroe 6 Cinemas is re-opening as a town-owned cinema after closing in 2012. "The board unexpectedly bought the closed, six-screen theater for $880,000 at a foreclosure auction in 2012, setting off a wave of opposition and sparking two lawsuits that tried unsuccessfully to undo the purchase. Under a five-year contract signed in March, the town will pay the operators of the Downing Film Center in Newburgh $154,000 a year to choose, obtain and project movies."  LINK
France – Pau will get a very innovative looking three-screen cinema in a peculiar old building that used to be a market. "Today, residents become aware of the future face of the whole, materialized on the horizon "the end of 2017 … rather early 2018. We take up the area and frequent naming Petit Montmartre will truly adapted" after some "24 months of work.""  LINK
UK (Scotland) – A very large screen is on the cards for a revamp of Aberdeen's central shopping mall. "Proposals for the Union Square complex include an IMAX cinema, 1,000 extra parking spaces and a hotel."  LINK
USA (IL) – A doubling of screens for this cinema. "The Lincoln Grand 8 Theater will have an extension to the theater that already exists, giving the cinema eight screens. That's double what it has now. "  LINK
Finally
France – History flashback as RTL looks at the gruesome story of a Strasbourg projectionist who murdered his pregnant partner and hid the body in the cinema where he worked.
 The murderer, Roland Moog , companion of the victim, Carole Prin , and father of their unborn child, was a projectionist at the cinema Le Star Strasbourg.  A Hitchcock film enthusiast, he invented a Machiavellian scenario to create an alibi and escape prosecution.  It was the murderer's twin brother who discover the body, locked in a trunk belonging to Roland Moog, 4 years after the mysterious disappearance of Carole.  Sentenced to 25 years in prison with a minimum term of 15 years, in 2001, Roland Moog remains in prison today.  LINK
Patrick was a Senior Analyst at Screen Digest, went on to launch the digital cinema operations of Unique and Deluxe Europe, then digitised Bollywood at Adlabs/RMW, and now writes, consults and appears on panels about cinema all over the world.
Latest posts by Patrick von Sychowski (see all)