UK's Cinema Exhibitors Association is re-branding as the UK Cinema Association. It also has a brand spanking new logo.
Supporting UK cinema operators in providing the gold standard film viewing experience, we will continue to deliver for all our members on our mission of 'promoting the big screen'.

Alongside the new name and new logo (below) we are also launching our new website www.cinemauk.org.uk. We hope that this will continue to be a useful resource for our members, for colleagues across the industry and in the media and of course for the wider public.  LINK
UK – "Call of Duty" comes to the big screen; not as a film adaptation but as an eSport tournament at a cinema in London. "On a bright Sunday afternoon in central London, in a low-lit converted wing of a shopping-mall cinema, hundreds of fans cheer as two teams of 20-somethings riddle each other with bullets during a big-screen game for a $25,000 reward."  LINK
U.A.E. – Dubai's biggest cinema chain is spending over quarter of a billion US dollar on expansion. "Majid Al Futtaim Cinemas, the cinema arm of mall developer Majid Al Futtaim, has announced a total investment in its VOX brand of AED1 billion ($272 million). The company said it has significantly increased its investment in the business from an initial AED750 million announced in March 2014."  LINK
Korea (South) – Korea Times complains about how "3 big chains devote 1,800 screens out of 2,200" to nothing but "Avengers: Age of Ultron" and calls for an anti-trust effort, similar to the Paramount Decree in the US. CJ CGV, Lotte and Megabox between them control almost 80% of the Korean film market. LINK
France – Exhibitors in France are increasingly leaning towards introducing variable ticket pricing, depending on demand, time and availability, similarly to airlines. Richard Patry, Chairman of France's Federation of Cinemas is quoted as saying, "it does not bother you on the train, it does not bother you on airplanes. Why would it hinder you in the cinema?"  LINK
UK – Secret Cinema has given the Evening Standard an exclusive preview of its Star Wars-themed bar. "The Standard was given a first peek inside the 'Secret Cantina', named in reference to the fictional bar in Star Wars, before it opens to those with tickets for the cinema screening. Clubbers have to initially find the venue by calling a mobile phone and using a secret code and are then required to take a number of props."  LINK
Germany – A study by the Stiftung für Zukunftsfragen (Future Questions Foundation) found that 69% of Germans polled would cut back on visits to restaurants, discos and cinemas if they had to cut expenditures. Fewer would cut back holiday trips (60%), media/computer spending (42%) or clothes (40%). ON the upside, 86% thought that cinema, musicals and sporting events were value for money, though trips to the zoo (89%) and concerts (90%) ranked higher. LINK
Seating
Belgium – Barco is in co-operation with Warner Bros. taking a mobile cinema around Europe for a showcase of 2D/3D and 'bootlicker seat' 4D capabilities in support of the "San Adnreas" film. "Entertainment Warner Bros first toured the United States with a CineTransformer to promote 'Gravity' in 2013."  LINK
Advertising
USA (NY) – NCM held its fourth annual upfront in New York City's AMC Lincoln Square cinema. It also announced E!'s Maria Menounos as the New Face of FirstLook.  LINK
Health & Safety
UK – A fire at Century Cinema in Clacton led to the evacuation of patrons. The fire broke out in the roof of screen two, but was put out and there were no injuries. LINK
Imax/PLF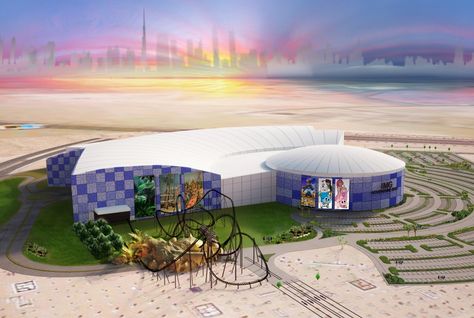 U.A.E. – An Imax and more for this theme park. "Novo Cinemas, the largest chain of theatres in the Middle East, has cemented an agreement to open a multiplex cinema in the world's largest temperature controlled indoor theme park in Dubai."  LINK
UK – Exhibitor Vue has expanded its partnership with Imax to include two more screens in the UK. "One theatre will be added to the Vue Cheshire Oaks multiplex in Cheshire with the second to go into the Vue Leeds Kirkstall complex in West Yorkshire."  LINK
India – Andhra Pradesh is set to get three new Imax screens. "Sathyam Cinemas, the Chennai based leading entertainment company, is planning to set up three IMAX theaters in Vizag, Vijayawada and Tirupathi."  LINK
Cinema Opening/Closings
UK – Everyman Cinema has opened its fifth site in the UK, situated in the Cross Rail station complex in London's financial district Canary Wharf. Though the Evening Standard seems to have forgotten that there is a Cineworld just two blocks away. "Prior to the opening the closest Canary Wharf got to a cinema was the pop-up Canary Wharf Screen which showed films on the platforms of Canary Wharf tube station."  LINK
Germany – The luxury screen Astor Film Lounge in Frankfurt/Main will close in February 2016 after opening as recently as December 2012. The reason is the imminent demolishment of the Zeilgalerie in which it is located, which wasn't attracting much footfall.  LINK
Germany – This autumn a Cineplex cinema will open in what was previously the Ufa-Palast in Cologne's (Köln) Hohenzollernring area.  LINK
UK – The Savoy cinema in Heaton Moor (Stockport) that's been closed since November could re-open as soon as this autumn. The Mundins family has previously successfully renovated two similar cinemas: the Ritz in Belper, Derbyshire, and the Regal in Melton Mowbray.  LINK
Poland – Cinema 3D is opening its sixth multiplex in Poland, a four-screen in the Baltic port city of Swinoujscie.  LINK
UK – Kingsmead in Canterbury is set for a multiplex as part of larger re-development. "A multi-million pound investment to transform part of Canterbury has been unveiled – boasting a multiplex cinema, restaurants and a host of other leisure outlets."  LINK
Finally
UK – There should be a picture of this man in the dictionary next to "Film fanatic"; this 75 year old goes to the cinema as often as three times a week. Somebody buy him a Cineworld pass. "Film fanatic John Gale has visited the same cinema at least once a week for the last 70 years – racking up a staggering 7,300 movies. The retired hairdresser started going to the Odeon in Swiss Cottage, north London , at the end of the Second World War in 1945 when he was just five."  LINK
Patrick was a Senior Analyst at Screen Digest, went on to launch the digital cinema operations of Unique and Deluxe Europe, then digitised Bollywood at Adlabs/RMW, and now writes, consults and appears on panels about cinema all over the world.
Latest posts by Patrick von Sychowski (see all)