Here is a catch-up of cinema news from around the world (non-English and non-Chinese territories) from the past few weeks.
France
The Grand Palais in Paris will be turned into the world largest cinema (and nightclub) for the occasion of the "Cinema Paradiso" between June 16-29. Two 25 meter (diagonal) screens will be erected. There will be 2,000 seats and 22 films over 11 days. A €34 ticket will get you popcorn, while €56 tickets gets you a champagne and €180 gets you a bottle of champagne and a bed for two. (How very French). LINK
France was Europe's box office champion in 2014, with 209 million admissions, marking a 50 year high. It's also almost double Germany's admissions (121 million).With 5,635 screens the country out-screens both UK and Italy. Admissions to French films in the rest of Europe reached 34 million. The French are understandably proud. LINK
On the back of rising attendance, the Paris region is set to get a total of 44 new screens by 2017. Le Parisen gives a breakdown of which multiplex is opening where and by whom (CGR Cinemas, UGC and Cinémovida). LINK
Nicolas Seydoux, the president of the world's oldest film and cinema company Gaumont (which celebrates its 120th anniversary this year), is "absolutely convinced of the future of cinema" for the next 120 years.  He's been in charge since 1975, so he has definitely witnessed some change in that time. LINK
The Serodic group has entered the Top Five exhibitors of France with its Cineville chain. The group has major expansions planned for 2015. LINK
The Business Improvement National Commission (NACC) approved a multiplex for Maurepas , with 8 screens and 1,700 seats, on April 17. The existing local Cine 7 with three screens has been fighting the proposal for many years. LINK
Cinema tickets are just €14 for the launch of this new Pathe cinema in Levallois-Perret.  LINK
The screens of the Alhambra cinema in Saint-Etienne have been dark for a week as the staff are on strike. Wages and  security are the two key issues. LINK 
Meanwhile the employees in the converted fire station cinema Camion Rouge, also in Saint-Etienne are on strike over (wait for it) fire safety. There is a lack of both evacuation plan and fire extinguishers. LINK
Meanwhile in (French-speaking) Canada
Daniel Séguin, CEO of Cineplex Quebec, says that he would rather open an Imax screen and allow internet ticket booking for it, than open a new cinema complex at Galeries de la Capitale in Quebec. The AVX screens in Sainte-Foy and Beauport already offer internet ticket booking.
Germany/Switzerland/Austria
As we've reported earlier, 686 cinemas in 193 German towns (mainly small ones)boycotted "Avengers: Age of Ultron" because of high rental fees.  LINK
Perhaps partly asd a result independent cinemas in Germany have plans to form a country-wide union to negotiate film acquisitions. LINK
Philips has done a test installation of its LightVibe cinema concept in UCI-Kino in Ruhr-Park in Bochum. LINK
Ymagis is expanding its cinema services offering and presence in Germany, more specifically in Berlin, Düsseldorf, Munich, Frankfurt and Hamburg, following the merger with dcinex. PDF Link
The renovation of the UCI cinema at Duisburger central station is nearing completion. LINK
A fire in a fast food restaurant's deep fryer led to the evacuation of a Ufa Cinema in Düsseldorf. Nobody was injured. LINK
The Black-Box cinema in the Düsseldorf Filmmuseum has to remain closed until August/September because of a lack funds.  LINK
Haunted Cinema? A Taiwanese woman who went to see "Pitch Perfect 2" in Kino Metropol in Zurich claims to have taken a photo of a ghostly presence in front of the screen. LINK
Christine Frenzel has been appointed head of the Cinestar Erfurt.  LINK
The Cinestar Group operated Berlin cinema in the Kulturbrauerei has a new MD: Wolfgang Döllerer. He previously worked with Ymagis on cinema digitisation. LINK
Cinemaxx has introduced payments via smartphones in Germany. LINK
Poland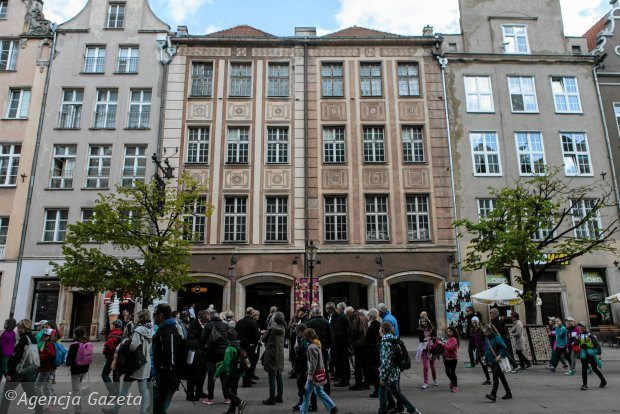 2014 was a record year for Polish films, with over 40 million tickets sold. Mindshare Polska has published a study "Zachowanie w kinie" ("Cinema behaviour"). Most frequent cinema goers are those up the age of 44 with medium or higher education level. 70% say they go for the big screen experience but 80% also say that ticket prices are high. There is a ROPO effect (Research on-line, Purchase off-line) when it comes to cinema tickets. 1/3 are more positive to advertising in cinemas than elsewhere. LINK
Since 30 April cinema ticket prices to select Polish films are just PLZ 10 (USD $2.75) until the end of the year for 30 cinemas in the Helios and Iluzjon chains. LINK
Swiatowid Cinema has launched a "Cheap Mondays" promotion when all 2D films are PLZ 11 (USD $3.00)and 3D films are PLZ 15 (USD $4.11). LINK
Poland's biggest cinema chain Helios has opened a five-screen complex in Jeleniej Górze. It uses 3D equipment from DepthQ. LINKino
The cinema in the culture centre in Drzewicy has had to close – because it is too popular. As half the funding for the centre came from the EU, it cannot earn more than PLZ 150,000 (USD $41,000) per year or it will lose its funding. Hence it has closed. LINK
April 25th is the start date for Warsaw's new drive-in cinema. The first film is "The Wolf of Wall Street". LINK
Gdansk's famous cinema Neptune (formerly Leningrad) is closing to make way for a Hilton hotel. LINK
Lodz's famous Baltyk cinema is closing. It was one of the oldest and largest screens in Poland.  LINK
The city of Stalowa Wola has bought the building housing the Ballada cinema from Apollo Film for PLZ 800,000 (USD $219,000) with the intention of continuing to show films. LINK

Spain
The Spanish Film Academy has confirmed Antonio Resines as its new president. He will continue the fight against film piracy – in 2014 there were said to be four billion illegal downloads of copyrighted material in Spain.  LINK
Spanish cinema is off to a good start in 2015 with 2.5 million spectators and €16.1 million, though last year's outsize local hit "8 Basque Surnames" means that it will be hard to top the record of 2014. LINK
Japan
The Shinemaraikamu cinema has opened in the Kitanakagusuku village of Aeon Mall in Okinawa. With nine screens using Sony 4K projectors it is the fourth multiplex in Okinawa Prefecture. LINK
Tokyo Tachikawa "Cinema City" has undergone a major audio upgrade for its five screen, put in just in time for the screening of Oscar winning documentary "20 Feet from Stardom" LINK
Ion Entertainment is expanding the "Cinema Champion" competition concept from its Cinema 81 Theatre to the whole of Japan. LINK
Tokyu Recreation has installed Sony's SRX-R515P projectors in its 109 Cinema in Futakotamagawa. LINK
Mexico/Latin America
The National Electoral Institute (INE) ordered the Ecologist Green Party of Mexico (PVEM) to stop handing out free cinema tickets as of 8 April, but this order is apparently not being obeyed. Individuals report getting envelopes stamped with the PVEM logo in the post with three Cinemex tickets valued at 25 pesos each inside. A regional court has imposed additional fines on PVEM, which now owes a total of 193 million pesos (USD $12.7 million) in fines for violating electoral laws. LINK
A detailed overview of how local films fare in Latin American territories, particularly compared to Hollywood releases. LINK
Finally
120 years of cinema in a seven minute montage. By a clever Frenchman. LINK
Patrick was a Senior Analyst at Screen Digest, went on to launch the digital cinema operations of Unique and Deluxe Europe, then digitised Bollywood at Adlabs/RMW, and now writes, consults and appears on panels about cinema all over the world.
Latest posts by Patrick von Sychowski (see all)