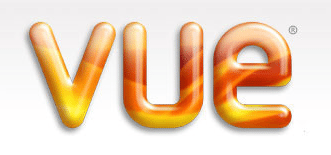 UK cinema chain Vue is set for a major re-vamping of its brand in an effort to "transform" the experience of attending the cinema. The exhibitor has appointed branding agency Joint and digital agency TH_NK to deliver the changes.
The announcement is the culmination of the appointment of Dominic Rowell, who joined Vue in January this year as Commercial Director for the UK and Ireland operation. As former Chief Customer Officer at free newspaper Metro, Rowell's responsibilities at Vue span sales, marketing and retail.
At the time of Rowell's appointment Vue's ?UK & Ireland MD Kevin Styles said that, "Dominic will be helping us to achieve our ambition to be the UK's best and most highly respected cinema brand as we go into 2015 & beyond." Clearly improving the brand was part of that remit.
In February it was revealed that Vue was looking for an agency that would oversee all the aspects of its creative business, which included both advertising, branding and so-called experiential activity, and was working with Oystercatchers towards this end. Vue had previously relied on Brothers and Sisters for advertising, while The Communications Agency (later itself re-branded as Psona) supported new multiplexes launches and local advertising.
While Joint has been tasked with transforming the cinema-going experience at Vue cinemas, TH_NK has been given the remit of developing Vue's "user experience" across all platforms. TH_NK is also set develop a customer value management (CVR), for improving interaction with existing and new Vue customers.
Rowell is quoted in Campaign as saying:
"For the past 12 years Vue has been committed to delivering the best and most innovative experience in the industry. As we continue to grow, our intention is to place even greater emphasis on surprising and delighting our customers through both offline and online experiences.

"Our brand, our people and technology will be pivotal to this. In TH_NK and Joint we have appointed two highly skilled partners who share our energy and ambition to deliver on this intent."
Vue was born out of SBC's acquisition of 36 Warner Village Cinemas in 2003, when it merged them with their existing multiplexes. At the time Vue's CEO Tim Richards was quoted as saying: "The Vue brand will become synonymous with the best screens, the best sound and the best seating. We will make sure this appeals to everyone by offering a greater variety and diverse range of films."
Vue has already been re-branded once in 2004 "to create a more upscale, adult ambience" by London-based agency Creation. Clearly this time the re-brand is undertaken with an eye towards the all-digital and mobile consumer groups.

Latest posts by Patrick von Sychowski
(see all)