UK – With a drink called 'Fifty Shots of Grey Goose' on the menu, is it any surprise that Manchester's Odeon takes the crown in most booze sold for the S&M blockbuster? Amazingly there were "barely any incidences of anti-social behaviour" in the cinema.
Odeon Manchester not only sold more alcohol than any other Odeon in the UK but also managed to sell the second highest number of tickets during Fifty Shades of Grey's opening weekend.

The latest figures reveal that Odeon Manchester sold more than £10,000 worth of alcohol, surpassing any other weekend in the company's history.

Ticket sales were at a record high as Fifty Shades sold more than 14,000 tickets after three days, including the Gallery – the Odeon's VIP experience.  LINK
India – This proposal to stop all south Indian film releases to kill piracy seems like a incredibly dumb joke. Never mind pirates, has anyone stopped to think for a second what it will do to cinemas?
The Tamil Film Producer's Council (TFPC) is likely to halt the releases of latest Tamil films for about three months to put movie pirates out of business.

On Sunday, at the general body meeting of TFPC, most of its members decided that the only way to stop the problem of video piracy is to stop releases of films for at least three months.

"Piracy will automatically stop when there's no content. When we stop film releases, say for three months, the movie pirates will go out of business. We are looking into this option because film producers have suffered heavily in the last 24 months," Kalaipuli S Thanu, TFPC president told IANS.  LINK
India – The Hindu BusinessLine looks at PVR's stock while Live Mint (a WSJ joint venture) scrutinises Inox.
At ?694, the PVR stock trades at over 30 times its likely per share earnings for 2015-16. This is expensive compared to the broader markets.

But given that the company is on a sound footing on operational parameters, investors can retain their holdings despite the rich valuation multiples. Further exposure can be considered on declines linked to the broader market. Footfalls are on the rise and with a slew of mega releases featuring top movie stars set to hit the screen over the next few months, PVR is likely to put up an improved performance.

In the first nine months of 2014-15, the company's revenue grew 14 per cent over the same period in the previous fiscal to ?1,183 crore, while net profit fell 15 per cent to ?47 crore.  LINK
And:
Inox Leisure is currently trading at Rs. 179.90, up by 0.75 points or 0.42% from its previous closing of Rs. 179.15 on the BSE.

The scrip opened at Rs. 177.90 and has touched a high and low of Rs. 184.00 and Rs. 175.50 respectively. So far 6663 shares were traded on the counter.

The BSE group 'B' stock of face value Rs. 10 has touched a 52 week high of Rs. 197.30 on 21-Nov-2014 and a 52 week low of Rs. 104.20 on 21-Mar-2014.  LINK2015
Germany – The Federal Film Board of Germany has pledged over three million euro to various cinemas in Germany for improvements and other purposes.
3,031,827 € for 85 cinemas, this is the balance of the current session of the Sub-Commission FFA cinema under the direction of Christine Berg. A total of 97 applications had been submitted on cinema promotion.

Each with 180,000 euros, the largest single amount went to two new projects: Kino-Center Weißenburg (Applicant: Thomas Pahlig FTB) and the Cineplex Baunatal (FTB Shepherd). Extensive expansion measures Traumpalast Nürtingen (152,675 euros), the  Kammer-Lichtspielen Crailsheim  (138,370 euros), the Amper-Lichtspielen Wolnzach (126,623 euros), the  Fürstenhof Lichtspielen in Büdingen (124,765 euros) and the Cineplex Singen (120,879 euros) are currently of the FFA with six-figure sums support.  LINK

France – Box office in France was strong in February, increasing 28.5% to 22.5 million tickets sold compared to the same month a year ago, mainly on the back of "Fifty Shades" and a strong domestic 48.4% marketshare of films.
Thank you "50 Shades of Grey" .. With its 3.5 million viewers, the film from the novel by EL James has been a success in theaters, and allowed entries to register sharp rise in France in February . Data from the National Film Centre and the moving image (CNC), they were up 28.5% to 22.56 million units. This is the best February for at least ten years.

Besides the erotic adventures of billionaire, "The Family Aries", which fast approaching 7 million entries, also contributed to the excellent health of admissions. Other films have also worked well as "American Sniper" (1.84 million admissions), "Mom or Dad" (2.3 million) or the third installment of "Night at the Museum" (1.47 million). According to data from CBO Box office, six films have surpassed the one million tickets in February.  LINK
South Korea – But South Korea's box office headed in the opposite direction, despite the Lunar New Year holiday.
South Korea's cinema ticket revenues and the number of moviegoers fell drastically in February from a year ago, although it had the five-day Lunar New Year holiday, a market tracker said Monday.

Ticket revenue in the domestic movie market fell by 5.3 percent to 131.5 billion won (US$11.84 million) last month while attendance in theaters dropped by 10.2 percent to 16.67 million people, the Korean Film Council (KOFIC) said in a monthly box-office report.  LINK
FNE has selected as its Europa Cinemas: Cinema of the Month: Euro Cinema and G8 Cinema, in Sofia, Bulgaria and has an interview with its manager.
This month we speak with Ina Darova, manager of the Euro Cinema and the Cultural Centre G8. Euro Cinema was founded in 2001 as a single screen Art house cinema, and has now two halls and a cinema café. It has a strong identity in the capital's cultural landscape and its programme focuses on Bulgarian and European film art. Opened in October 2014, the Cultural Centre G8 is a new challenge to the audience. As a private Art house cinema but also hosting various cultural events, it is equipped with three screening rooms, a hall, a café and a small cinema museum.  LINK
Advertising
India – Cinema advertising is set to grow significantly in India this year.
Movie buffs prefer visiting a cinema for the almost minimal number of advertisements that play during the movie run. Advertisers are still somewhat hesitant of opting for these ads since there is a lack of measurement of these ads. Contrary though according to Group M's biannual advertising expenditure futures report titled 'This Year Next Year' (TYNY) cinema advertising closed 2014 with a 25 per cent increase.

When asked at what rate he expects cinema advertising to grow for this year, Interactive Television CEO Ajay Mehta says that it will grow at 20 per cent.  LINK
Health & Safety
Namibia – A fire in this brand new Ster Kinekor cinema in Namibia.
This time the alarm was real! A fire broke out on Saturday afternoon in the new Star Kinekor cinema in Windhoek The Grove Mall of Namibia – while one person was injured.

Corlia van Tonder, Head of Marketing at Grove Mall, just hours after the incident told in writing, whether the fire was "promptly and effectively" erased. Jenni Beukes Ster Kinekor added yesterday AZ demand that the sprinkler system had gone into operation immediately in the affected area. A worker was carrying injuries after he "jumped in panic from the balcony to escape the fire," said Beukes. Van Tonder said, however: "The cinema was at the time of the incident inoperative; currently running the final test for the opening later this year. "However, visitors to the shopping center were evacuated for safety reasons.  LINK
Law & Order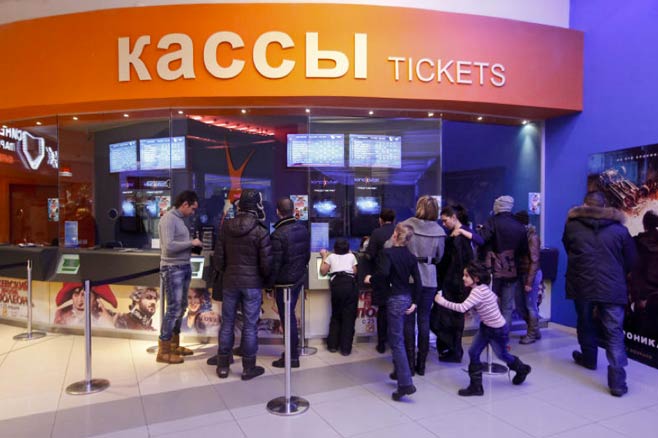 Russia – Heavier fines will be imposed on Russian cinemas that do not comply with age-restrictions.
In accordance with the report, the minimum fine will go up from $33 (2,000 rubles) to $167 (10,000 rubles), for private individuals, and the maximum fine will be raised from $3,300 (200,000 rubles) to $8,300 (500,000 rubles).

Simultaneously, changes to the system of age restrictions, which has been in place since 2012, are to be made. 18+ is to remain the only mandatory age restriction, while all other existing age restrictions, such as 12+ or 16+, are to become advisory.  LINK
Trinidad & Tobago – Funding your sporting career is no excuse for stealing. It also seems like a small compensation given how much they stole.
TWO teenagers who stole $30,000 from the cinema they were employed at have been ordered to complete community service at homes for the aged.

Each was also ordered to compensate the owner of the cinema $700.

At their court appearance last year, defence attorney Ainsley Lucky said Ricardo Paul and Akinee Harry of Claxton Bay needed the money to fund their sporting careers.  LINK
Censorship
India – Some thoughts and views on India's recent "banning spree" from Asian Age.
Sociologist Rashi Bhatnagar sees the film's ban within the larger context of the entire list of bans that have been brought into effect recently. "Why is our country on a banning spree lately? First it was the AIB roast, then the "cuss words" plaguing our own films, followed by the BBC documentary and now this. Within a month, we've had multiple bans on multiple things, all citing different reasons that ultimately boil down to the same thing: that we are not capable of handling "explicit" content, whether it be visual, verbal, cinematic or otherwise. Also, the parameters for deciding what counts as "explicit" are hilarious. Do they realise that we are still the country with the second largest population in the world out of which 70 percent belong to the under-30 bracket with access to individual minds and opinions along with technology? It's almost like they have a problem with someone stating facts. Sex is real. That's why we exist.  LINK
Accessibility
Argentina – "The Theory of Everything' will appropriately enough be the first film screened after the installation of this cinema wheelchair lift, that is part of the larger accessibility campaign TODOS (Tenemos Oportunidades, Derechos y Obligaciones Siempre).
The renovation work consists of placing two lifts ramps battery operated, located at the foot of the stairs, one to go upstairs, and another to climb to the room. Have the capacity to carry up to 180 kg. with which you can access easily without problems. "We had to modify the access door to the room, improve the condition of the carpets at the entrance, there are a lot of details that are finishing up, but really happy," said the manager.

He also explained that for security reasons, the system will be operated by personnel of the company, which also applied to beneficiaries must attend 30 minutes before the movie to avoid inconveniences and delays. Also you can not have more than four people in wheelchairs by function.  LINK
Centenarian
USA (OH) – Happy 100th birthday to this former vaudeville stage.
The Athena Cinema is celebrating its 100th anniversary with a year of monthly screenings of "iconic films through the decades."

The theater is known for more niche films, such as independent films, international films, documentaries and local filmmakers' work.

"You kind of know now if you want a blockbuster, you go to The Athena Grand. If you want something a little different, you come to The Athena Cinema," said Lorraine Wochna, a subject librarian of film, theater, English and African American studies at Alden Library.  LINK
Cinema Opening/Closings
New Zealand – A welcome return for this now earthquake-proof cinema that shows a mixture of arthouse and mainstream hits.
After more than three years without a cinema, North Canterbury residents will finally be able to take a trip to the pictures again.

The Rangiora Regent cinema closed in December 2011 for earthquake strengthening and refurbishment but will reopen today, with three new screens in a modern addition to the historic building.

Cinema director Jeremy Stewart said the first screening in the new cinema would be The Second Best Exotic Marigold Hotel at 4pm.  LINK
UK – It looks like there is no future for Liverpool's Futurist cinema.
The historic Futurist cinema in Liverpool's Lime Street cannot be saved according to officials behind a huge regeneration project for Lime Street.

These pictures reveal the extent of the damage to the building – which campaigners are fighting to retain.

Concerns are so high over the state of the site that even the facade is considered beyond repair – though a section is set to be incorporated into the new look Lime Street.  LINK
UK – But good news for Liverpool's ABC Cinema.
The ABC Cinema is set to undergo a £9m overhaul as part of the major regeneration plans for Liverpool's Lime Street.

The former cinema will be converted into a state-of-the-art entertainment venue capable of holding crowds of up to 1,500 for live performances in its famous auditorium.

And the ECHO can today reveal the complex will even have its own TV studio overlooking Lime Street Station and St George's Hall – a project which officials say is already attracting commercial interest.  LINK
Finally
The last pornographic cinema in Madrid has closed. It was notable for having to display hand drawn posters, because actual posters of adult films were not allowed to be displayed.
In recent years they have been closing the last XXX cinemas in Madrid, who saw their boom in the eighties. The last one who resisted was Film Alba , a place that, beyond the content of their projections, had become an intimate space. The economic crisis and the Internet took their toll on this business and finally it closed on Sunday.

Rafael Sanchez, his manager has confirmed this digital cinema owners have an outstanding debt with the owner of the building and has not been able to reach an agreement with him. "It takes bad, but what is" indicated on the closure of this movie was like home.  LINK

Latest posts by Patrick von Sychowski
(see all)