USA – Last year the same Cornell lab blamed action films, now sad films, for people eating more snacks. Free hankies with every tub of super sized popcorn and extra large soda.
Sad movies are bad news for diets. A newly reported study from the Cornell Food and Brand Lab showed movie-goers watching tearjerkers ate between 28% and 55% more popcorn both in the lab and in a mall theater during the Thanksgiving holiday.

According to findings published in a JAMA-Internal Medicine research letter, movie goers ate 28% more popcorn (125 versus 98 grams) when watching the tragedy Love Story than when watching the comedy Sweet Home Alabama.  LINK
Imax home screen are now available to order for Russian oligarchs, Malaysian millionaires and the other 0.01% uber wealthy Londoners, as long as they have a basement two storeys high and a couple of million quid (popcorn machine not included). Just don't ask Odeon to run it for you. [joke!]
London's super-rich film fans can now have an IMAX screen installed in their homes – at a cost of at least £1.8million.

IMAX Private Theatre has now been launched across Europe, meaning those with the money, space and inclination may now have the equipment used in London venues such as the IMAX Waterloo in the comfort of their own homes.

Due to the size of the screen alone, the minimum space requirement for the system and room for about 10 seats is 22ft wide, 12ft tall and 40ft deep.  LINK
Cinema attendance in France was up across various categories in 2014, a combination of several local hit films and a pro-active government policy to encourage cinema going for children.
27% of the French went to the cinema on average each month in 2014, according to the results of the study in 2014 75000 Cinema Médiamétrie, up 3 points vs. 2013. This interest concerned the entire population, regardless the age groups, socio-professional categories and sex. The year 2014 thus sees the return of casual viewers, major contributors to this strong attendance, with an increase of 20% in one year. They were particularly attracted by the animated films of family interest, according to Médiamétrie. The level of appreciation of the films has also increased in 2014 vs 2013, with 22 films that get a higher score than or equal to 8 out of 10 against 18 the previous year. Médiamétrie has finally asked the audience about the reasons that pushed them to go to the movies. This year, the word of mouth that has been particularly effective.  LINK
The press release (PDF) can be found here.
Apparently AUS $20 (USD $15.62) is the pain threshold when it comes to regular cinema ticket prices in Australia, though premium sessions like 3D movies, gold class-style auditoriums and PLF can still command AUS $30 or more, which is why cinemas now focus on them instead.
The Palace chain has dropped the top price at its Norton Street cinema in Sydney's Leichhardt to $19.

While cheaper tickets are available through the chain's Movie Club and concessions, $20 has proven too rich at a time when movie attendance is under threat from alternative forms of entertainment and piracy.

In the past five years, admissions – the cinema industry's measure for attendance – have fallen from 92 million to about 78.5 million.  LINK
UK – Fledgeling British cinema-on-demand (CoD) company ourscreen [lowercase] has boosted its library with film titles from Altitude distribution. Last month the company had a milestone with 33 screens having shown Vampire spoof What We Do in the Shadows using the system.
Ian Cartwright, director and co-founder at ourscreen commented: "It's great to have Altitude on board, joining a great list of distributors ready and excited to embrace the ourscreen technology to engage with cinema audiences across the UK. What with Altitude's range of films, combined with their progressive approach to distribution, we're very pumped to see what we can achieve together."

Cartwright and Elevenfiftyfive colleague David Kapur co-founded ourscreen last year with Picturehouse executive Marc Allenby.  LINK
Germany – Even small and independent cinemas in Germany are introducing e-tickets and mobile payment options.
In the movie theater Wertingen of admissions has as of today the way, an e-ticket instead of a movie ticket to use. "The customer can buy his cinema ticket via the Internet and pay online with PayPal, MasterCard, Visa or CineCard," says Prisca Dyer, owner of the movie theater.

As moviegoers should not have to wait at the box office is characterized. The e-ticket will then namely read with a scanner directly from your smartphone. In addition, the users of this ticket have the opportunity to advance to see on the homepage of the cinema, as the movie is visited. Then he can then choose their own seats.  LINK
Fifty Shades of Grey
USA (ID) – Maybe Idaho lawmakers heard about what intoxicated women have been up to at "Fifty Shades" screenings in the UK.
Michele Williams of Eagle wasn't planning to take advantage of Village Cinema's cocktail menu. But a sign posted near a theater door last week was enough to drive any moviegoer to drink: "Idaho law restricts us from serving alcohol or allowing its consumption in auditoriums showing 'Fifty Shades of Grey.' "

Spank me for the double entendre but – come again? Are we talking about the same R-rated erotic romance that set the February opening weekend box-office record of $85 million?

The booze ban irked Williams.  LINK
India – "Fifty Shades of Grey" will not be shown in India, after the censors aligned themselves with countries such as UAE and Malaysia in refusing the film a certificate. India is also banning a BBC documentary about the notorious gang rape case of a young woman killed on a bus in New Delhi in 2012.
The chief executive of the Central Board of Film Certification, Shravan Kumar, declined to say why the panel refused to approve the film adaptation, but said Universal Pictures, the Comcast Corp unit that released the film, could appeal the decision.

A Universal Pictures source familiar with the review process said the board had objected to some of the film's dialogue, even after the studio made voluntary edits to the film to tone down its sex scenes and removed all nudity.  LINK
Maybe the Indian censors were worried that the following might happen there:
We've had some awesome Fifty Shades of Grey stories over the past few weeks, from the US cinema that started showing the movie to an audience of kids to a Mexican lady arrested for pleasuring herself during a screening.

But a couple in Las Vegas may have topped the lot by actually trying to have sex in a museum exhibit paying tribute to the film for Valentine's Day.  LINK
Health & Safety
USA (PA) – The one time you are allowed to yell "Fire!" in a theatre.
A permit has been issued for the theater's demolition to occur before March 8.

But before the building comes down, several local fire companies were allowed to use the space to train their cadets.

Lt. Mike King of Lafayette Fire Company explained, "We were contacted by Dutch Wonderland when they got the demolition permit, and they offered us a once-in-a-lifetime chance to test our new guys. Inside here they will learn how to depend on one another in an unfamiliar, pitch-black, smoke-filled area."

Lafayette Fire partnered with crews from Lampeter, Ronks and other municipalities to create a scenario fit for Hollywood.  LINK
Law & Order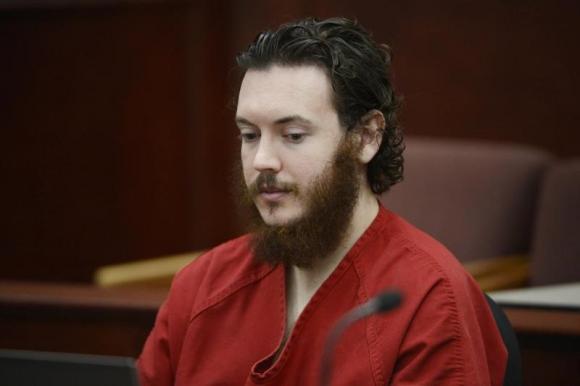 USA (AZ) – The Colorado cinema shooting trial should get underway before the end of next month.
The judge overseeing the Colorado cinema massacre trial said Thursday he wants opening statements in the much-delayed case against gunman James Holmes to begin on April 21.

Lawyers for both sides are questioning potential jurors ahead of the start of the trial, at which Holmes faces the death penalty if convicted of murder and attempted murder for fatally shooting 12 moviegoers and wounding dozens more in a Denver-area theater during a screening of a "Batman" film in July 2012.

"We hope to have openings on April 21," Arapahoe County District Court Judge Carlos Samour told one prospective juror.  LINK
Outdoor Cinema
USA (TX) – We didn't think we could like Alamo Drafthouse any more than we already do. We were wrong.
Local nonprofit Mobile Loaves & Fishes has long been known for its innovative work with the city's homeless community while the Alamo Drafthouse has become Austin's favorite ways to see a movie. Now, the two have combined forces for a cool new outdoor cinema at MLF's Community First! Village.

The outdoor Alamo movie theater will show its first film, The Karate Kid, on March 5 at the 27-acre, master-planned community that provides affordable, sustainable housing for the chronically homeless in Central Texas. Though this screening will not be open to the general public, the Alamo Drafthouse says it is considering adding public events in the future.  LINK
Cinema Opening/Closings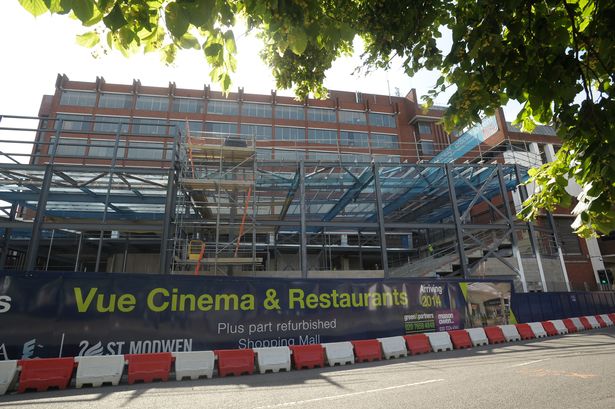 UK – Yet another ANOTHER delay for the opening of this Vue cinema. We've lost count how many delays there have already been.
Developers building Farnborough's new cinema are attempting to speed up the process following yet another delay, potentially until the end of the summer.

Permission was granted in March 2012 for the Vue multiplex cinema plus restaurants at the Kingsmead shopping centre.

However, a condition to the planning agreement was changed in 2014, stating the development shall not be occupied until a BREEAM assessor – the environmental assessment method and rating system for buildings – confirms a Very Good standard has been achieved.  LINK
USA (AZ) – A grand opening is planned for this Harkins multiplex in Arizona.
Harkins Theatres will kick off the opening of Queen Creek 14 on Thursday, March 19, with a weekend-long grand opening celebration. From Thursday through Sunday, March 22, guests can take part in various events and receive prizes, including a chance to win free movies for a year, according to a press release from the Arizona-based movie theater chain.

Harkins Queen Creek 14 is in the Queen Creek Marketplace, on the southwest corner of Ellsworth Loop and Rittenhouse Road. Tickets and show times will be available on the Harkins website on Tuesday, March 10.  LINK
India – Inox has opened its latest multiplex in Rajestan.
INOX Leisure Ltd has informed BSE that the Company shall commence the Commercial Operation of new Multiplex Cinema Theatre situated at 3rd Floor, City Square Mall, Panchsheel Nagar, Ajmer – 305 004, Rajasthan, having 3 screens and 884 seats from March 08, 2015.

On commencement of Multiplex at Ajmer, INOX along with Satyam Cineplexes Limited will be present in 95 multiplexes & 368 screens in 52 cities and a total seating capacity of 97878 across India.  LINK
UK (Wales) – The Scala community cinema in Wales that closed at the start of this year looks set to re-open before the summer.
There was widespread anger and protests after the Scala in Prestatyn, Denbighshire, shut-up shop after funding problems.

Denbighshire and Prestatyn councils said on Thursday they had appointed Aurora Leisure as new leaseholders.

The company says it aims to have the cinema open by early April and the centre fully operational by mid-May.  LINK
UK (Wales) – The following month sees the opening of this Cineworld multiplex, also in Wales and only 32 minutes drive away from the Scala.
Cineworld is creating over 40 jobs at its new cinema in Broughton with recruitment now underway.

The cinema is set to open its doors in May at Broughton Shopping Park after getting planning approval in 2013.

It features a Starbucks and a Baskin Robbins, as well as 11 screens, including an IMAX® cinema.  LINK
USA (UT) – Luxury Loungers now in this re-opened Cinemark multiplex.
Salt Lake City's Sugar House neighborhood is getting its movie theater back this weekend — but residents may not recognize the old place.

The Cinemark cinema chain has renovated the Cinemark Sugar House 10, turning a somewhat rundown second-run movie theater into a spiffy and luxurious destination for new Hollywood films…

The 10 auditoriums boast the Texas-based chain's first "Luxury Lounger" reclining seats in Utah. The oversized, plush seats have electric-powered recliners with leg rests — and ample room between rows for moviegoers to walk past.  LINK
A list of the single-screen cinemas that Chennai in southern India has had to say goodbye to since the advent of the multiplex, along with a valedictory lament for their passing.
Before the advent of the big plexes, Chennai boasted of a reasonable contingent of standalone single screens. Beginning from the pre Independence era, these theatres that ran to packed houses have off late been shutting shop.

Now adding to the long list is the five-decade-old Shanti theatre located on Anna Salai. Gradually these theatres, which people used to throng in huge numbers once, will soon be added to the pages of History books.

One of the main reasons for the single screens closing down today is economic viability. If you compare the cost involved in running a multiplex and a single screen theatre there is marked difference. While multiplexes get additional income from food stalls, advertisements and parking, single screens have to solely depend on the sale of tickets.  LINK
Australia – A welcome return for this small art-house cinema in Australia.
THE Star Court Theatre is reopening today with a free party.

Partners Sharon Rigby, Luke Payne and his father Geoff Payne have formed Upstage Entertainment, with a mission to rejuvenate Lismore's grand old dame, which was vacated in August soon after a management restructure.

"We want to open up the theatre to the community and work with local business," Geoff said.  LINK
UK – Yet another former cinema looks set to be re-born as a church for born-again Christians. It's the communities own fault sadly for not acting sooner to save/revive it.
Since its closure in 2000 the ABC cinema in George Street, Luton, has lain dormant despite the efforts of community groups which resolved to return the building to its former glory.

Most recently in December 2011 community trust ABC Savoy planned to turn the site into a mixed cinema and music venue, but the plans never came to fruition.

The disused cinema's future is now clearer after the submission of a planning application to refurbish the front section of the building, which would be sublet to a pentecostal church.  LINK
Finally
I've heard about coins falling down the back of seats, but this find is really from a different era altogether. I doubt anyone will come forward and claim them.
The vintage Wild Woodbine, Navy Cut Tobacco and Picadilly Number Ones cigarettes, together with a packet of Smarties, Cadbury's Peppermint Creme Fry's chocolate and Penny Farthing coins are believed to date back to 1934 and were found during a refurbishment of the historic Market Hall Cinema earlier this week.
Cinema director, Peter Watkins-Hughes said it is likely that the items were left by builders when the seats were last replaced in 1934.

Mr Watkins-Hughes said: "They are in very good condition considering their age."

"They were tucked right down the back of one of our classic red plush chairs," added Beth Watkins, 57, of the Market Hall Community Group, which runs the historic cinema.   LINK
Then this couple renovating their apartment in Plymouth found a local newspaper from 1957 with a "story about the local cinema proposing a smoking ban but there had been an outcry about it."

Latest posts by Patrick von Sychowski
(see all)