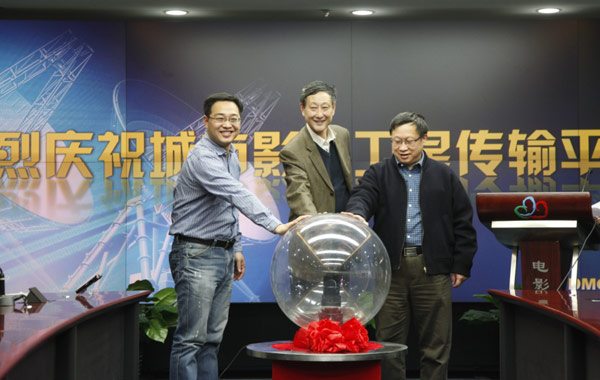 China's State Administration of Press, Publication, Radio, Film and Television's (SAPPRFT) Digital Program Management Centre has inaugurated a test NOC for the satellite distribution of DCP copies of films. It is not clear which cinema are participating in this, but it's one to monitor.
The platform now has 90Mbs ~ 120Mbs sent per second speed, which can be transmitted nearly 10,000 theater 400 films annually. Start platform replaces the traditional hard mail, movie digital copy within eight hours after the service platform can be transferred to the theater, greatly improving the film transmission speed, ensure the film's nationwide simultaneous release. Satellite transmission uses a multipoint broadcast mode, with the increase in the number receiving theater, film distribution costs will be further reduced and ultimately may be able to provide more opportunities for outstanding movie theater screen board, so the theater with the audience more viewing choices, promote development and prosperity of the movie industry.  LINK
Lots of juicy cinema statistics from Win Business Network, ranking cinema operators and cities in China, with Wanda ahead but finding it difficult to keep up the momentum.
Core Tip: from the theater suggests that, in order to develop the industry benchmark Wanda 7 above the main multiplex cinema, theater and other core cinema hall in 4-6 dominant. Taking into account the number of people viewing a single screening decreased year by year, other core cinema hall may need to consider increasing the number of (screen number) in order to increase the theater box office.

2015, Tencent Finance jointly launched nine square big data "Chinese hot industry rankings" series, this series will become the benchmark single-ranking Chinese industry and investment field in 2015.  LINK
Audio160.com predicts six trends for Chinese cinemas in 2015, which include lasers, more micro-channel ticketing, higher mandated presentation quality and high-efficiency 3D becoming the norm, with a generally bullish outlook.
Enter 2015, the theater building alive, box office results continue rosy, these are harbingers of theater construction will speed development. First, the annual number of new screens will maintain rapid growth, is expected to reach 5000, and 80% from the second-tier cities below.

China's film box office year after substantial growth in investment to build the theater a few years ago to make money as well as asset-light effects, cash flow operating theater, plus the support of national policy, no doubt attracted many investors and hot money into the film industry. Due to the uneven development between China has a vast area, although the number of first-tier cities close to saturation theater, but the Midwest and third tier cities and eastern tier cities will become the most growth potential place as cinema layout, investors look for opportunities, is undoubtedly the most interesting places, but also the movie ticket bunker, I believe in 2015, the construction of six or so, the screen width of 6-8 meters in the auditorium will be addressing the mainstream studios, planning, construction .  LINK
Beijing Evening News has a long article looking at consumer cinema trends, including the growth of self-service ticketing in cinemas, scalpers and unsustainable cheap cinema tickets offered by micro-channel operators like Spider Web and Guevara.
Website sold movie tickets and theater price – why such a big difference? Why is obviously loss of business is clamoring to do? Ministry of Commerce Institute for Economic Research, deputy director of the Department of Consumer Zhao Ping believes that the purchase of movie tickets through the Internet to break the boundaries of time and space, with a variety of online shopping, as is the trend; however, as low as 1 yuan, 5 yuan fare is only temporary and non-normal competitive performance.

"The first is the price war in order to attract attention, increase website visibility. When the website through the 'burn' and other unconventional means to cause the fans attention and won a certain amount of market share, they will return to normal competition. This time the website will regularly engage in some promotional activities, while they cooperate with the theater also has more right to speak, can better position down from the theater package or get a higher discount, in order to expand their business. "Zhao Ping also noted that the current low ticket campaign website also has a balance of supply and demand factors," the location of some of the excess wasted no choice, it might as well cut prices to sell. "anonymity of a small theater manager told reporters : "As far as I know, some large-scale theater official website ticketing system has done very mature, so even if you buy the ticket in the other movie studios presale tickets online, it will not be cheap; Small theaters like us, if integration of resources to work with good booking network, and even some of the benefits, so both can play the role of propaganda, increasing purchasing power, but also comply with the new patterns of consumption. "  LINK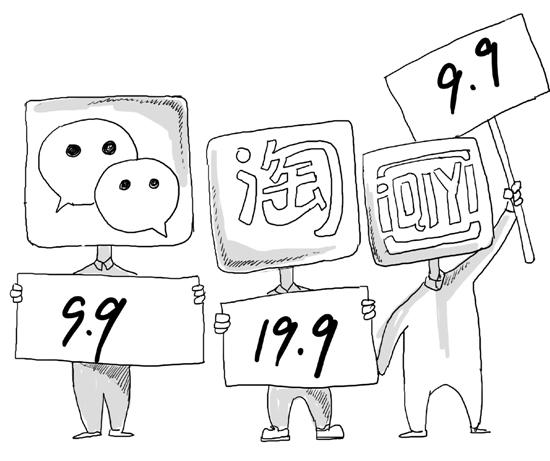 Yet more concerns raised about too-cheap tickets being provided by micro-channel mobile platforms in this article.
Therefore, the current first-tier cities in the heart of the theater is not willing to participate in the sale of micro-channel, the suburbs are keen to promote the popularity of cinema by micro-channel. The four-tier cities in the theater has been the micro-channel "kidnapping", once you leave micro-channel subsidies, customers will significantly reduce theater box office plummeted. There are concerns about the industry, along with full penetration micro-channel, is likely to become the theater screenings provide terminal locations and ticket services.

In this regard, Chen Qingyi recommendations theater or do the overall planning, keeping prices stable strategy is not about micro-channel. Some experts believe that the survival of the traditional theater of its own members, how to effectively use electronic business platform drainage, increase member conversion rates, enhancing competitiveness Studios theater is a major issue for future operations.  LINK
While the re-release of films such as "Journey to the West" has attracted significant new cinema audiences in the last year, other recent re-releases have flopped big time at the box office.
By the third quarter, Feng Xiaogang's "Be There or Be Square", "Party B" once again meet with the audience at this year's February 6, a powerful interpretation of the real bleak. As of February 8, "Party B" altogether in 505 theaters, of which 243 to zero at the box office, "Be There or Be Square" total landed 452 theaters, 221 cinemas where all screenings had no audience. Attendance at many theaters, viewing showtimes and more people have not.

Data showed that the "Party B" screenings for 1162 sessions, viewing trips for 1512 people, re-release the first day at the box office on Wednesday for 39,594 yuan; "Be There or Be Square" screenings for 982 sessions, viewing trips for 1210 people, Re-release the first day Wednesday, grossed 33,266 yuan.  LINK
The topic of video-on-demand and online film distribution in Greater China (Mainland, Hong Kong and Taiwan) was discussed at the Berlin Film Festival this week. With online piracy being combated in China online film distribution platforms are optimistic about day-and-date releases with cinema and even overtaking the big screen.
He first thought in the past in 2014, China's major micro-channel giants join forces, destroyed several domestic piracy forum, and make it legal sanction by law, this action greatly benefit the development of pay-on-demand service in China. He believes that piracy can not completely disappear, but now Chinese Internet users looking for pirated resource time costs dramatically, which would make a lot of people to "pay-on-demand" users. The boss also believes that as long as the content quality, Chinese Internet users will be happy to pay for it from the side of cinema hot market can prove: ""Running Man "and" Where is the father, "the successful enough to show that as long as the content is good enough, Chinese people do not mind that it is a movie or variety. "

Finally, the boss of the foreign media showing live online video service optimistic outlook: "The following figure these groups might scare you, pay income movie is 500 percent annual growth rate in China is only us on our website. every day more than 140 million hits on while Chinese cinema viewing trips a year was only 4 billion. "the boss is also the scene then announced that they would invest a trader in the past two years," large scale "movie, but not in cinemas, only to serve their mobile terminals and network users. At the end of last year, the video site's founder, has declared: "The cinema will disappear sooner or later."  LINK
Cinema Opening/Closings
HAYI Fashion Theatre has opened its third multiplex in Guangzhou as the chains plans expansion.
Ha fashion theater arts department stores in Guangzhou, the third store in Guangzhou Tian Yun Lu Ying Jian Bo, February 6 has been officially opened, it was introduced, the store is the first all-Guangzhou NEC laser projection theater equipment, and global coverage cinema negative ion generator to purify the air, viewing the effect is more prominent.

Ha fashion theater arts from Guangzhou Kazakhstan Fashion Arts Studios Ltd. operates the brand is owned by the South China Film Shinkansen boutique cinema, now has 10 stores opened, mainly in Guangzhou, Hunan Province, in 2015 is expected to expand 10 stores, the main site in South, Central China.  LINK
When it says that a "Chinese IMAX" has opened in Chongqing I'm pretty sure they mean a domestic rival PLF operator.
Yesterday, known as Riverview whole experience tripod Ronda International Studios in North Rd officially opened. The studios located in North Commercial Street Pier Rd Ka-lau, a total of 10 standard video hall and a Chinese IMAX hall. According to the relevant person in charge, Cinema 4K projection technology will be used, and configure the world's top ring tone system. It is worth mentioning that the studios by geographical advantage, build the whole river corridor-style viewing experience, the audience at the same time for recreation, but also enjoy the beauty of the Jialing River.  LINK
Barco isn't just selling and installing projectors in Chinese cinemas but also museums, universities and special venues – all significant niche businesses.
Gan po beauty hiding a museum, a day looking around the "new Jiangxi." Jiujiang, Jiangxi Pan Yang Lake Planning Exhibition Hall last official run. A total of five whole museum exhibition, the first exhibition of "strategic vision into the Lake"; second exhibition is "overall blueprint"; third exhibition as "the planning and implementation, the total size of type, 4D cinema"; fourth exhibition is "three rivers and lakes 30-year changes, urbanization "; fifth exhibition as" lake of knowledge, low-carbon future. "

Planning Museum is a major feature is the 4D cinema. This is the first time in Jiangxi planning museum showcasing 4D technology to bring the audience to feel the full range of vision, hearing, touch, smell, etc., more intuitive image to show the achievements in the development and construction of Poyang Lake Ecological Economic Zone and the picture of the future. 4D cinema with a three Barco HDX-W18 to build: to create an immersive viewing results through light, shadow, sound, electricity, so vivid, visual image to the audience interpret the cultural and Poyang Lake Ecological Economic Zone Planning and construction achievements.  LINK
Finally
The People's Daily (official mouthpiece of the Chinese Communist Party) carries an editorial harshly critical of reality television shows turned into films for the cinema, as well as the fact that they attract significant audiences – most recently "Hurry Up, Brother" (based on the South Korean format TV show "Running Man"). Don't expect these type of films to pick up any awards when the time comes for the Chinese Oscars, the People's Daily intones.
"Into the theater to watch TV," Variety film phenomenon in 2015 Lunar New Year stalls ferment again. 6 days, 300 million yuan, "run it, brother," the film version of fishing for money at an alarming rate. Hot at the box office, but also attracted controversy. Variety criticized the director of such films, the filmmakers would want to cause no serious investment, put in a lot of movies effort. More directed appeal, professional associations must sound, and inform the competent authorities, can not make funeral occupational in silence.

In fact, the variety of films to gain market acceptance, and rightly so. Fermentation variety show warm up to six months, the star topic effects, accumulated a lot of popularity, has a natural audience base. What's more, the film follows the narrative arts and production methods variety shows, short, small investment, return on investment, it can be said to have a natural advantage. Last Spring, the popular variety show "Where is the father," the film version of encroaching 700 million yuan at the box office. From this perspective, for the current Chinese film market, arts film is undoubtedly a spoiler "catfish."  LINK
Next Thursday is Chinese New Year and CCD will instead be published the following week.
We wish our readers and friends Gong Xi Fa Cai and a Prosperous Year of the Goat. 

Latest posts by Patrick von Sychowski
(see all)