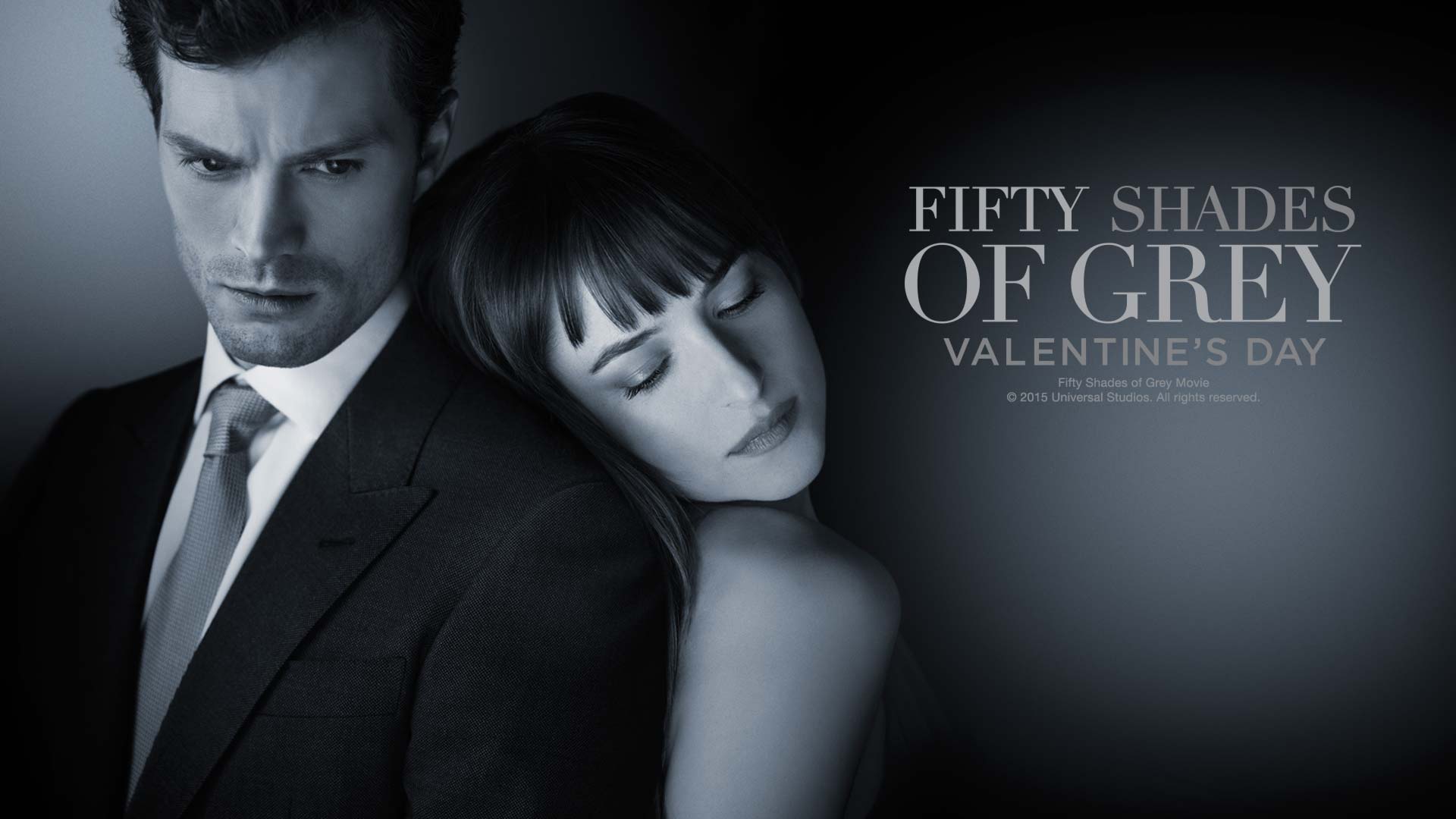 "No props, please" is the message from the three largest US cinema chains when it comes to patrons enjoying "Fifty Shades of Grey" – but not too much, obviously.
[T]hree leading US cinema chains – AMC, Regal Entertainment and Cinemark – have requested that theatre-goers do not bring whips, ties, ropes or more.

AMC Theaters spokesperson Ryan Noonan told Mashable: "While we welcome those guests who want to show their excitement for a film by dressing up in costume, we do not permit weapons (real or fake), or props/costumes that would make guests uncomfortable, or detract from the moviegoing experience".  LINK
Blame the shooting in Aurora, Colorado, rather than priggishness.
Cinemas in the south Indian state of Tamil Nadu are circumventing the regional government's price restriction on cinema tickets with special "fan screenings". Good long analysis on how the price cap is holding back the cinema and multiplex industries in one of the key movie states of India.
This has become a tradition of sorts in an industry that is reeling under the government's regulation of admission prices. Producers, exhibitors and other stakeholders argue that with the increasing costs of running cinema theatres and that of film production, the maintaining of the premium ticket fare for multiplexes at Rs. 120 [USD $1.93] and for single screens at Rs. 95 [USD $1.53], for the past eight years, has hurt the industry.

In his analysis on the cinema hall ticket fares, published in The Hindu (Tamil), G. Dhananjayan, film historian and head of Disney-UTV Motion Pictures (south), noted that the neighbouring states of Karnataka, Telangana, Andhra Pradesh and Kerala allowed weekend admission fares of up to Rs. 350 [USD $5.63].  LINK
India – India's second largest exhibitor Inox is looking to raise money to listings its wind turbine business.
Multiplex-to-industrial gases conglomerate Inox Group plans to list its wind turbine manufacturing business run under the Inox Wind nameplate to raise about Rs 700 crore as the primary component, and a secondary component of sale of two crore equity shares by its promoters Gujarat Fluorochemicals through an offer for sale.

"The quantum of the second component will be decided only after the price band is fixed. So the total issue size will be decided only after the valuation," Devansh Jain, director of Inox Wind, told TOI.  LINK
Event Cinema
Russia – Domestically produced television cartoons are to be shown in cinemas in Russia.
Several of the country's leading cinema chains, such as Cinema Park, Formula Kino, Karo Film, Luxor and Cinema Star, are to start screening children's cartoon series that were previously limited to television, such as Masha and the Bear and Belka and Strelka.

Cartoon series will be originally released on 150 to 200 screens, but, if there is sufficient interest, the number could be increased, announced the animation production and distribution company Digital Television.  LINK
Censorship
Malaysia/Iraq/Ireland  – "Fifty Shades of Grey" has been banned in Malaysia…
"Fifty Shades of Grey," which has its premiere in Berlin next week, will not be released in Malaysia. The film was denied a certificate by the Malaysian Film Censorship Board (LPF). A release on Feb. 12 through United International Pictures has been cancelled. The LPF chairman Abdul Halim Abdul Hamid said it is "more pornography than a movie."  LINK
…while Iraq has pulled "American Sniper" from the only cinema in Baghdad. Pirates applaud the decisions and do brisk business.
After just a handful of sometimes rowdy screenings, the film has been pulled from Baghdad's only movie theater amid complaints from the Iraqi government — as well as viewers — that it "insults" Iraqis…

"It glorifies Americans and makes Iraqis out to be nothing but terrorists," said Ahmed Kamal, 27, a teacher, who downloaded the film for free on a pirate Web site because he didn't want to pay to see a movie in which the hero refers to Iraqis as "savages."  LINK
But the cinema in the home town of one of the "50 Shades" lead actors is NOT banning the film; the cinema is simply too small to book it.
It was further reported that the cinema committee had actually applied to screen the film to coincide with the Oscars but had been turned down by the distributors because it could not comply with the terms of distribution which included showing the film several times a day.

The Cinema in Buncrana is run by a voluntary committee with one show a night and a matinee on Sundays but it is currently closed until February 17 while the local pantomime is being performed and a committee meeting is not due to be held again until next week so no decision has been taken on whether or not to reapply for the film.  LINK
Technology
Germany – A detailed look at how digital cinema technology is used to manage the 61 cinemas participating in the Berlin Film Festival taking place right now. Film festivals are always on the cutting edge of digital (pace: EDCF film festivals handbook) and the BFF even more so because unlike Cannes and Venice it is open to the public.
All 1,100 productions that are shown from 5th to 15th February at the Berlin International Film Festival and the European Film Market (EFM), come from the major computing in heavily guarded data center in Moabit now over fiber in the festival cinemas.

During the festival films are shown in relatively few theaters in Cannes or Venice, the Berlinale runs in dozens of theaters. In ten days, the festival has to cope with an enormous workload: More than 2600 demonstrations are ongoing in some 25 venues – from "neighborhood movie theaters" to the multiplex. "The Berlinale is particularly proud to be a public festival," says Ove Sander, who is responsible for the digital cinema systems at the Festival. Not only celebrities and experts for this purpose by Berlin . Last year, 300,000 tickets were sold to the public.  LINK
Accessibility
Germany – A cinema manager has been receiving death threats – because the cinema no longer issues free tickets to the companions of handicapped patrons, as it was felt too many were abusing the system.
Over 17 years disabled, those in their passport Watch the letter B ("need for constant monitoring"), were given an extra free pass at the box office. Not any more.

As a result, it's rained insults from guests and anonymous e-mails. Authors wish her as accident, death, paralysis or insolvency. Despite everything, Hebbel remains firm.  LINK
Cinema Opening/Closing
UK – It seems that Vue will not be opening a cinema in Ipswich.
Nationwide operator Vue has been in discussions with the owners of the Buttermarket Centre for the past two years to convert the centre's department store unit into a £7million cinema.

Talks were also held with planning officers at Ipswich Borough Council to try to ensure that any change of use would be acceptable to the town and the project was given the authority's backing in the autumn of 2012.  LINK
UK – 'Boutique cinema' is perhaps stretching it, but nonetheless a welcome arrival in Gloucester's Kingsholm no doubt.
The 140-seat Sherborne Cinema will combine a retro art deco theme with the latest films on their second run.

Kingsholm's 134-year-old Christadelphian Hall in Sherborne Street has been transformed by the project, which will officially open its doors on Friday February 20.  LINK
Finally
[youtube]https://www.youtube.com/watch?v=A_a8YATU_NM[/youtube]
Alamo Drafthouse has released the latest of their popular "Don't Use Your Smartphone" PSAs. Meanwhile my local cinema is using a "Sponge Bob" PSA that is merely a clip from the film without any relevance whatsoever to smartphones.  Guess which one is likely to be more effective.
Alamo Drafthouse presents its latest "Don't Talk" PSA, featuring Mark Hamill with a special warning that includes insane clowns and brandishing lightsabers for any moviegoers that dare to talk and text during a movie at the Alamo Drafthouse.

Latest posts by Patrick von Sychowski
(see all)