"Who stole my box office takings?!"
Ten Chinese cinemas have been named-and-shamed for operating dual ticketing systems that enabled box office fraud. This is down from 16 in the last quarter of 2014.
China The film Distribution and Exhibition Association (the "Association") issued a public notice, informing the 10 theaters in the recent illegal use of "dual system" ticket, movie box office revenue evasion concealed, withheld ticketed and other irregularities. Announcements, during the "One hundred thousand bad jokes", "symphony" release, the presence of two theater tickets using hand trapped ticketed violations.

It is reported that 10 illegal theater, there are five cinemas Ltd. Guangdong earth. In 2014, the mainland film market continues to maintain the momentum of rapid growth, the main driver of growth gradually shifted from the city center to the second and third tier cities. Earth Cinema theater is equipped with a third-tier cities to open up this group of high-speed trains, has made leaps and bounds. But, second and third tier cities viewing conditions are mature, with viewers shadow gradually develop the habit, but reveal concealed box office, "dual system" theater tickets and other violations still repeated, become one of the worries movie market.  LINK
Beijing Chinese Commercial News has a detailed article about what is behind the fraud ("the cinema development trend of the past two years can only be describe as blind expansion") and what needs to be done to prevent future fraud.
Although so far, the Association for the violation theater penalty processing is not yet clear, but according to regulations, someone need to pay a fine theater 300 000 -100 million, while stopping for 4-6 months slice, and then cancel the front-end After returning, the funding and incentive eligibility punishment.

However, the company issued a video Zhe Zeng, head of view, "Even a fine of 100 million, compared to steal the box office profits, such as illegal or low cost, but also because of this, evasion concealed box office phenomenon will be repeated, in order to effectively suppress, I think it also needs to increase the punishment. "  LINK
The Wanda Cinema IPO has made paper millionaire of a lot of Wang family members. But the millions of shares they bought for 1 yuan (not per share but for ALL of them) cannot be cashed in for three years. The share price is expected to rise further as it currently only trades at 19.1 times price-earnings ration, compared to an average of 33-1 for the cinema industry.
It should be noted that the cost of obtaining these hundred million shares worth only 1 yuan. In 2010, Wang Jianzhong, Wang can, WANG Jian-chun, Wang Jianchuan won four equity transfer Wanda Cinema, and the transfer of the total price you are one yuan, the reason is that these four people as brothers and Wang Jianlin. The move is also considered, the richest man Wang Jianlin back to their family members.

However, the four who wishes will be realized equity is not achievable in the short term. Wanda Cinema listed before, because there is any relationship with the actual control of Wang Jianlin, Wang Jianzhong, who has promised a "spontaneous issuer pedestrians from the date of the stock market within 36 months, I do not transfer or entrust others to manage my holdings public offering of shares issued before, neither the issuer by the issuer to repurchase own shares held by the public offering of shares issued before. " This means, Wang Jianzhong, who only after January 22, 2018, before they can cash in the secondary market or through block trades.  LINK
Sina Finance is bullish on Wanda in an article that reads like a paid advertorial. A more balanced overview of the IPO and the future plans of Wanda by Win Business Network can be found here.
Wanda has also announced plans to work with Greenview Group to launch community cinemas in South China:
(Win Business Network Shenzhen station reported) recently won the Business Network reporter from Greenview Group was informed just listed Wanda Cinema to build positive brand new theater group to explore cooperation with the Greenview. Sources said Wanda Cinema is planning to build a brand new community theater, with the intention of Greenview's junior ? series of community shopping center for cooperation that the two sides have reached a preliminary agreement on strategic cooperation.

January 23, "home cinema first unit," Wanda Cinema at the first day of the Shenzhen Stock Exchange after landing, Managing Director Shigeru army that had led a delegation to visit Shenzhen Greenview Group nonstop, with the desire Greenview Group Junior ? Mall Series seek strategic cooperation. This action led to the industry's expansion strategy Wanda Cinema attention and speculation.  LINK
Zhuzhou News has some bad news for those that hoping that cinema building outside the major metropolitan areas can continue the breakneck momentum of China's exhibition sector of the past few years.
Urban film market is saturated, to seek new growth, a number of theater companies will invest turning to the county market.

However, the City Film Office data show that: in 2014, the city's theater box office reached 80 million yuan, about 2.8 million people watching the films. Among them, the county seat theater contribute only 6.478 million yuan at the box office, with audiences only 216,900.

Consumer groups, low levels of consumption, the county seat theater was plunged into a loss. Can the consumer market for movies county next "gold mine", demonstration will take time.  LINK
It seems that 10 years is the life span of multiplexes in saturated markets, as was the case of this one in Zhejiang.
How long can open a movie theater? Yesterday afternoon, the reporter standing in Quzhou Kecheng downtown New Bridge Street on the 9th, this collapse of the "Carnival Studios", gave the answer: 10 years.

From 2004 to May 2014, became the first province Carnival Studios collapse multiplex cinema.

It quietly closed, Hangzhou last weekend when a theater veterans inadvertently revealed the news, reporters very surprised. Because, in reality, is the background, in the 2014 Fiesta Studios closed, the national new cinema 1015, an average of about three new theaters open for business every day, only Hangzhou last year added nine theaters. In a large upscale theater that more and more of the moment, with the point of the news means unusual.

Its collapse mean? Insiders answer given is: It is foreseeable that in 2015, the province will be more cases of the emergence of large theater closed down.  LINK
An agreement has been signed to export South Korea's 'cinema train' concept to China. We like the look of it.
According to reports, South Korean entertainment company CINEWOOD 21 Chinese legal person, said the company on the 16th of this month in Beijing and China signed a film distribution company, "China's high-speed rail trains theater export letter of intent." The two sides will formally signed a contract in February, and in May, held a cinema in Beijing test ride the train station.

According to reports, the company also plans to export high-speed rail trains future theater projects to the United States, Britain and other major countries worldwide. Currently, CINEWOOD entertainment joint operations with Korail Korea High Speed Rail (KTX) train theater. LINK
The success of the re-release of "Journey to the West" prompts Tencent Entertainment to ask why more old films aren't being shown in cinemas.
Re-releasing recently little time and again the momentum of three. First, "Westward Journey" came out of and then "Great Master" dressed in a vest playing 3D, followed by "Kung Fu Hustle", dressed in the same vest has come, once again turn to "Love Story" ( Maggie edition Betty Sun version ). Re-releasing so many old movies, a problem with it is that, and why almost all the cinemas, almost all the time, are in the film put it? Rather than "Kung Fu Hustle", not "Great master", not "Sweet" mean?

It does not sound like a problem, it should be put right and proper cinema film thing. But think about it, the bookstore has 2015 book, there are also books written 10 years ago, 100 years ago, and even written a book, video stores, will naturally sell more than a dozen years ago, the album a few years ago, and why cinemas but why did hold, even six months ago the film it? For example, until now if you want to go to the cinema to see films form the "golden age" has been impossible.  LINK
And here is another view that says we shouldn't think that "the grass is always greener" on this issue.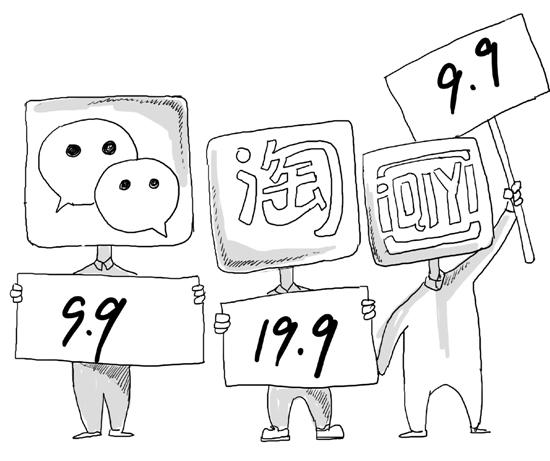 "The Hobbit 3" has done blockbuster business in China, but Modern Express is astounded how many of the cinema patrons only paid 9.9 yuan [USD $1.58] for online tickets through third-party micro-blog services/ticket machines.
Reporters Login certain third-party electronic business platform found that not only the new theater Wuxi peace theater, cinema and other old World Studios, Orange Sky Golden Harvest Studios Wuzhou shop, Coast Studios, as well as some rare buy discount Studios, are involved a 9.9 yuan to see large events.

9.9 yuan to see a large, significantly lower than the cinema and distribution company provides the lowest price, whether the alleged violation? Studios whether they will lose money? "Special price moviegoing Studios generally not carry out their own activities, and basically carried out by a third party, of course, will be a third party to a subsidy. Studios, simply press the lowest fares with a third party to agree on a settlement price, shadow City will not lose money. "During the interview, an industry source told reporters. "Now before the theater ticket office before most people Wuxi fewer touches are placed in the corner of the theater several third party buffet tickets machines often lined up." Insiders say the theater with third-party electronic business platform Cooperation has become the market trend.  LINK
Enorth also takes note of the cinema ticket price war currently being waged in multiplexes:
Entering 2015, the film market has entered the second half of Lunar New Year stalls, "The Hobbit 3", "Night at the Museum 3", "Return to the Age of 20" and other blockbusters have been released. The city's theaters to attract more customers open price war, half of the 80 yuan [USD $12.80] movie ticket will be able to buy, once nearly 200 yuan [USD $32] minimum IMAX movie now less than 30 yuan [USD $4.80].

In addition to film enthusiasts, the low prices to attract people into the theater is an important factor. Yesterday released "The Hobbit: The Battle of the Five Armies", the city has a lot of theater premiere screenings arranged zero. Hexi District, a large theater reporter saw its zero screening attendance over 60% of its fare there is a high discount of nearly half of the amount. Customers, phone APP and other online channels, not only to buy movie tickets and more efficient, but also allow consumers to easily enjoy the benefits of low fares.  LINK
Changzhou Evening News takes a dim view of the implications of super cheap tickets.
Not 39, not 29, as long as 9.9 yuan, the electricity supplier that a subversive, "burn" to the movie ticket sales cycle, throwing money at the open.

Traditional cinema sit still, although there are subsidies, but the audience accustomed to watching a large low-cost fares would like to return to the past will be very difficult.

When the movie encounters electricity supplier, which vertical and horizontal applications regardless of the outcome of the drama, anyway, we enjoyed the process. LINK
THX roped in major HK talent for the launch of the first THX-certified cinema in China.
China's first THX-certified auditorium – International Film Studios in Shanghai, stationed in Shanghai Changtai Square, and yesterday at the opening ceremony. Hong Kong director Stanley Tong and other guests attended the opening ceremony. During the interview, Stanley Tong dark theater insider revealed during screening.

2014 Chinese film box office grew 36.15%, total new theater 1015, the new screen 5397, the average daily increase of 15 screens, the total number of screens across the country has reached 23,600. As a Hong Kong director Stanley Tong, who directed such as "Police Story" and many other action movies, also experienced numerous cases the filmmaking process and the final effect of cinema broadcast a gap, in yesterday's opening ceremony, also to director Stanley Tong We decrypt the theater broadcast secret: "A lot of cinemas in screening time, in order that the speakers can be a bit of longevity, it will open the sound a little low, projector lamps are not bright enough, so you're doing that in an ideal picture of the late cinema is not necessarily able to present, this is our great regret, so I came out before the premiere, I'll go to the tuning room, the speakers open big point, the lights also tune a tune, but so I broadcast over, They flew back again tune "Stanley Tong admitted as director of action films often, sound and the picture is very important feature:"  LINK
It's been a crowded release schedule this past week with cinema owners complaining about too many titles, with only two performing well.
"Faced with the schedule and market pressures, the film side is drunk." A producer on the microblogging expressed frustration that such a situation is not want of any movie, only calm. The two parties have expressed movie suspense own unique type of Lunar New Year stalls are a good supplement. "The way of surprises," Yi Jin Meng producer admits: "A lot of the movie did not do New Year stalls should be done at this stage all the Chinese people want to go home New Year, so the Chinese audience is now in need of such a film, after reading more thought. home reunion. "

Prosperity or chaos? Cinema also wonder

10 film crowded during the week, seven films released the same day, as well as theaters distress. "Cinema is indeed little choice for obstacles, one day after the film's release so many cases are very rare." Stellar Cinemas Chengdu propaganda leader Lee poetic, "said the general theater will follow the investment scale, Xuanfa efforts to influence hall row but now the situation, did not dare to underestimate any one movie theater. " LINK
Which cinema in China tops the box office league? Win Business Network has the answer (and the full list).
Where the theater box office top ten lowest over 28.82 million yuan, respectively, Shenzhen Orange Sky Golden Harvest Studios (Vientiane City), International Film Studios (Happy Coast Branch), Shenzhen Poly International Studios (Poly Culture Square), UA theater (KKmall), Shenzhen Jin Yi Studios (Center City), Shenzhen Bona era Studios (Huaqiang North Mao industry), Shenzhen Broadway Studios (COCOPark), Shenzhen Film Antaeus Studios (SZITIC Square), Shenzhen Wanda Cinema (Haiya shop) and Shenzhen Coast Studios (the coastal city).

Among them, the Orange Sky Golden Harvest Studios in annual total of 82.89 million yuan at the box office, with audiences in more than 1.35 million, ranked the theater box office ranking standings two, Shenzhen theater box office standings Ngau Tau, second only to Beijing JACKIECHAN McIlroy international film city. Worthy of note is that Orange Sky Golden Harvest although the country has dozens of studios, but in the Shenzhen area, with only one theater, located in Shenzhen city of Vientiane Landmark Mall shop, formal operations in 2004, it has been opened for 10 years.  LINK
I can't quite make sense of this cinema-game tie-up between Wanda and My Name MT2.
"My name MT2" with Wanda Cinema who borrowed Who potential?

"My name is MT" animated crowd of huge audiences, covering a wide range of sentence that can by no means be able to summarize its namesake hand travel "My name MT2" long list of rogue behavior is evident enough. Wanda Cinema versa, which can be described as a dominant in many theater chains in the country, which for now has not been able to stand up a chain of studios and their assessed by. But speaking, the joint marketing of these two acts will play a game into an unprecedented peak, but the elderly in television entertainment means the moment, most of the young people gathered Studios as a promotional site, can also be said to be well-intentioned.  LINK
Chinese distributors are starting to experiment with day-and-date releases for cinema and the home. Though so far only for small comedies.
Venture comedy by spring and ??? Cinema co-produced "I want you to blossom," released in theaters on January 23. Movie theaters in the past by different issue, except to go to the cinema ticket to watch the audience, but was released the same day from the home by "sofa cinema" can be synchronized on-demand viewing. Cinema and television way simultaneous release has been practiced overseas, but also the first time in the country. "I want you to blossom" break through the film in a single distribution channel, but also to the domestic film distributors to bring a new revelation.  LINK
Imax/PLF
An overview of the three competing PLF systems in China and how Imax squares up against what is still being called DMAX.
It is understood that China's domestic market IMAX theater can be divided into three camps, the world's most famous giant-screen system First Canadian invention, IMAX, and the other is with a state-owned background in the Chinese market in recent years and is maturing DMAX "Chinese giant screen," there is a class that is in digital cinema technology research-based background Chen Xing digital technology international 2013 launched the first "carry the tripod" Cinelab laser giant screen solutions.

China's domestic market structure IMAX entered a more diversified, no longer by one or two monopolies. And in the case of narrow technical differences, theaters began to advance their own brands. This phenomenon will be digital self-developed laser Chen Xing Technology giant screen (Cinelab) "emerge" as the beginning.  LINK
Health & Safety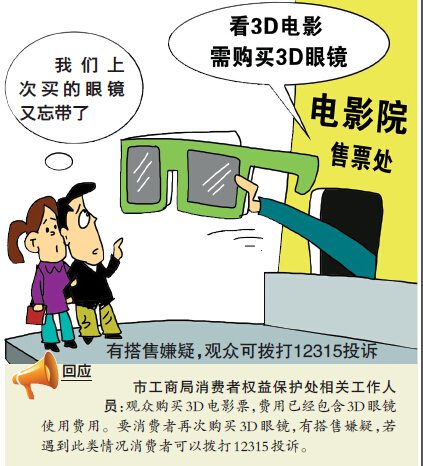 More complaints about cinema patrons being "forced" to buy 3D glasses. And are they properly cleaned? There is no end to how many times the same story pops up.
26 people Xu and friends to a friendly neighborhood theater to watch 3D movie "The Hobbit: The Battle of the Five Armies." Buying movie tickets, only to find the entrance hall there is a shadow notice, theater no longer provide free 3D glasses, consumers need to spend 10 yuan to buy. As it has been bought movie tickets, desperation, Mr. Xu has bought two pairs of 3D glasses.

"The family has a dozen pairs of 3D glasses." Mr. Xu said, after watching the movie in the theater, are to receive a deposit of glasses, and now suddenly does not provide, can only buy it again. Mr. Xu said that the movie was not planned in advance, but to go out shopping to find a good movie theater will be, "Do you really have to put 3D glasses daily bag hides it?"  LINK
More debating about cinema patrons right (under consumer protection law) to bring in their own food and drink. Now cinemas are worried about "food poisoning" from other foods brought in.
According to Ms. Fang said in the afternoon that carries shop to buy a drink glass beverage arrived at the age of seven road movie big shadow world view, in the admission ticket, the staff asked her to drink storage, can not be brought.

Its staff, said the theater audience comes beverages and food declined viewing, to avoid food poisoning and let the theater audience to take responsibility.

Miss Fang questioned theater in order to raise the sales of proprietary merchandise taken this approach, is terms of Overlord. "Cinema selling drinks expensive, nor I like to drink," Miss Fang told reporters.  LINK
A two-year court case by a cinema patron who fell and injured himself in a dark theme park "Window on the World – USA" cinema attraction has ended with a USD $40,000 settlement.
 Mr. Yang, a communications company to a window on the world to play, entered the truss-Dome Theater. At this point, the movie has started playing, the audience has risen arms cockpit air, cockpit arm trenches exposed. Dark, Yang fell into the tunnel, and it broke eight disabled. To this end, Mr. Yang and Window Co., Ltd. for a dispute nearly two years of litigation. Recently, the Shenzhen Intermediate People's Court made a final decision, Window eighty percent bear responsibility, compensation 248,000 yuan.  LINK
Cinema Opening/Closings
Hong Kong actor/director Stephen Chow is venturing into the Mainland exhibition business with his Bingo Cinema brand, with ambitious plans in second and third-tier cities and an aim of 36 theatres with 260 screens over the next few years.
Stephen Chow's movie brand " High and Theater "will be stationed in Anhui! According to news reports, January 19, Nanxiang culture Suzhou and Shanghai Commercial Operations Management Ltd. Long Shadow Investment Advisory Services Ltd. in Suzhou formally signed a cooperation agreement, declared that "High and Cinema" officially settled in Suzhou Nanxiang gathered Cultural and Commercial Street.

Reporters learned that the signing of the ratio theater, planning area of ??4250?, total construction nine viewing rooms, including an IMAX hall, four large viewing room and four multi-media viewing room. Among them, the giant screen will show hall stunning 3D visual effects, and multimedia viewing hall can not only viewing, but can live, the song Friends of gathering, organizing LOL and other functions, to Suzhou people bring different viewing, entertainment experience.  LINK
China Pacific International Cinema Village has opened a new cinema in Shenzhen with both Imax and Dolby Atmos – but not in the same auditorium.
Recently, the China Pacific Cineplex IMAX bow village store opened in Shenzhen, Studios located in Longhua District, with nine video hall, nearly 1400 seats, Shenzhen China's first IMAX hall equipped with dual, dual Dolby Atmos Studios, is also the first with a laser auditorium Longhua Studios.

Reporters saw at the cinema, in addition to the world's top professional projection equipment, bow village shop cordial to the IMAX theater specialty coffees gallery, where visitors can order a cup of gourmet coffee, enjoying leisure time; you can visit each age Projectors , listing the film shows the evolution of the times; you can watch the stars Shoumo, an extra layer in contact with the idol.  LINK
Another romantic cinema wedding proposal. We couldn't resist.
For each girl, and my heart there is a prince and princess dream. And a romantic courtship ritual, it is the most important part of the dream. The day before yesterday evening at eight, in Fuzhou Cangshan Wanda Plaza cinema in the VIP box, a touching courtship ritual staged on time, in the blessing of friends sound, Kobayashi shy girl wearing a boyfriend Chen presented a diamond ring and become a happy fairy tale where the heroine.

Two weeks ago, Chen advance communication and theater, including 24 under the theater's VIP theater.

In order to give his girlfriend a surprise, Chen also told friends and relatives attended the ceremony, must not Leak. At 20:00 on the 24th, the theater box in advance turned off the light, just sitting on the seat waiting for his girlfriend Kobayashi at the beginning of the movie, suddenly, ears heard her favorite star combination of S · H · E's song "I love you" . Accompanied by music, photos Kobayashi also began to roll on the movie screen. When the word "marryme" appear on the movie screen, live relatives and friends broke out into applause.  LINK

Latest posts by Patrick von Sychowski
(see all)