The acquisition of dcinex by Ymagis has finally been approved by shareholders. This is the single largest and most important digital cinema consolidation in Europe as dcinex/Ymagis is without a pan-European competitor of similar size, facing instead competition on the national levels. From the translated French-only press release.
"We are convinced that the combination between dcinex Ymagis and will in the short term, create synergies creating value for all shareholders Ymagis" says Bart Diels, outgoing Chairman of the Board of Directors and Partner of dcinex GIMV (1).

Creation of the European leader in digital technology for the film industry

With the acquisition of dcinex, Ymagis performs an operation that will create a European leader in the provision of financial services and technology to the film industry.

Following this acquisition, Ymagis becomes:

The financier No. 1 Park cinemas in Europe deployed VPF contract with nearly 5800 auditoriums in 14 European countries;

The European leader in the sale and installation of cinema equipment operators with a share estimated at 20% of the European market;

Operator No. 1 st European network routing dematerialized content, with more than 3200 theaters in 15 countries connected in Europe;

Technical partner No. 1 Park cinemas in Europe as outsourcing and maintenance contract with nearly 7200 screens (about 36 000) under contract in 21 countries.  LINK
Dolby – Quarterly earnings from Dolby show revenue at USD $227 million, which was slightly above their own projections and full year-on-year revenue is up 6%.  Licensing revenue outweighs product and services revenue by more than 11:1 (USD $208.9 million to $18.1 million), so don't be surprised that Atmos was not the first thing discussed in the earnings conference call (transcript courtesy of SeekingAlpha). They do say that "The amount of revenue we get from the Doremi acquisition in Q1 will depend on the actual timing of the close," which is still pending approval in Brussels.
Turning to cinema. We've seen tremendous growth with Dolby Atmos, increasing our screens by 150% this year to over 750 screens committed globally. Providing content to these screens is a key focus, and we now have more than 200 titles released or announced in Dolby Atmos; which includes content from all of the major studios. 14 of the 15 highest grossing titles in 2014 were in Dolby Atmos and we have a strong slate for the rest of the year, including The Hunger Games: Mockingjay and The Hobbit: The Battle of the Five Armies.  LINK
Event Cinema
UK – Former music producer and leader of the Christian Party Rev George Hargreaves wants to bring a new form of alternative content into cinemas – 100 pastors appearing live and in person.
He began distributing Christian films last year, with one, God's Not Dead, reaching the top 20 in April.

Now he wants pastors to speak and pray after screenings in December of Ragamuffin, about a Christian musician.

He has negotiated with chains like Cineworld and Odeon for the pastors to address audiences after the movie which tells the story of Rich Mullins, who struggled with addiction and depression.  LINK
USA (VA) – This independent cinema in Virginia sees non-film programming as the key to financial viability.
"We are Roanoke's oldest independent non-profit movie house," noted Fortier, who adds that being "shackled to Hollywood" also means sending back a large portion of any movie ticket sales to the production companies. Independent movie houses that are successful around the country are so "generally because they have a largely diversified income revenue stream. They're not just showing movies. They're also incorporating live local events."

That could mean staged plays, standup comedians, or maximizing "dark space," said Fortier, with private parties, business meetings and presentations. Education matinees that can attract as many as 200 8th graders coming to watch movies like 'To Kill A Mockingbird' because they are all reading it in school, is another option according to Fortier. Those types of events can help sustain the Grandin Theatre Foundation, leaving it less susceptible to the vagaries of Hollywood – and competition from the newer multiplex theaters nearby. LINK
UK – The one-day conference on 27 November by the UK's Cinema Exhibitors' Association is a sell-out, and that's official.
The CEA conference on digital cinema – 'Cinema of the Future: innovation driving the audience experience – has sold out, with places now only being accepted for a reserve list.

Such has been the interest in the event, which will take place on 27 November at the Cineworld at the O2 in Greenwich, that all 300 places have now been snapped up with more than a month to go.

The conference, which will consider the benefits experienced by a now fully-digital sector as well as challenges that lie ahead, was organised in response to perceived demand both from members and from colleagues across, the industry. That decision has been more than vindicated by the speed with which places have been taken.  LINK
Health & Safety
WSVN-TV – 7NEWS Miami Ft. Lauderdale News, Weather, Deco
USA (FL) – Bed bug attacks in a Regal cinema in Florida – allegedly. Not sure why the article insists on calling it a "Hollywood cinema". Top reader comment is: "Disgusting. I will make it a Netflix night."
A South Florida mother and daughter got more than they paid for after getting bed bugs from a Hollywood movie theater. The bites were so intense, the mother had to go to the ER for treatment.

Sheyla Santillane and her 4-year-old daughter, Mikaela, went to watch a movie with friends and family members at the Regal Cinemas Oakwood Stadium 18 Movie Theater at 2800 Oakwood Boulevard on Sept. 19 when they were assaulted by the bed critters. "They feel like itching me, and I was itchy and then here was itching me, and I was trying to [scratch] it, and I said, 'Mommy, Mommy, Mommy, it's hurting me,'" said Mikaela.  LINK
Law & Order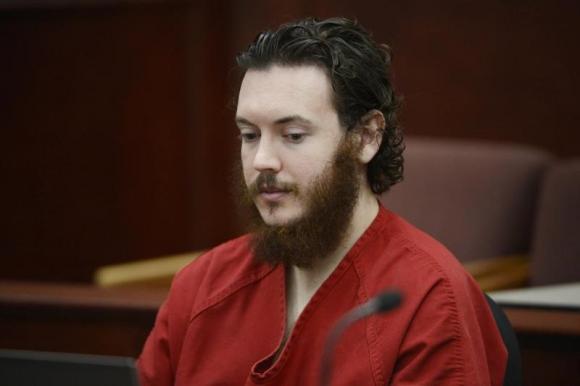 USA (CO) – The trial of the alleged Aurora multiplex mass killer has been pushed back.
Prosecutors in the Colorado theater massacre case do not oppose a defense request to delay the murder trial of accused gunman James Holmes until early next year, court papers showed on Thursday.

A ruling by the judge on whether to postpone the trial is pending.

Earlier this week, public defenders asked Arapahoe County District Court Judge Carlos Samour to postpone the trial, which is set to begin in December, because they needed more time to review results of a second sanity examination.  LINK
India – Never under-estimate the passion of South Indian movie fans. Sad event.
A sudden rush of fans at a screening of actor Vijay's latest movie, Kaththi, at a small cinema hall on Periyapalayam Main Road in Thiruninravur on Deepavali day proved fatal for the hall owner. The 74-year-old died after he was pushed down in the melee.

The incident took place around 12.40 p.m. on Wednesday at Sri Lakshmi Theatre. Fans who had failed to get tickets at halls in the city made a beeline for theatres in suburban areas. Around noon, over 100 fans arrived at the hall on Periyapalayam Main Road, which had advertised the opening of the Vijay-starrer on its single screen, for the afternoon show.  LINK
Technology

Russia – dcinex and Unique Digital will be equipping Russian cinema chain Karo.
Karo cinema chain has selected RosettaBridge™ TMS developed by Unique Digital Ltd as an integral part of their digital cinema deployment in Russia, supplied and installed by dcinex Russia. Karo are the leading cinema chain in Russia with 30 cinemas and 221 screens and will complete the TMS deployment during Q4 2014. In addition Karo are taking Unique's estate management solution RosettaNet™ as well as Basekey™ KDM delivery service.

RosettaBridge is a full featured theatre management system providing Karo cinema management and staff with an unrivalled suite of tools to manage film, advertising and trailer content within each site through an intuitive and easy to use interface. Key features include a scalable library server, agnostic player and projector remote control, automation control and content distribution with all elements being managed using a simple drag and drop browser based GUI.  LINK
Audio
Alcons – Alcons has launched its CRS12GT speakers for immersive audio installations in cinemas, already installed all over Europe. We would post you a link to the press release, only the press release section on the Alcons website is password protected! Because why make life easy for those trying to find your press releases when you can treat them like state secrets? Du-oh!
The CRS12GT is a 2-way passive-filtered loudspeaker, designed to meet all requirements of current and future Digital Cinema immersive surround sound formats.

Featuring Alcons' proprietary multiple-patented pro-ribbon driver technology, the CRS12GT combines an exceptional clarity and intelligibility with an unusually high dynamic range and up to 90% less distortion than traditional cinema surround systems. It is the ideal loudspeaker technology for complex sound sources as speech, music and effects and offers the most realistic immersive surround sound reproduction possible.  NO LINK
Cinema Opening/Closings
USA (IL) – Carmike Cinemas is expanding in Peru – that's Peru, Illinois (USA).
Proposed plans for a new $10 million multiplex theater in Peru were announced during Monday night's council meeting by City Attorney Doug Schweickert.

Schweickert explained that Carmike Cinemas, based out of Columbus, Ga., intends to move from the Peru Mall into a 10-screen theater (complete with reclining seats) north of Hy-Vee next year to replace its current operations.

He said city officials have been contacted by an unnamed developer interested in building the new complex and leasing it back to Carmike.  LINK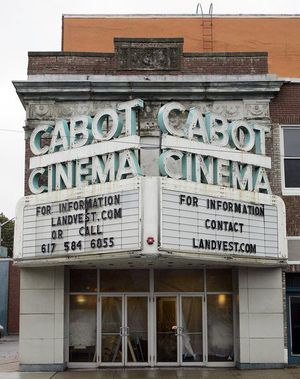 USA (MA) – No word on whether this cinema near Salem, MA, will re-open for movies. Let's hope so.
Cabot Cinema, a historic and highly visible landmark at 286 Cabot St. in downtown Beverly, has been sold for $1.2 million.

The property was sold by White Horse Productions, owned by David Bull, to a limited liability company named Cabot Street Theatre LLC on Oct. 16, according to Registry of Deeds documents.

This week, about a half-dozen people were seen bringing things in and out of the theater and doing work on the building's interior.  LINK
Poland – Great news – Lodz's fabled cinema Polonia will re-open. In the home town of the film school that gave the world directors such as Polanski, Kieslowski, Falk and Wajda (not to mention DoP's like Pawel Edelman, Slawomir Idziak, Andrzej Bartkowiak and Hoyte van Hoytema) it was the premiere cinema.
The surprising news of the relaunch of the cinema "Polonia" he announced two weeks before the start of the 19th Forum of European Cinema "Cinergi", Slawomir Fija?kowski, head of cinema "Charlie", the organizer and founder of the Association of FKE Lodz Film. Cinema "Polonia" was for years one of the film Lodz cards.

After two years of closure, "Polonia" would open on October 31, serving as the center of the festival "Cinergii". The cinema will be presented documentary films created in the years before the famous Educational Film Studio, this year celebrating the 65th anniversary.

The location at the Avenue of Stars, vis a vis the Grand Hotel with a great film tradition, are some of the advantages of "Polonia". This place deserves a new chance.  LINK
USA (WA) – There is something of a church theme in today's Digest.
After learning a large church might be interested in the former Galaxy Narrows Theater on the eastern border of University Place, the City Council voted 5 to 2 Monday night to approve a moratorium preventing large religious groups from locating in commercial zones.

The six-month emergency moratorium gives the council time to decide whether to let religious assemblies with at least 250 people per service use building space intended for a revenue-generating business.

"We have very limited commercial space," University Place City Attorney Steve Victor explained in an interview Monday.  LINK
UK – Encouraging news from Hull about preserving the wreck of the cinema that is the oldest civilian building still standing from The Blitz.
Efforts to save a cinema which was bombed during World War Two have taken a step forward after councillors agreed in principle to buy the site under a compulsory purchase order.

Campaigners want to restore Hull's National Picture Theatre in memory of the civilians killed in the Blitz.  LINK
Italy – Student activist continue fighting to save the Cinema America – and have received support from the country's cinema-loving president Giorgio Napolitano. Whilst they have been evicted from the cinema itself, they have occupied the next-door bakery: Little Cinema America.
"What can we say, we are nostalgic for the old America, but we are also very happy to have managed to create a new mini-cinema, at a time when cultural offers in Rome are equal to zero," activists wrote on Facebook ahead of its opening, last weekend.

They noted that 42 cinemas had closed in downtown Rome in recent years -a trend accelerated by the growing popularity of web-streamed content. The Eternal City is also suffering from a budget crisis that has forced the City Hall to cut funding for cultural programmes.  LINK
Finally
[youtube]http://youtu.be/kV5dMQ-432M[/youtube]
There is a happy ending for one of the victims of the Aurora shooting and we felt it only right to share it with you in the same post as news of the postponement of the trial of the accused.
One of the victims of the Aurora, Colorado Batman shootings in 2012 got the shock of her life this year when her boyfriend used a movie trailer to kick off an elaborate marriage proposal.And now Wildflower, a short film about their love story and how he won her heart after she almost lost her life, charming thousands around the world who have seen it.Following their May 24 wedding, Bonnie Kate Zoghbi, 21, based in Baton Rouge, Louisiana, with her now-husband Max Zoghbi, 26, speaks to MailOnline in an exclusive interview about their incredible journey. LINK

Latest posts by Patrick von Sychowski
(see all)