Please note that there will be no Daily Cinema Digest next week during CinemaCon Cinema is enjoying a cautious renaissance in Pakistan, according to this long and detailed article in the WSJ. Squeezed as it is between the popularity of Bollywood from neighbouring India, which overshadows local film productions, and the threat from the Taliban, who would like to see all cinema closed, there is renewed investment and faith in the local cinema and multiplex scene.
 "We wanted to have something of international standard," said Tariq Baig, executive director of the $100 million multiplex that opened in August, replete with a Canadian sound system, Danish carpeting, and chairs and screens imported from the U.K. "We didn't go for anything local." Nue is part of a wave of Western-style cinemas that are opening across Pakistan, aiming to serve the entertainment-starved middle classes in a country where movie houses were traditionally dilapidated, seedy, and shunned by families.
It has been a long time coming and growth is still slow.
There are just 104 movie screens in all of Pakistan, a country of 180 million people. Still, that is a jump from 20 screens in 2005, according to various distributors and cinema owners. There are another 100 screens under construction, they say. Pakistan's cinema renaissance began in 2006, when the then military dictator, Pervez Musharraf, loosened a law dating back to the 1965 war between India and Pakistan that banned the import of Bollywood films. Though imports of Indian movies are still restricted, Mr. Musharraf's ruling allowed them to be granted a "No Objection Certificate" by the government in special cases. The ordinance also created a loophole in the law that allowed Indian films to be imported via another country.
We hope they succeed, because currently the pirates are taking most of the business, while giving nothing back to the industry. CinemaCon Doremi: Doremi has secured 500+ screens in Latin America with Bardan Cinema and appointed Full Dimensional Entertainment as its service centre, indicating that the race to convert Latin America will be a major topic at CinemaCon and the last great digital land grab.
Doremi, the world leader in digital cinema technology, has finalized a new long-term agreement with Bardan Cinema that will expand its reach and customer support responsiveness to burgeoning markets in Central and South America; and secures 585 exhibitor screens to be converted using Doremi's IMS1000 and ShowVault/IMB technology. Already well entrenched in the region, this multi-level partnership will further solidify Doremi's strong positioning and influence within the territory.  LINK Full Dimensional Entertainment, based in Buenos Aires, Argentina, is a multi-faceted company that provides production, post-production and exhibition equipment and services for cinema and broadcast. FDE's technical service staff has already completed training at Doremi's headquarters in Burbank, California, and have parts and spares on hand in the region to support Doremi's expansive and ever growing customer base.  LINK
Christie: Is this Christie's riposte to the 'magic' of CinemaBarco's total solution? 'Christie Delivers the Complete Cinema Experience with Projection, Audio, Lobby Displays and Service Solutions for All Customer Needs'
Christie Innovation Theater Debuts World's First '6-Primary' 4K Laser Projector, Showing Hollywood Clips at 14 Foot Lamberts Christie®, the world leader in creating and sharing the world's best visual and audio experiences, will showcase a wide range of innovative cinema projection, management and audio solutions, backed by its remote monitoring and support services, at Caesars Palace in Las Vegas, March 24 – 28 at Booth #2103A. As well, Jack Kline, Chairman and CEO of all of Christie's operating companies will receive the 2014 Ken Mason Inter-Society Award from the Inter-Society for the Enhancement of Cinema Presentation, Inc., at the Inside the Cinema breakfast awards' ceremony on March 25, in recognition of his outstanding long-term contributions to improving the motion picture experience.  LINK
Barco: The Belgians fire back that their projectors are more powerful than ever: 'Barco Delivers 4K 3D and 4K at 60 FPS for its Entire Lineup of 4K Xenon and Laser Cinema Projectors'
By fusing media server functionalities with the projector's cinema processing electronics, Barco is once again delivering future-proof modularity at unparalleled levels while offering a low total cost of ownership. The powerful 4K Barco Alchemy projectors are the first to show 4K movies at 60 frames per second and 4K 3D content on a single projector. Thanks to the projectors' modularity, customers who already own a Barco Series 2 projector can easily upgrade it to benefit from the revolutionary Barco Alchemy technology. To offer exhibitors the widest choice, Barco will continue to support the integration of GDC and Doremi media servers into its projectors as well. All Barco 4K projectors will be capable of 4K 3D and 4K at 60 fps when the Barco Alchemy technology is added. The current Barco S-, C- and B-series with integrated Barco Alchemy technology will be readily available as of Q2 2014.  LINK
NAB: CinemaCon is next week, so NAB has decided to steal some of its thunder by announcing the 2014 NAB Show's Technology Summit on Cinema: The Future of Motion Imaging and Sound (TSC).
Chris Cookson, who has served in senior technology executive roles at Sony Pictures and Warner Bros. and is widely considered a technical visionary in the industry, will take a look ahead with his TSC keynote, "Cinema: Act 2, The Future." This conversation will continue through a subsequent roundtable discussion moderated by Michael Karagosian and will include Matt Cowan, chief engineer, Entertainment Technology Consultants; Rob Hummel, president, Group 47; and Howard Lukk, vice president of production technology at The Walt Disney Studios. "From Camera to Consumer — the New Post Production" will look at both a movie and a TV workflow to understand the impact of the new world of postproduction. Panelists will include Michael Cioni, CEO at Light Iron; Phil Squyres, senior vice president of technical operations at Sony Pictures Television; and Leon Silverman, general manager, Digital Studio, at The Walt Disney Studios.  LINK
Crowdfunding/Community Fundraising
USA (NY): Having raised USD $50,000 for digital equipment, this Brooklyn cinema is once again turning to IndiGoGo.com for a new screen.
The United Palace already brought back movies to Washington Heights, but now the venue's management is looking to enhance the experience by replacing its tattered movie screen. Mike Fitelson, the executive director of the United Palace of Cultural Arts, said the screen was marred by scratches and holes, and areas where the silver has been degraded. "Once we cleaned the screen, we realized it was beyond repair," said Fitelson. "We're hoping to turn this into the movie palace that New York City deserves."  LINK
Event Cinema USA: The new season of HBO's Game of Throne gets an early cinema outing. Unlike the Dr Who: Day of the Doctors this was restricted to one cinema in New York, having previously also screened in author George RR Martin's home town of Santa Fe.
Spring may finally be in the air, but the "Game of Thrones" fans who descended on New York's Barclays Center on Thursday evening know different: winter is coming. The fourth season of HBO's increasingly popular medieval fantasy-drama will premiere on April 6, but 7,000 people who bought tickets to the Brooklyn event were treated to an advance screening of the season's first episode, along with a brief panel discussion with several cast members and author George R.R. Martin, whose books form the basis for the television show.  LINK
Business Ireland: The legal challenge against selling the loans related to Empire cinemas has been settled:
A legal challenge to moves by the liquidators of IBRC to sell a major cinema group's €81m loans to Nama has been settled, the High Court has heard. Cinema Holdings Ltd and Cinema Holdings Two Ltd, subsidiaries of the Isle of Man-registered Empire Cinema Group, in January sought orders blocking the sale of the loans.  LINK
USA: Digital Cinema Destinations gets coverage from a new analyst. Their current recommendation is "Buy".
Investment analysts at Benchmark Co. initiated coverage on shares of Digital Cinema Destinations Corp (NASDAQ:DCIN) in a note issued to investors on Friday, AnalystRatings.Net reports. The firm set a "buy" rating on the stock. Shares of Digital Cinema Destinations Corp (NASDAQ:DCIN) opened at 5.50 on Friday. Digital Cinema Destinations Corp has a 1-year low of $4.01 and a 1-year high of $6.78. The stock has a 50-day moving average of $5.62 and a 200-day moving average of $5.55. The company's market cap is $43.6 million.  LINK
Drive-in Cinema
UK: Liverpool is set to get a drive-in with one of the biggest outdoor screens in the UK in a former dockyard. Will they be showing Grease, I wonder.
Liverpool will be home to one of the UK's biggest drive-in cinemas when it opens next month. Route 66 – which already operates a successful drive-in cinema in Manchester – announced it would be opening an even bigger outdoor cinema on the waterfront on April 4. It will be on a vacant site opposite the Costco store in Waterloo Road and will have a capacity of around 200 people.  LINK
Accessibility Baby screenings: Two days ago we reported that it was not OK to bring to bring toddlers to a screening of Dallas Buyers' Club at the Berkhamsted's The Rex in the UK. Today we read that apparently nudity is more OK in the US for the little ones (who are admittedly exposed to naked female flesh whenever it is feeding time).
New Yorkers with babies who want to see Lars von Trier's controversial sex drama "Nymphomaniac: Vol. 1" are welcome at Landmark Theatres, the exhibition chain has announced. The Landmark has a popular "Rattle & Reel" series that encourages caregivers to bring their babies to the movies free of charge. It's a nice idea in theory, but on March 26, Landmark Theatres' flagship Manhattan theater, the Sunshine Cinema, will be screening "Nymphomaniac: Vol. 1," which is hardly appropriate for young children.  LINK
Concessions China: Popcorn are profitable business for Wanda, the world's largest cinema operator.
According to figures published on the website of Wanda Cinema Line Corp., it sold 390 million yuan's (63 million U.S. dollars) worth of popcorn last year. It has constituted 72 percent of its concession product sales, or 9.5 percent of its total 4.1 billion yuan taken in revenues in the 12 months.  LINK
Cinema Opening/Closings
UK: The future of a small cinema in Falmouth is in doubt if nearby plans for a multiplex go ahead. Sadly not a new story.
FALMOUTH'S Phoenix Cinema could be "severely damaged" if proposals for a new multiplex at Pool become a reality. Town councillors have pledged their support for the multi-screen cinema in Berkeley Vale after hearing from Geoff Greaves, owner of Merlin Cinemas, who fears for the future of his business should the Pool development go ahead.  LINK
UK: Plans have been re-submitted for the Regent cinema in Kent on Deal's Beach Street.
The district council has confirmed it received the amended proposal, dated February 20. Steve Ellis, architect at Ellis Designs, who has designed the plans, said: "The plans are exactly the same as originally submitted. The council just asked for a few minor amendments, which I believe is the standard planning process.  LINK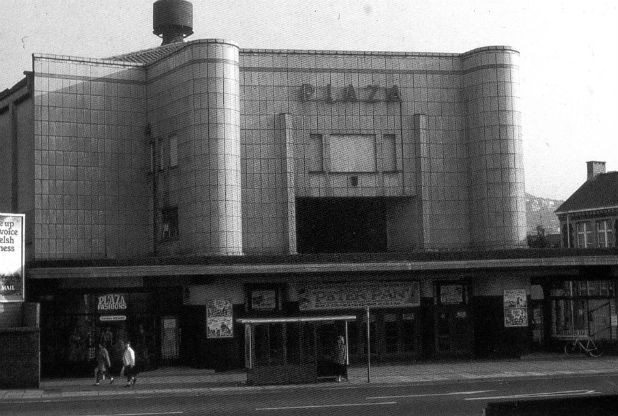 UK (Wales): Hopes have been raised for the re-opening of a lovely art-deco cinema in Wales that Sir Anthony Hopkins attended in his youth.
The cinema closed in 1999 and the sale of the building was finally settled in August 2002. In 2004 new owner, Ireland-based Maloney Properties, proposed to convert it into apartments, but their plans never materialised. In 2011 Neath Port Talbot Council confirmed that it had bought the building and council bosses said they wished to see the cinema return to productive use.  LINK
Digital Deatwatch
UK: The  single-screen cinema in the Kent town of Dover is like to close without digital equipment.
Dover's Silver Screen Cinema could be under threat of closure if it doesn't upgrade its system to show new movie releases. The single screen complex currently shows movies via a 35mm motion picture film, which as of this month is being made universally redundant. Mainstream movie distributors have announced that all films will now need to be shown via digital cinema packages, which means that the cinema will not be able to comply.  LINK
Finally We love the Brooklyn cinema mentioned above in the crowdfunding initiative for a new screen above so much that we wanted to let you see its gorgeous exterior too. Feast your eyes below. REMINDER: Celluloid Junkie's Daily Cinema Digest will take a break during CinemaCon next week.

Latest posts by Patrick von Sychowski
(see all)