Audio: Immersive audio is set to be a big topic at the upcoming CinemaCon, with Dolby and Barco both pushing their Atmos and Auro solutions. But meanwhile there is on going discussion and work towards open standards. A very comprehensive document that charts these efforts have been published in the motion Picture Editors' Guild website. Titled "Towards a SMPTE Standard – MDA Cinema Proponents Demo Open-Standard Surround-Sound Format" by Mel Lambert is well worth reading by anyone who wants to understand where this issue stands and is headed, as well as the MDA tests at the AMC Burbank.
To date, the MDA Cinema Proponents Group has held two demonstrations of its proposed format for working group members and other industry professionals at the AMC 16-theatre complex in Burbank. Theatre 8 has been outfitted by QSC Audio Products with a total of 54 behind-the-screen, surround and ceiling loudspeakers, plus subwoofers to create an audio test bed for replaying various surround-sound configurations. All signal processing, including EQ, time alignment and crossovers, is handled by a QSC Q-Sys Core 500i processor; replay is from a Doremi cinema server. Playback material for the special demonstrations comprised a short video produced by DTS, entitled The Escape, accompanied by replay of a single MDA object-based soundtrack that was rendered in real-time through the Q-Sys processor to produce outputs appropriate to targeted loudspeaker channels.
Be sure to then read "MDA Immersive Audio Demo'd, and Openly (Patently?) More" by ever-knowledgeable CJ Flynn about what exactly 'open'  means and entails.
Event Cinema
South Africa:  Ster-Kinekor will be screening extreme fighting matches in its cinemas this March
EFC AFRICA 28, taking place on Thursday, 27 March, will be screened at select Ster-Kinekor cinemas around the country for the first time, with an eruption of high-definition (HD), larger-than-life MMA action on the big screen.

In a partnership that has been in development for months, EFC AFRICA and Ster-Kinekor announced on Wednesday, 12 March that fight fans throughout South Africa will be able to watch all 13 bouts from every upcoming EFC AFRICA event, live.  LIVE
USA (CA): The Met Opera is not the only event cinema opera company in the US.
And, of opera moving into movie theaters: A series of high-definition films of three recent San Francisco Opera productions at the Sundance Kabuki Cinemas, which began with Tosca on March 3, will continue with Porgy & Bess on April 21, and Don Giovanni on May 26.

At $12, tickets are about half of the Met HD prices. These screenings mark the return of SFO presentations to the Kabuki, as part of the company's Grand Opera Cinema Series, also shown in arts centers, independent film theaters, universities and other venues in the Western region of the country and around the world.  LINK
Cine Dining
UK: Upmarket cinema is in vogue, including this pop-up venture in the UK.
Forget your local Odeon, Second Chance Cinema is a stylish cinema experience, held at luxurious locations, dishing up gourmet cinema food.

Taking place at Bethnal Green's Old Town Hall Hotel, Second Chance Cinema will be screening some Academy Award winning blockbusters this week, with a lineup kicking off this Wednesday…

With Cinema Taster boxes on offer designed by award winner chefs of the hotel, you can wave goodbye to pick 'n' mix and say hello to luxury chocolate cigarettes and indulgent posh popcorn served by Second Chance Cinema's 1950s usherette.  LINK
Business
Australia: Release windows are set to shorten in Australia, at least for some films.
The traditional 120-day holdback between theatrical and home entertainment release looks like being shortened for a limited number of films.

Distributors have long campaigned for more flexible release windows to try to combat piracy and so they can more quickly recoup ever-increasing launch costs from Video-on-Demand revenues, DVD and Blu-ray sales and online services.

The major exhibitors resisted those overtures, fearing that shortening the gap would erode box-office returns.  LINK
Misc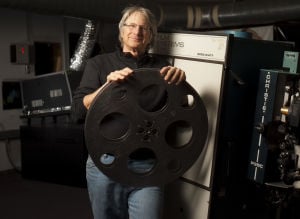 USA (WO): An interview with the owner and operator of the three cinemas in Jackson Hole, home of the famous wildlife documentary film festival.
Frank Londe is converting all three of his movie theaters to digital projectors and doing away with older, 35mm film-based systems in place since the early 1990s. "This stuff is fun," Londe said, refering to film systems like the P35C Christie projector, recently pulled from the Movie Works Cinema and replaced with a NEC made 3D projector. "I'm going to miss it," he said. Aside from improvements to overall quality, color, sharpness and frame rate, the new digital equipment would allow him to control the theater from his iPhone, if he had one.  LINK
UAE: An overview of the non-multiplex art-house options in Dubai from the local Time Out.
Cinema is big in Dubai – just take a look at the queues outside any one of the city's numerous movie theatres and you'll get the picture. But it tends to be Hollywood (and Bollywood) blockbusters that attract the most attention. However, there is a healthy and growing number of local and regional filmmakers whose works, more akin to art house cinema, deserve just as much of the limelight.  LINK
UK: A cinema in South Wales that has been standing empty since 1999 is to get a face-lift, while its fate as a future arts centre (cost: GBP £5 million) is still in the balance:
A DERELICT and rundown — but much loved — Port Talbot building is to get an arty makeover.

A mysterious sign saying 'Soon' has appeared on Port Talbot's Plaza Cinema.

The painting has intrigued residents, along with long white blank boards which have appeared on the town centre eyesore.  LINK
UK: Fascinating story of transmutation of an old cinema to bingo hall, to restaurant, back to cinema and closed again.
Designed by architect FC Mitchell for the AE Abrahams chain, it was taken over by the Oscar Deutsch chain of Odeon Theatres Ltd and opened as the Odeon on January 4, 1937.
Seating was provided with 1,077 in the stalls and 516 in the circle.

The business was eventually sold to Classic Cinemas in December 1967 and the venue re-named Vogue Cinema before closing the following year and converting into a bingo club.  LINK
Cinema Opening/Closings
UK: Harrogate is set to get a four-screen art-house cinema under a new proposal.
Plans for a new leisure destination for Harrogate which could create up to 250 jobs will go on display at a public exhibition later this month. The £10m scheme, including a four-screen art-house cinema and a range of quality restaurants, is being proposed by Harrogate-based urban regeneration specialists 4Urban, which is preparing a planning application for submission to Harrogate Borough Council.  LINK
UK: Uncertainty about the future of one of Bristol's most iconic cinemas.
There is confusion over the future of the Whiteladies Picture House, after a new campaign is launched to raise money to reopen the building as a community venue only weeks after Everyman signed a contract to buy the much-loved former ABC and reopen it as a cinema.

New plans for the reopening were revealed for the first time at Be.In Bristol and will be on display in the bar over the weekend.  LINK
UK:  Stoke-on-Trent is set to get a major new multiplex following the awarding of a GBP £12.5 million contract for a shopping complex extension.
The 58,000 sq ft extension will house a £20m cinema and leisure complex.

Construction is scheduled for completion by spring 2015, which will be followed by additional refurbishment and fit-out works ahead of scheduled opening in the summer.  LINK
USA (NY): Re-vamp for a cinema in central New York state.
The Fingerlakes Mall in Aurelius today announced it signed a 10-year lease with Track Cinema.

The Fingerlakes Mall describes Track Cinema as a "locally owned company."

Track Cinema is renovating the existing 11,000-square-foot movie theatre into a four-screen complex with an "enhanced" sound system and an all-digital presentation, Fingerlakes Mall said in a news release.  LINK
Law
USA: The shooter in the Columbia multiplex mass-shooting will get another stab at the insanity defence.
A judge overseeing the Colorado movie theater massacre case appointed an evaluator on Tuesday to conduct a second sanity examination of accused gunman James Holmes after earlier ruling a first evaluation to be "incomplete and inadequate."

Arapahoe County District Court Judge Carlos Samour, in a written ruling, approved the selection by the state mental hospital of the new examiner, whose name was redacted in the order.  LINK
Finally
Britain's not-at-all-over-exposed film critic Mark Kermode gives his views on the future of cinema in an interview with Empire Magazine, including whether it is under threat from Netflix et al.
People say, "Oh, you're such a fascist about the behaviour in cinema." No I'm not! It's just I'm in the cinema, and being in the cinema and the auditorium and the projected experience is not enhanced by someone ordering a minicab behind me. I was in a preview screening recently and someone answered their phone. I mean, the phone didn't just ring, they answered it! And you just felt like going, "Ok, we've gone through the looking glass right now." He literally went, "Yeah, I'm in a preview. Yeah, no, I dunno, err, I dunno. About 40, 45." And he kind of looked round to people, and I thought, "What planet are you on?"

So some people say if you simultaneously release things, cinemas would suffer. They would. The cinemas that would suffer are the multiplexes that are offering an experience that is so minimal that you might as well stay at home and watch it on your mobile phone. All the things like the independent cinemas that I love – like the Phoenix in East Finchley or the Plaza in Truro – people go to those because they want to see them in an auditorium, and they want to see them with other people who want to see them in an auditorium. Give people the choice. In the end, cinema won't be the only way of seeing it, but as long as I have the option to see it there then that's great. I know David Lynch, for example, said that if you watch Eraserhead on your mobile phone, you haven't seen Eraserhead. And I kind of agree with that, but on the other hand, I'm not going to dictate how people consume it. It's fine, it's up to them. I'll say, "Look, you want to see a movie, see it in a cinema." Is watching DVDs a different experience because you don't watch them on the big screen?  LINK

Latest posts by Patrick von Sychowski
(see all)