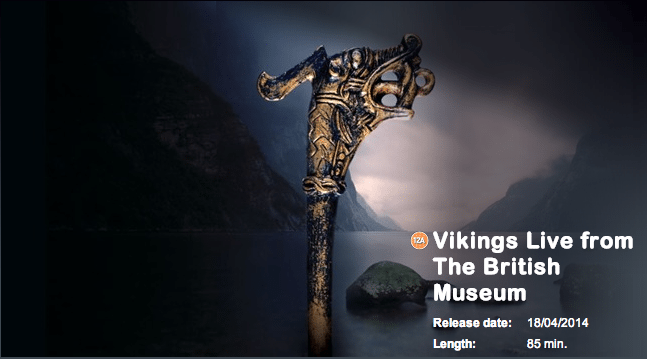 Den of Geeks recently posted an article titled 'Why is cinema so obsessed with Vikings?' It listed everything from Kirk Douglas eponymous 1958 widescreen epic, to the recent Marvel/Disney films featuring Thor. But while mentioning upcoming titles The Berserkers and Vikingdom, it overlooked perhaps the greatest viking spectacle coming to cinemas this year: Vikings Live from the British Museum.
The event will be distributed internationally by More2Screen, with whose Managing Director Christine Costello we have secured an exclusive interview to provide unique insights into how the event is being positioned and promoted.
From the Ashes of Pompeii
Vikings Live comes less than a year after the success of the British Museum's first event cinema outing, Pompeii Live in the summer of 2013, which took GBP £471,000 from 281 venues across the UK where it was seen by 53,885 cinema-goers and came 10th in the weekly film chart, despite being shown just once. Vikings Live looks set to cement museums and exhibition as a viable and profitable sector of event cinema that could see the floodgates open from other museums around the world. As quoted in the BBC:
British Museum director Neil MacGregor said the Vikings event would build on that success, going to 380 UK cinemas and some 50 countries around the world. "We're going to reach an even larger public," he said, adding the "worldwide opportunity to see what goes on here through cinema is very important". He said the guided tour, which will feature television historians Michael Wood and Bettany Hughes, would allow viewers to get "very, very close to the objects" on display, "possibly closer than you can in the exhibition itself".
The exhibition has had terrific reviews and seen a strong demand for tickets, not least due to the extraordinary Roskilde 6 ship.
[youtube]http://www.youtube.com/watch?v=_zE9WO65dBU[/youtube] Based on the description by the British Museum, this will thus be
far more than just a walk-through of the exhibition
:
This special event offers an exclusive private view of the BP exhibition Vikings: life and legend in the company of world experts, presented live in your local cinema. A replica sailing ship will be installed in front of the Museum during the live broadcast, which will culminate in a dramatic Viking burial as night falls. With stunning close-up photography of the Viking swords and axes, coins and jewellery, hoards, amulets in the exhibition and a live, torch-lit burial in the grounds of the Museum, the broadcast of Vikings Live will be a reminder of how the Vikings have shaped our modern lives.
Note that the event is rated 12A, which seem the default rating for this type of events, but it means it could potentially feature things that could be frightening to small children. However, there will be a special event for them too, with a pre-recorded show aimed specifically at children to be shown on 5 June.
Called Viking Adventures it will be fronted by children's channel CBBC's presenter Ed Petrie, showing that there is joined-up thinking behind the Vikings Live event to cater to the widest possible audience. (Last year there was also a 'Pompeii Live for Schools', seen by 13,600 school children, which presumably featured fewer of the phallus status and amulets that were popular with the Romans and featured generously in the exhibition).
Portrait Mode In Cinema
Museums and exhibitions are nothing new in the event cinema field, but they have had to climb a steep learning curve to gain widespread acceptance. Most of the earlier ones have been London-based, including David Bowie Is Happening Now (13 August) at Victoria & Albert Museum. As reported in The Guardian:
Last Tuesday evening's Bowie event grossed £260,600 from 217 screens, says distributor Picturehouse, with sellouts in 42 venues. Encore screenings at 27 venues contributed a further £30,700, for a combined total of £291,300. The big four circuit chains – Odeon, Cineworld, Vue and Showcase – all participated, as did Picturehouse and independents.
Before that there was Manet: Portraying Life (11 April) at Royal Academy, which went on to be screened in a further 29 countries around the world. But the event that got the ball rolling was the sell-out Da Vinci exhibition at the National Gallery in 2011, shown as Leonardo Live in partnership with Sky Arts. What they had in common was that all the shows sold out their tickets for the exhibition itself, meaning that the cinema was the only way for many people to see it. Particularly those from outside the UK.
First To Try It Second Time
Vikings Live will be an important milestone for museum, gallery and exhibition-focused event cinema, as it is the second time the British Museums is taking one of its blockbuster exhibitions to the big screen. Interestingly the National Gallery, the Royal Academy and V&A have all done one event cinema outing of a popular exhibition, but have not yet followed it up with a second. No major exhibition outside the UK has also had a big screen premiere. This is not for lack of spectacular exhibitions, but because the industry appears to still be in a wait-and-see mode.
UPDATE: I had overlooked a couple of significant events that did represent both follow ups and international spread of museum-specific event cinema, both of them done as part of Exhibition on Screen, the label behind Leonardo Live and Manet.
– Vermeer and Music from the National Gallery on 10 October 2013, which went out to cinemas worldwide and now also available as a DVD;

– Munch 150 from the National Museum and Munch Museum in Oslo on 27 June  on the occasion of the painter's 150th anniversary;
Seventh Art Productions have informed me that there are five more events on the way, "including a third film from the National Gallery."
For the British Museum it will be a critical test because the last event was spearheaded by Tim Plyming, Head of Digital Media and Publishing, who has since left (some say fell out with) the British Museum, with Patricia Wheatley, Head of Broadcasting taking over his role. Tickets for Vikings Live are currently selling for GBP £14.20 in Cineworld Aberdeen or GBP £15 for standard seats at Vue Islington. A full list of UK cinemas can be found here.
More2Screen Brings Vikings to More Screens
I put a series of questions to More2Screen's Christine Costello, who had helped Pompeii Live achieve more than 100,000 admissions worldwide across 51 territories about how and where the British Museum and More2Screen were taking everyone's favourite Norsemen.
Celluloid Junkie: Royal Academy, National Gallery and V&A each hosted one live event based on their sold out exhibitions, but this is the second one for the British Museums; is this a sign of the 'genre' becoming more established and accepted?
Christine Costello: Certainly. Major cultural institutions are beginning to establish that art and archaeological exhibitions can justify the funding to make them accessible to a global audience as cinema presentations. The British Museum has a first-mover position in the archaeological field and is fortunate to have a second prestigious blockbuster exhibition which makes a natural follow up to the highly successful Pompeii event of 2013.
CJ: What lessons have been learned in making these even less like a TV walk-through documentary and more cinematic?
CC: The audience told us that they wanted more lingering and close up shots of the key artefacts, something that simply doesn't happen on tv. They also appreciated the authoritative expert view more than general tv 'banter'.
CJ: What has the interest been like for this event from abroad?
CC: Pompeii reached over 50 international territories outside of the UK and the worldwide. There was keen interest internationally from the start as the Pompeii story is universally known and the UK Live event had already established that there was a huge appetite for this type of cultural programming. The Vikings main feature and Vikings Adventures for children is being welcomed by Exhibition and, this time around, we hope to develop many more connections with schools and educational groups.
CJ: Are we likely to see other museums and galleries outside the UK invite cinema audiences to their major exhibitions soon?
CC: Many international museums and galleries will be viewing cinema events with interest for the future and working out if cinema fits within their overall digital strategies. If it does and they have major exhibitions planned I'm sure that we'll see more world -renowned institutions coming into the cinema market.
Assuming Vikings Live goes well, it is thus highly likely that we will also get to see the British Museums' next major exhibition Ming: 50 years That Changed China, which runs from 18 September this year to 4 January  2015, in cinemas.

Latest posts by Patrick von Sychowski
(see all)