Pakistan has again been hit by a deadly terrorist attack in a cinema, this time killing and injuring even more people than the one ten days ago.
"A deadly attack on a cinema came as Pakistani government and Taliban negotiators met for a second time in an effort to end the bloody seven-year rebellion. A triple grenade attack on a cinema showing pornography in northwest Pakistan killed 12 people as government and Taliban negotiators met for a second round of peace talks. It was the second such attack within two weeks on a cinema in the city of Peshawar, which has been on the front line of Pakistan's home-grown Islamist insurgency. Scraps of human flesh, blood-soaked shoes, caps and condoms littered the floor of the hall after the blasts, an AFP reporter at the scene said." (link)
The fact that it was a cinema showing pornogrophy should not detract from the cowardly brutality of the act, nor lessen our sympathy for the dead, injured and their relatives, not least as the standards for what is considered 'pornographis' in Pakistan can be less than you see in the average episode of 'Game of Thrones' on HBO.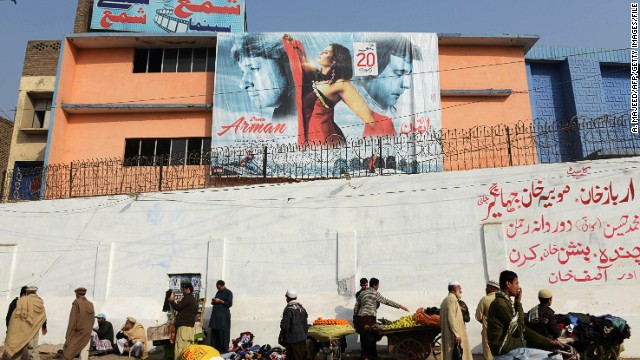 "Reports said there was a specific threat against the cinema in the past few weeks, leading to increased security, but staff had only just returned to "normal" security levels when this attack occurred." (link)
We are also told that "The Shama cinema in Peshawar was a place for bearded taxi drivers and off-duty soldiers to while away a weekday in a fug of cannabis smoke, watching pornographic films." There was also a suicide bombing in the home of a local tribal elder who was a member of the local "peace committee" four days ago. (link)
The Telegraph has a detailed description of the cinema, desribed as 'Peshawar's last porn cinema' from before the attack:
The moustachioed usher took the ticket, waved his torch and revealed a secret Pakistani world with a single, blunt question: "Sexy movie?"
They were the only words of English in his stream of Pashtu, the language of the north-west, a place where the Pakistan Taliban attack CD shops, as well as women who work outside the home, barbers and anyone else they accuse of promoting decadent Western values.

No-one inside the Shama Cinema cared. At 3pm on a weekday afternoon, its flip-up seats were full and a fug of hashish smoke swirled in front of the 15ft screen.
Pakistan may translate from Urdu as the "land of the pure", where Sharia is incorporated into everyday law, where alcohol is banned and most women only appear in public with their faces covered, but Peshawar's last porn cinema was doing a roaring trade.
The following day saw another attack in which nine people were killed, as reported in Newsweek Pakistan.
Militants stormed a house of anti-Taliban activists and shot dead nine men in Peshawar early Wednesday, police said, as government and Taliban negotiators met for a second round of peace talks.

The attack by around two-dozen fighters took place in the Mashukhel neighborhood of Peshawar. Taliban militants and other Islamist groups have been targeting locals who support the security forces or formed peace committees and vigilante groups against them.
The horror of such attacks cannot be ignored and the Pakistani government must do more to stop such attacks.

Latest posts by Patrick von Sychowski
(see all)