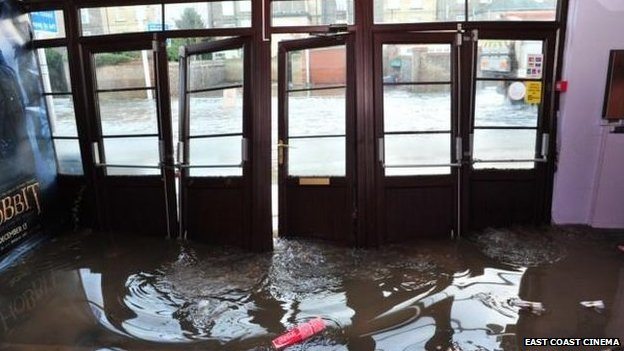 The flood-stricken UK county of Suffolk is to see a local cinema re-open after having seen an almighty flood. "The cinema, on London Road South, had 3ft (1m) of water in its ground floor, which damaged three screens and the foyer. Michael Hansell, manager of the cinema on London Road South, said: "The biggest surprise is how we've managed to turn it round so quickly. "It's essentially a new cinema. Our insurance company were very proactive in getting industrial heaters in to dry the place out and the contractors began rebuilding in January."" Link.
Cinema Opening/Closings
UK: "A derelict former cinema, which closed in 2005, has been sold at auction for £530,000. The five-screen Odeon on St Margaret's Street, Ipswich, went under the hammer at Savills in London." Despite its art-deco look the cinema was only constructed in 1991. It will be likely turned into a night club. Link.
UK: "NEW plans for a town centre development in Stafford will be unveiled later this week. The redevelopment of the former Riverside leisure centre and Bridge Street car park, planned by developers LXB Properties, was first approved in February 2012. The latest version of the plans, which now includes a cinema on an adjacent Bridge Street site, will be put on public display at the old Express and Star office." Link.
USA: Southbury, CT "The Zoning Commission will meet at 7:30 p.m. Wednesday, Feb. 12, at Pomperaug High School, 234 Judd Rd., Southbury. Applicant Southbury Village Square is seeking to amend the zoning regulations "for the proposed establishment of a Planned Development District (Southbury Riverview Cinema & Playhouse) for the mixed use of a commercial building to include the following," according to the meeting agenda." Link.
USA: "Q Cinemas, a Missouri corporation that was formed a year ago, is planning to bring a movie complex to Joplin in connection with the construction of a new public library at 20th Street and Connecticut Avenue. The 12-screen cinema in Joplin would be the company's first." Link.
Finally
CineStalgia: A look back at one of the oldest cinemas still standing in Spain's capital. "One of Madrid's very first cinemas, the Cine Doré opened at Calle Santa Isabel 3 in December 1912. It showcased the relatively newfangled invention of cinema, still in its infancy during the early twentieth century. On entering the cinema, or 'salon' in 1912, visitors would have marveled at the spacious screening room; there was enough space for an audience of 1,250." Link.

Latest posts by Patrick von Sychowski
(see all)