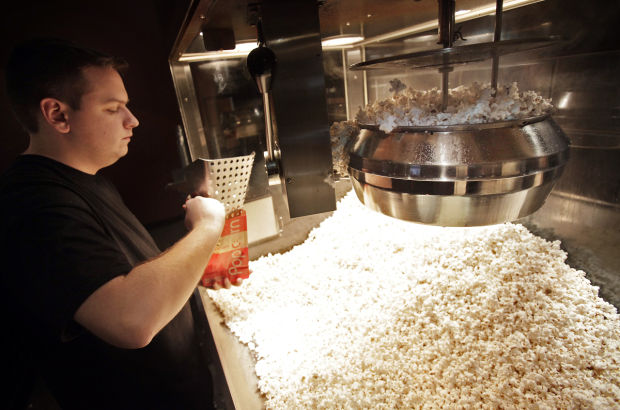 USA: Popcorn business has been tough in 2013 as "prices for unpopped popcorn skyrocketed due to the 2012 drought that dried up thousands of acres of popcorn-growing fields throughout the Midwest." Despite this "Americans consume 16 billion quarts of popped popcorn annually, or 51 quarts per person, according to the Popcorn Board, an industry trade group. Sales of unpopped popcorn reached 995.8 million pounds in 2012, which was a seven-year high, according to Popcorn Board data." Link.
People: Industry veteran and former Technicolor CTO Curt Behlmer is joining Dolby as Senior VP Cinema where " he will be combining Dolby's imaging and audio technology and postproduction tools to create a "full ecosystem to represent [filmmakers'] creative vision all the way through the chain. It's not just about Atmos or TrueHD, it's how do we pull it all together." Link.
Advertising: Overview of UK trial by DCM and Yummi Media of the Cinime app for linking cinema ads to smartphones using (inaudible) audio signal. Also examines 'second screen' in cinema technology trialed by Disney and in German horror film. Link.
India: "Multiplex chain Carnival Cinemas, a part of Mumbai-based Carnival Group, is planning to make an incremental investment of Rs 400 crore [US$65m] as part of its plans to open 300 screens across India by 2018, according to group chairman Shrikant Bhasi." Just like Big Cinemas it seems to want to to focus on the south India (Kerela and Tamil Nadu) despite the fact that onerous ticket price controls are in place by the state governments. Link.
India: The Hindu Business Line looks at how "multiplexes are on the way to becoming the dominant box office contributors" for Bollywood. Even with the recent mega success of Dhoom 3, which opened on over 4,500 screens and has made over $80m world wide, India remains under-screened. Link.
USA: "Goodrich Quality Theaters and Cinema Scene Marketing Announce Digital Menu Board and Box Office Deployments. Upon completion, this conversion will result in Cinema Scene managing approximately 200 individual displays across 19 Goodrich locations." Link.
UK: "Curzon cinema workers secure right to union representation after BECTU officials and Curzon management sign voluntary recognition agreement." The issue of 'zdero hour pay' has not yet become as much of a big issue for UK cinermas as for other sectors, but could potentially flare up. Link.
UK: "MULTI-million pound plans for a cinema and restaurant complex next to Bournemouth's Pavilion Theatre are set to be scrapped after the developer failed to secure funding," after Odeon recently "pulled out of a deal to move into the Pavilion Gardens development and signed an agreement with the rival West Central scheme instead." Link.
UK: Aberdeen's "Belmont Picturehouse, which Cineworld has been forced to sell after concerns over lack of competition, will be transferred to new owners this year." However, moviegoers are promised that this will not interrupt normal screening schedule. Link.
UK: "The plans for Marketfield Way in Redhill include a six-screen cinema, restaurants and 90 apartments, Reigate and Banstead Borough Council said" in an announcement about development plans for what is currently a car park in the Surrey town. Link.
UK: Edinburgh's Cameo Cinema (nee The King's Cinema) celebrates a 100 years after first opening on Home Street. Link.
Finally: Feel that popcorn prices are too damn high? Huffington post will teach you how to make a popcorn maker out of an old beer can. Warning: just don't try to bring it into a cinema. Link.

Latest posts by Patrick von Sychowski
(see all)