[/caption]
Okay, I admit that the headline of this post is pure click bait. But did you really want to read another story headlined "Chris McGurk Named Cinedigm CEO"? Truth is I wasn't in Cinedigm's board room when they offered Chris McGurk their Chairman and CEO positions, and thus I have no "inside" information. However, from the moment Cinedigm announced McGurk as their new CEO earlier this week my inbox has been flooded with emails from those asking about my own thoughts on the news.
Rather than take the usual Internet approach of writing up an analytical post before the ink was dry on Cinedigm's press release, I chose gather my thoughts about the news for a couple of days. While it may seem at first that McGurk is an odd choice to head a digital cinema deployment entity, upon reflection one can see the benefits Cinedigm gains with the hire.
As the press release trumpeting the hire so diligently pointed out, McGurk has a ton of film industry experience. Every story reporting McGurk's new role at Cinedigm recounted his lengthy professional history. Still I feel compelled to do it here. I first became aware of McGurk in the early 1990's while working as an intern at Walt Disney Studios. At the time McGurk was President of the Walt Disney Motion Picture Group and it was hard to find anyone who had a bad word to say about him. Quite the opposite in fact. McGurk's tenure at Disney from 1988 to 1996 included a stint as Chief Financial Officer on the studio side, among several other roles. He held similar senior titles (President and Chief Operating Officer) during his three year stay at Universal Pictures from 1996 to 1999.
McGurk is probably most associated with his last two companies Metro-Goldwyn-Mayer, where he was Vice Chairman and COO from 1999 to 2005, as well as Overture Films, where he served as founder and Chief Executive Officer from 2006 to 2010. This may have more to do with the current state of those companies than McGurk's actual achievements, but more on that later.
McGurk comes to Cinedigm armed with numerous relationships at all the Hollywood studios Cinedigm has signed virtual print fee (VPF) agreements with. It is unlikely he will get any extensions for Cinedigm's VPF rollout period which comes to an end in a little over a year. Even so, having someone in the corner office with friends in high places at each studio certainly couldn't hurt.
In addition, having spent more than 20 years in senior management at four different studios means McGurk knows a thing or two about content. As McGurk himself pointed out in media interviews after his hiring was announced, there is a realistic opportunity to leverage the 6,000 plus digital screens Cinedigm oversees to distribute content. He told The Wrap:
"The neat thing for me is that even though it's a service business, I'll also keep my hand in the content business…They're turning multiplexes into networked programming venues. It's a great thing for exhibitors, now there are fewer and fewer films being distributed by majors and others. This is a way to fill up a lot of that space that is going to exist with fewer movies."
In speaking with the Los Angeles Times, he said:
"We're going to hopefully provide a whole new business model to exhibitors."
McGurk's enthusiasm for independent content offerings are refreshing, if not contagious. He'll quickly learn (and probably already knows) that though the studios are making fewer movies, they still want their films booked on every multiplex screen, especially during prime showtimes. So, no matter what alternative distribution schemes McGurk and Cinedigm conjure up, they'll still have to contend with the studios supplying the VPFs that subsidize the digital cinema equipment which enables flexibility in programming.
Another thought is that the installation of a senior executive such as McGurk might make Cinedigm far more attractive to potential investors and/or buyers. Don't forget, one of Cinedigm's primary owners is the private equity firm Sageview Capital. Sageview's founder Ned Gilhuly was quoted in the press release announcing McGurk's hire and the company's Adam Mizel acted as CEO for the latter half of 2010. Stakeholders such as Sageview rightly want to see a return on their investment and one way to do that (besides the Payment In Kind and warrants they presently hold) is through a liquidation event, such as a public offering or sale. As Cinedigm is already a public company, a sale is a more likely scenario. Though this is all pure speculation on my part.
At the very least, McGurk is no stranger to balance sheets and high-finance. Remember that bit about his CFO role over at Disney? In McGurk Sageview has found an executive with experience running the finances of a public company. That's probably a smart move since Zacks Investment Research just listed Cinedigm as one of five companies in the application software industry with the highest debt-to-capital ratio.
Now, to address all those who left negative comments about McGurk's hiring on websites such as Deadline. The common refrain through the mostly anonymous criticism was that companies McGurk has led tend to "fall apart". I can only assume such accusations refer to both MGM and Overture Films. While defending McGurk is not something I can or should do, I'm not quite sure he should be faulted for MGM's current financial woes given that on his watch the company was sold for USD $5 billion. The failure of Overture is also hard to pin solely on McGurk since the company's main investor, Liberty Media's John Malone, never followed through on fully backing the venture and has since dumped most of his movie business assets.
That brings me back to all those emails I received this past week about Cinedigm and McGurk. I found it interesting that not once did anybody ask why McGurk would want to run a company operating in the fiercely competitive and unsettled digital cinema market. Maybe everyone just thought he needed a job and Cinedigm happened to be hiring. Yet his answer to this question, which appeared in the Los Angeles Times, might be indicative of what Cinedigm believes McGurk brings to the company; experienced leadership, adept at reading the industry and predicting its future direction:
"I saw that money was beginning to come back to entertainment, but [investors] didn't want to invest in traditional production or releasing. Investors are now focused on new media and digital businesses. This is that kind of opportunity."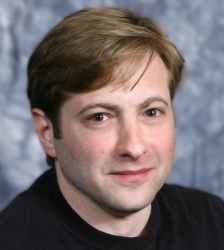 Latest posts by J. Sperling Reich
(see all)