– UK cinema goers spent GBP 250m in the first quarter of 2009, reports the FT, with "Slumdog Millionaire" leading the way with 6m visitors. "The latest figures, compiled by the Film Distributors' Association (FDA), support the frequent claim that cinema-going, perceived as a cheap night out, actually increases during times of economic hardship.";
– Multiplex opening in Damascus represents the first new cinema to open in the Syrian capital since 1985. AFP reports that just 10 cinemas in Syria cater to the city's population of 4m, though only two of them are functioning effectively (see photo above). "Filmmakers and cinema owners blame the parlous state of the industry on high taxes slapped on admission tickets, the state's financing of commercial instead of artistic productions and the ready availability of pirated DVDs.";
– Adding to Pakistan's many other woes, the renewed screening of Bollywood (Indian Hindi) films in the past two years has failed to attract audiences back to the cinemas, according to The Hindu. "After the closure of 1,300 of the 1,500 cinema halls across the country in recent times, the Pakistan Film Exhibitors Association pressed the government to allow the screening of Indian movies, saying it was the only way to save the remaining 200 theatres." But of some 5 Bollywood films released, only "Singh I Kinng" was a hit.Terrorism and piracy said to be to blame.
– Radio on the big screen! US National Public Radio (NPR) is coming to some 400 cinemas near you. 'This American Life – Live' "Popular NPR show will be simulcast live to more than 400 theaters in the country. Ira Glass to host. Guests include Joss Whedon, David Rakoff, Starlee Kline, Mike Birbiglia and Dan Savage. When: 8 p.m. Thursday Cost: $20, available through www.Fandango.com or at the theater."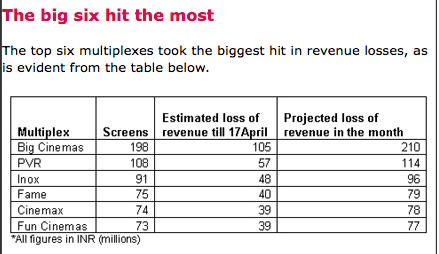 – Indian multiplexes have lost Rs 450m ($9m) since the Bollywood producers' non-release boycott began on 4 April, according to Indiantelevision. Its research article states that " this difference in occupancy rates would amount to revenue losses of Rs 850-900 million per month in multiplexes. This figure is much lesser than Rs 1-1.5 billion per month as is being claimed by some industry sources."
– 2008 was a record year for German films at cinemas according to Welt Online (in German). Local fare accounted for 27 per cent of box office, the highest in two decades. Cinema going in the ge bracket 20-29 is down while the 40+ is up, confirming world wde trends of baby boomers re-discovering the joy of cinema going;
– Philips Electronics researchers have come up with a haptic jacket, lined with vibration motors, that 'lets you feel the movies'. ""We want people to feel Bruce Lee's anxiety about whether he will get out alive," says the Philips researcher. The jacket, responding to signals encoded in the DVD or to a program designed to control the jacket on the fly, can do a host of things, such as "causing a shiver to go up the viewer's spine and creating the feeling of tension in the limbs."" No plans for matching trousers yet.
–

Latest posts by Patrick von Sychowski
(see all)