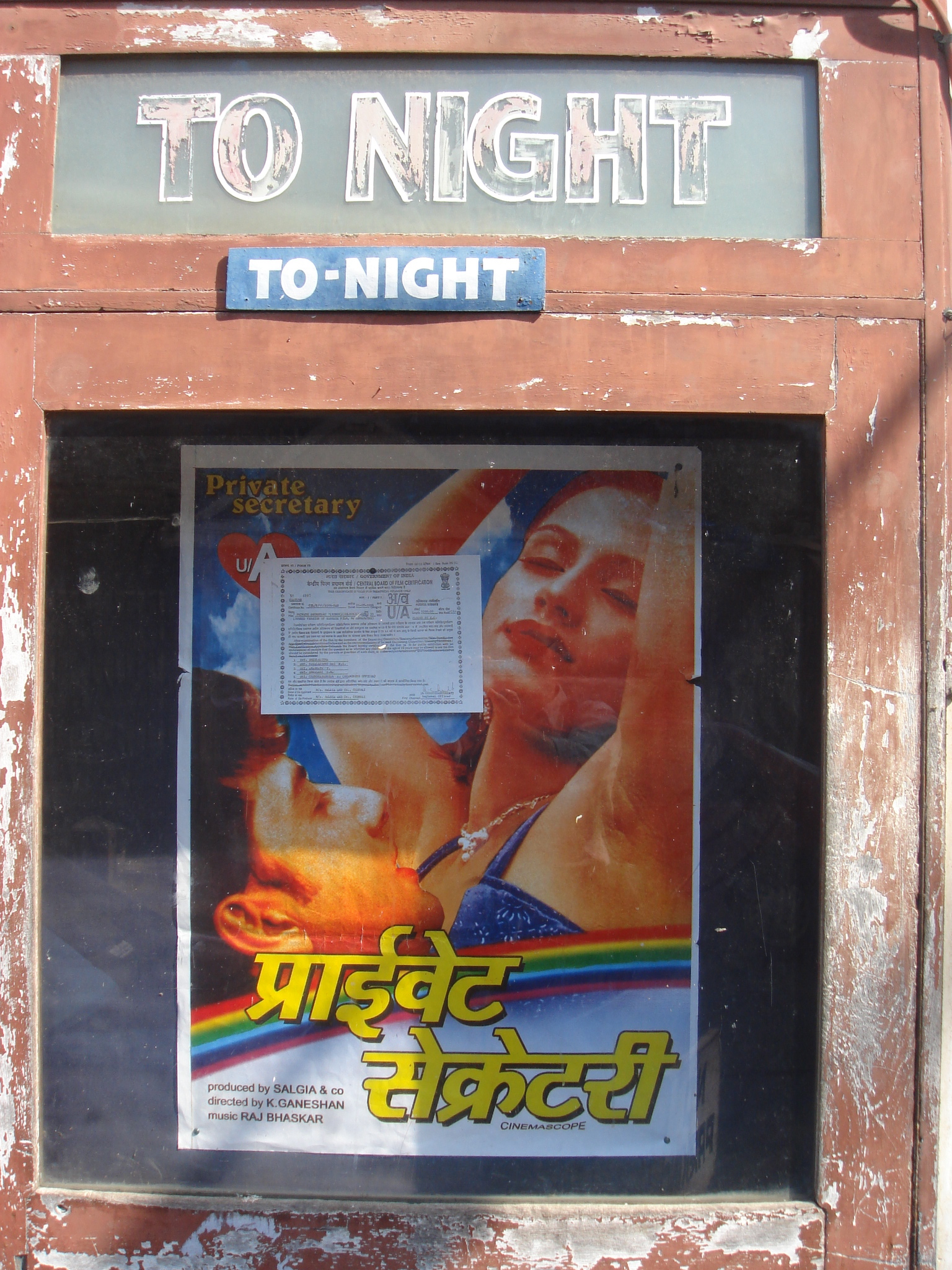 It looks like the corporatization of the Indian film industry coupled with the relentless drive of the multiplex building is slowly killing off the exploitation films of the crime ('dacoit'), horror and semi-nudity variety, alongside the cinemas that show them. From the Times of India:
Released in unkempt cinema halls rife with mosquitoes and bedbugs, watching them was like being part of an involuntary blood donation camp. Yet the underclass thronged to see them. These films made money.

But hard times are here now. Go through the list of 2007 films and you'll find that the number of dacoit and horror movies has dwindled sharply as compared to five years ago. There's the odd Gabbar Singh (director: Kanti Shah) but Mahakaal , also screened last year, was no desi scare flick. It's a dubbed Hollywood movie starring Nicholas Cage. Recent ads in trade magazines also indicate that of the three, only the soft porn sub-genre survives.

Kanti Shah, director of many mini-budget dacoit dramas, says it is "lock-out" time for the genre.
Few will mourn the passing of these films and genres. Like in the West, the films find their way to the consumer in the comforts of the home environment through DVDs and the Internet, or for those that live seven to a room, there is still the last refuge of the video parlour. From the ToI again:
The rise of the VCD/DVD industry has adversely affected C-grade filmmakers. In Delhi's Chandni Chowk, locally made VCD players are sold for as little as Rs 1,000. In rural areas they can be hired for Rs 50 a night with a package of three movies thrown in. The VCD player has largely made the dingy   kasbah   theatre, once the bastion of C-grade films, quite redundant.

Purists may snigger but social scientist Shiv Viswanathan believes such films play an important part in any changing society. The genre, he says, is an overt enactment of a crude fantasy. "The so-called C-grade narratives have a folksy coarseness. Unlike the subliminal mainstream Bollywood movies, these films are blatant in whatever they do. For those in an act of transition in urban spaces, they help perform the task in an easier, smoother way. They are not bad movies. They just project an alternate layer of reality," he says.
The passing of that 'alternate layer of reality' is perhaps what we should mourn is perhaps what we should mourn instead of the crumbling places that were showing them.

Latest posts by Patrick von Sychowski
(see all)