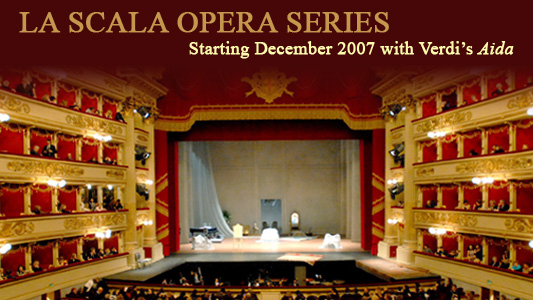 US digital inde cinema pioneer Emerging Pictures will be bringing live opera from Italy's most famous opera house, La Scala, to cinemas and other venues all over the US starting this December. It is a major coup for the indie digital veteran and should prove a boon for its business in targeting sophisticated audiences in special locations. The Hollywood Reporter provides more details:
Franco Zeffirelli's La Scala production of Verdi's "Aida" will kick off the series Dec. 2, followed by another new HD-shot opera each month. More than 60 venues in 21 states have booked the filmed concerts so far, part of a network of digital art cinemas and cultural centers formed by Italian broadcasting sales unit RAI Trade, preshow and alternative theatrical content provider Screenvision and Emerging Pictures.

Four more productions, one each month, from the 229-year-old La Scala will follow: Wagner's "Tristan und Isolde," Donizetti's "Maria Stuarda," Verdi's "La Traviata" and Puccini's "Il Trittico." Verdi's "La forza del destino" from the Maggio Musicale and Puccini's "La Rondine" from the Teatro La Fenice will follow.
A full list of the participating venues can be found here.  The tickets will be a very reasonable $20 and while there is no word on what time 'Aida' will be screened, the La Scala 2007/2008 calendar reveals that 'Tristan and Isolde' is playing 18:30, meaning that it will be a 12:30 matinée on the East Coast and a breakfast show for dedicated West Coast opera buffs (such as CelluloidJunkie's co-founder Sperling).
There is no small irony in the fact that EmPix's headquarter is on W 55th St in New York City, just half a dozen blocks away from the Lincoln Centre, home of the Metropolitan Opera, which has been such a live expert success to Europe. Now the operas will be traveling live in the other direction across the Atlantic. but EmPix is one of the few early digital cinema start-ups to still be around and it has even prospered, showing a broad selection of films as well as film festivals and special events to discerning audiences and has established a good following. Heck, the company even has a good blog where John Sayles makes a contribution. I hope they have as much a success with La Scala as UK's City Screen and Sweden's Folkets Hus have had with the Met.

Latest posts by Patrick von Sychowski
(see all)