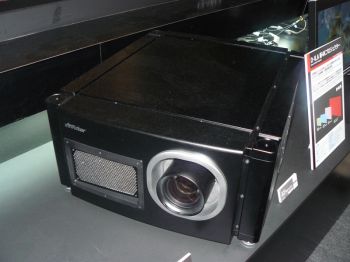 No sooner has Sony not succeeded in making the SXRD 4K the preferred projector standard for cinemas (unless you count Muvico and Norway) then Japanese rival JVC launches a 4Kx2K projector for the home at the CEATEC trade show in Japan:
Victor Company of Japan Ltd. exhibited a projector with the display pixel count of 4096 x 2400 at CEATEC Japan 2007, which runs from Oct. 2 to 6, 2007.

Supporting the so-called 4K x 2K resolution, the new projector has an enhanced definition compared with the company's existing 4096 x 2160 model, Victor said. The projector can throw a 200-inch picture from about 7 m away. The contrast ratio without an iris mechanism is 10,000:1, and the luminance is 3,500 lm.

The projector employs a 1.27-inch (3.2 cm diagonally) Direct-Drive Image Light Amplifier (D-ILA) microdisplay device, which is Victor's proprietary product, for the display device. Compared to the 1.7-inch D-ILA microdisplay device used in the company's existing projector, the size of the device in the latest model is reduced by about 43%.
It will not be out until the first half of 2008 and I'm not sure what you would want to play on it (four Blu Ray movies at the same time? Or 16 standard DVD players as inputs) but I'm sure someone will come up with innovative use for it.
The irony is not lost on Sony that JVC was the first to push the SXRDish D-ILA technology in cinemas, but ceded the ground to Texas Instrument's DLP techonlogy after the Star Wars: Episode 1 shoot-out. Sony is actually turning out extremely good home cinema projectors based on the SXRD – better even than the DLP ones – but they are still not swaying cinemas, with about 98 per cent of the market opting for 2K DLP Cinema projectors.

Latest posts by Patrick von Sychowski
(see all)